Donald Trump Rejects Advice From Basically Everyone, Watches Solar Eclipse Without Glasses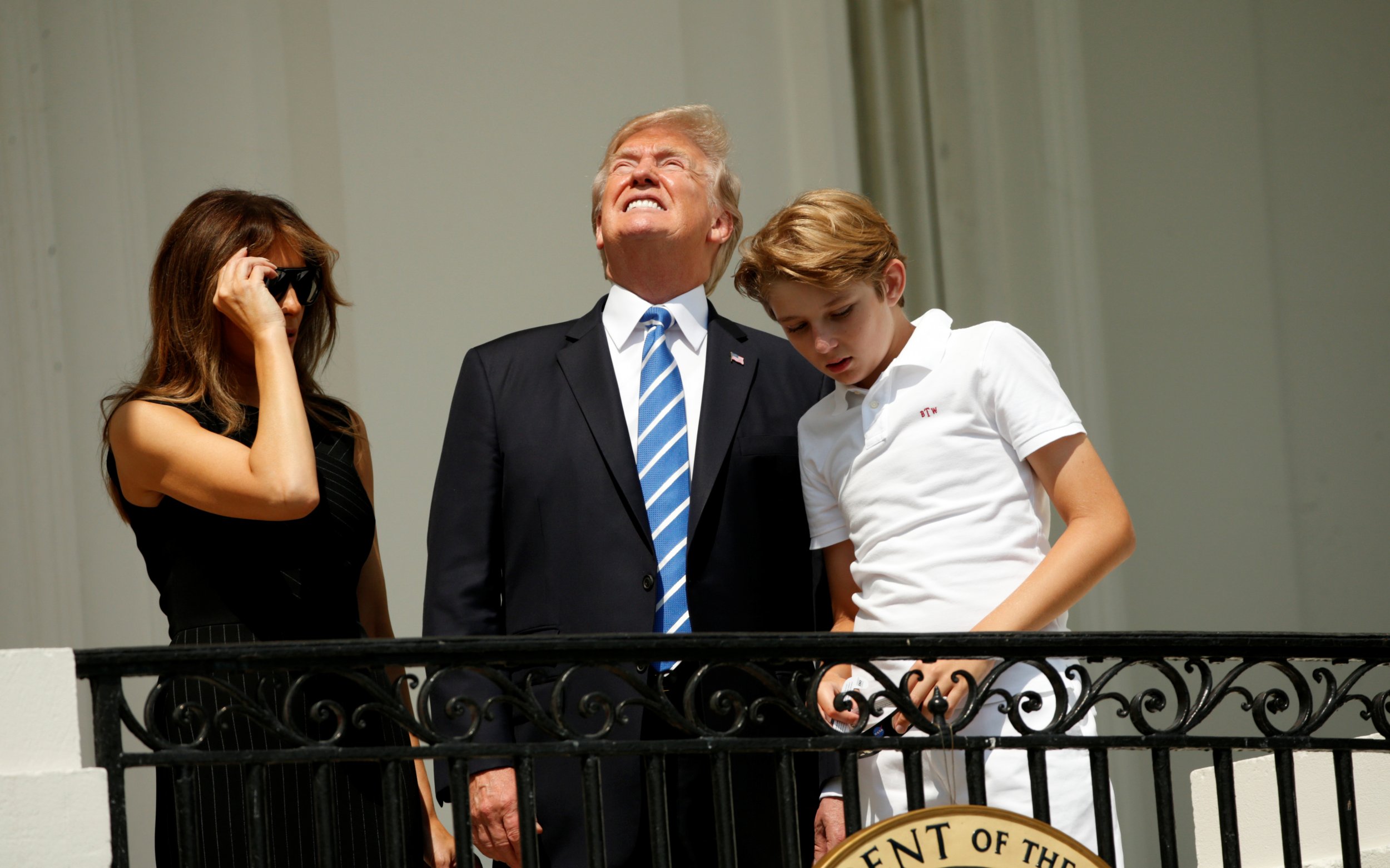 President Donald Trump enjoyed the eclipse Monday like millions of Americans. But unlike millions of Americans, he went against the much-repeated and often-emphasized advice of NASA, ophthalmologists and moms everywhere and looked at the sun without glasses.
Ben Jacobs, a reporter for The Guardian, wrote in a White House pool report that at about 2:39 p.m., as the eclipse was reaching totality, he gestured to the crowd and pointed to the sky, causing an aide to yell "don't look." Afterward, at about 2:41 p.m., Trump did put on glasses and gazed up at the sky alongside the first lady and his son Barron for about 90 seconds.
The internet lit up instantly, because organizations and scientists have spent the past few days begging people not to view the partial eclipse with the naked eye because it could damage their retinas. Even Ivanka Trump and Tiffany Trump, the president's daughters, used glasses.
"That damage is typically irreversible, and there's no treatment for this," expert Sveta Kavali said in a Saint Louis University video cited by The Washington Post. "The way the damage occurs on a cellular basis is that the UV rays from the sun induces a photochemical reaction that damages the photo receptors of the retina, and the part of the retina that's damaged is the part that's responsible for your central vision. So it's very important not to look at the partial eclipse, not to look at the sun, without the proper viewing protection."
However, Trump has never been one to fall in line. On Monday, social media quickly filled with photos and GIFs of the president checking out the historic solar eclipse without proper protection.
It wasn't immediately clear whether the commander in chief damaged his eyes. But remember that Trump has quite the genes: In 2015, his doctor wrote a letter saying that "if elected, Mr. Trump, I can state unequivocally, will be the healthiest individual ever elected to the presidency."