Does Trump Jr.'s Admission He Met Russian Lawyer Suggest the President and VP Lied?
Donald Trump Jr.'s admission this weekend that he met with a Kremlin-linked lawyer who said she had dirt on his father's presidential campaign rival Hillary Clinton contradicts claims by the president and his vice president.
At the beginning of the year, both U.S. President Donald Trump and Vice President Mike Pence maintained that no one from Trump's campaign had any contact with Russians or Russian officials.
Yet on Sunday Trump Jr., who campaigned for his father, put out a statement that a meeting last June with Kremlin-connected Russian lawyer Natalia Veselnitskaya was attended by Trump's son-in-law Jared Kushner and the Trump campaign's chairman Paul Manafort.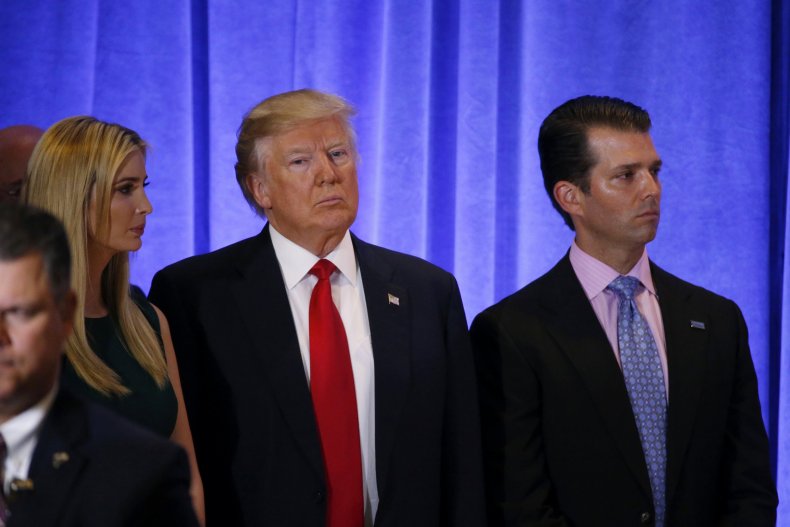 Trump Jr. said he was told Veselnitskaya would have "information helpful to the campaign." When they met at Trump Tower last June, Veselnitskaya said "she had information that individuals connected to Russia were funding the Democratic National Committee and supporting Ms. Clinton," Trump Jr. said.
Veselnitskaya, who started her career as a Russian government prosecutor in Moscow, has a long track record lobbying on behalf of Russia to kill the Magnitsky Act—a 2012 anti-corruption bill in Congress that sanctioned Russians. Russian President Vladimir Putin retaliated against the bill with his own law blocking Americans from adopting Russian babies. Although she provided no information on Clinton, Veselnitskaya pressed Trump Jr. on reversing the sanctions.
Read more: Donald Trump Jr. was promised damaging information about Clinton ahead of meeting with Russian lawyer, says report
In January this year, when Vice President Mike Pence was asked whether any Trump adviser or member of the campaign had contact with the Russians who were trying to meddle in the election, Pence said: "Of course not."
"To suggest that is to give credence to some of these bizarre rumors that have swirled around the candidacy," Pence said.
The Trump White House has denied having contact with Russian officials on multiple occasions. During a press conference on January 16, Trump was asked whether anyone on his campaign had contact with Russians during the election. Trump told reporters that he has "nothing to do with Russia. To the best of my knowledge, no person that I deal with does."
Since then, Attorney General Jeff Sessions, Trump campaign foreign policy adviser Carter Page, and Trump's son-in-law and senior adviser Jared Kushner have been found to have met with and had substantial conversations with Russian officials.
America's intelligence agencies have found that Russia's Putin ordered the hacking of the Democratic National Committee and a massive misinformation campaign to sway the election for Trump.
Last month Trump called these findings a "hoax." The president has disputed the findings with his top intelligence officials. Yet the FBI, CIA, NSA, and Department of Homeland Security all state that they have evidence Russia interfered in the election.
In May Reuters revealed there were at least 18 calls and emails in the last seven months of the 2016 presidential campaign between Trump's campaign advisers and Russian officials or others with Kremlin ties.
In his statement Sunday about his meeting with Veselnitskaya, Trump Jr. said his father "knew nothing of the meeting or these events."