Donald Trump's Son Met Russia-Linked Lawyer At Family Tower In Previously Undisclosed Discussion, Report Says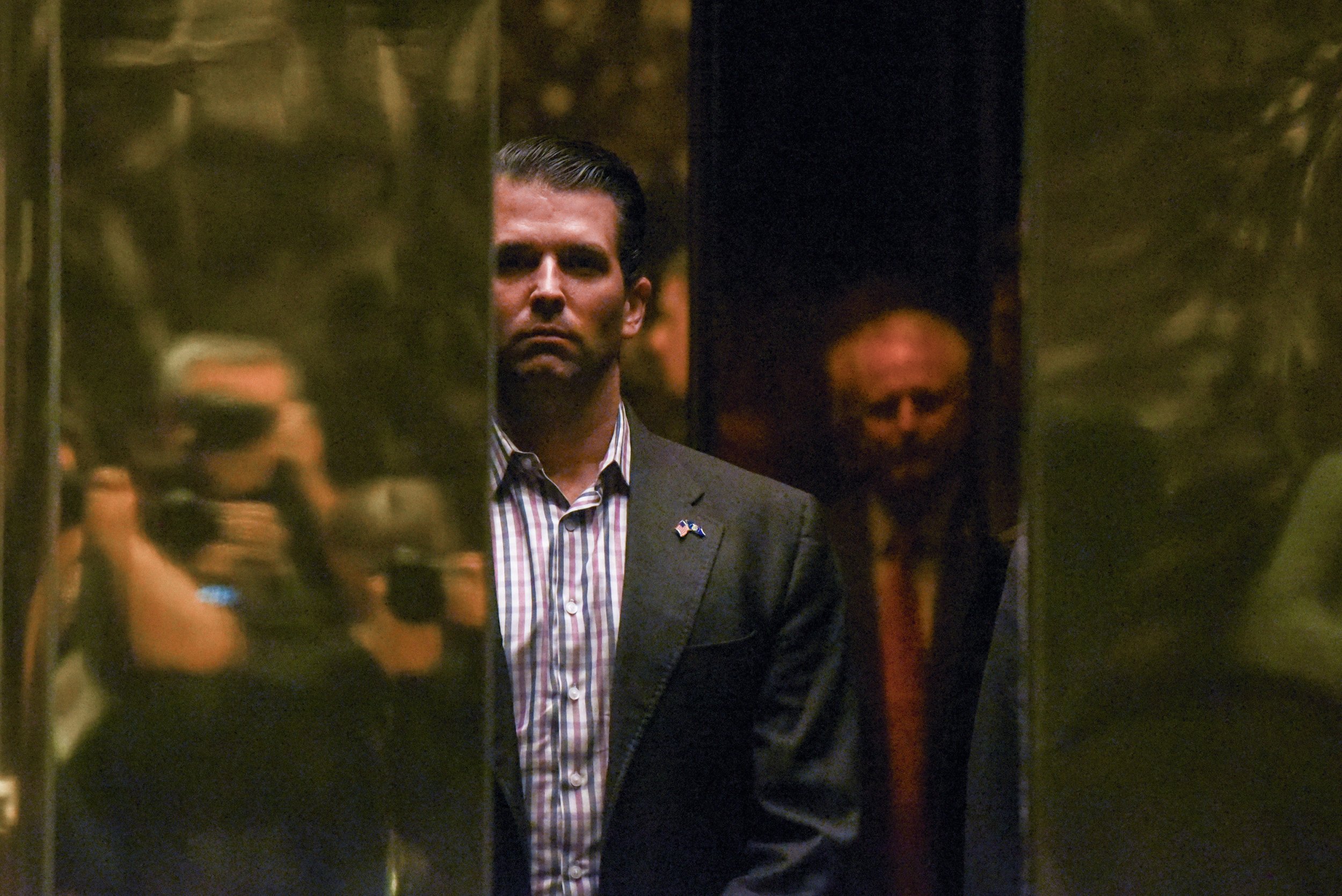 Donald Trump Jr., the president's oldest son, met with a Russian lawyer with links to the Kremlin at the family's signature Tower in New York in June of last year, shortly after his father had sewn up the Republican nomination, The New York Times reported Saturday citing government records.
The sit down had not been disclosed prior to The Times report, and the president's son-in-law Jared Kushner, as well as former campaign manager Paul Manafort, were also present.
According to the report, Donald Trump Jr. attended a meeting June 9, 2016, with Russian lawyer Natalia Veselnitskaya, whose husband was previously a deputy transportation minister in Russia and counts state-run businesses as clients.
"It was a short introductory meeting," Trump Jr. told The Times in a statement. "I asked Jared and Paul to stop by. We primarily discussed a program about the adoption of Russian children that was active and popular with American families years ago and was since ended by the Russian government, but it was not a campaign issue at the time and there was no follow up."
"I was asked to attend the meeting by an acquaintance, but was not told the name of the person I would be meeting with beforehand," Trump Jr.'s statement said.
The newly revealed meeting contradicted Trump Jr.'s comments during an interview with The Times that was published in March when he said: "Did I meet with people that were Russian? I'm sure, I'm sure I did. But none that were set up. None that I can think of at the moment. And certainly none that I was representing the campaign in any way, shape or form."
The latest revelation reportedly comes by way of Kushner, who had refiled a form for a security clearance after the previous version did not include the aforementioned meeting.
Manafort, who was forced to resign from the campaign after he faced accusations of receiving funds from a former Ukrainian president that favored Russia, also remains a focal point of federal investigations. In March, the Associated Press reported Manafort aided a Russian billionaire by developing a plan to "greatly benefit" off of Putin's government.
The report comes as President Donald Trump is headed back stateside following his second overseas trip as commander-in-chief and his first meeting with the Group of 20 summit in Hamburg, Germany.
Trump and Russian President Vladimir Putin held talks for more than two hours Friday at the summit, during which Putin, as well as Russian foreign minister Sergey Lavrov, claimed the billionaire real estate mogul had accepted denials of meddling in the campaign to have Trump elected over Democrat Hillary Clinton.
White House officials have said that Putin and Lavrov's interpretation of that part of the meeting were not accurate.
But now the scandal, which has stalled much of the president's agenda and caused him to lash out at mainstream media outlets like The Times and CNN, is further engulfing the Trump family and remains at the center of FBI and congressional investigations.