Trump Sons Outraged By Virtual Presidential Debate Plans: 'This is Such Bulls***'
President Donald Trump's two eldest sons lashed out at plans to hold the second presidential debate virtually as their father said he would not take part in the head-to-head if the contest was not held in person.
Donald Trump Jr. said the move announced by the Commission on Presidential Debates (CPD) on Thursday morning was "such bulls***" and would allow Democratic nominee Joe Biden to be fed "talking points" by campaign staff throughout the debate.
The president's younger son Eric Trump made a similar remark, suggesting the Democratic presidential nominee Joe Biden would have "12 teleprompters" and more than a dozen campaign staff at the ready if the head-to-head was held remotely.
"This is such bulls**!" Trump Jr. tweeted on Thursday morning. "Yea, let Biden do it from his basement so people can feed him his talking points all night long. GTFO [Get the F*** Out]!!!"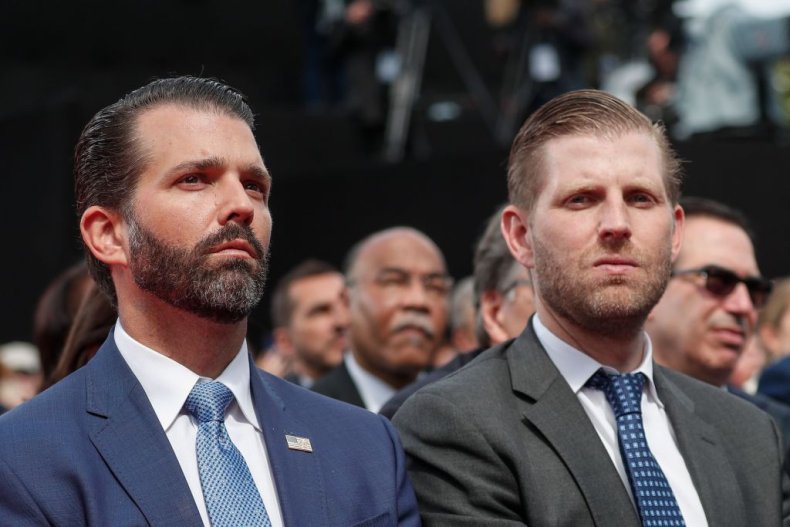 He later added: "Does anyone else find it awfully coincidental that the morning after Mike Pence destroys Kamala Harris in a debate that the 'debate commission' unilaterally changes the format to obviously benefit Basement Biden?"
Earlier in the morning, his brother Eric said: "Biden's mouth is watering at the notion of a virtual debate - he will have 12 teleprompters and 14 campaign staffers holding flash cards on the other side of that camera!"
President Trump's sons hit out at the CPD's virtual debate proposals as their father told Fox Business that a remote head-to-head was "not acceptable" to his campaign.
"I'm not going to waste my time on a virtual debate," Trump told the Mornings with Maria show. "That's not what debating is all about. You sit behind a computer and do a debate, it's ridiculous. And then they cut you off whenever they want."
Shortly after the interview aired, the president's campaign issued a statement calling members of the debate commission "swamp creatures" who were rushing to defend Biden.
"Here are the facts: President Trump will have posted multiple negative tests prior to the debate, so there is no need for this unilateral declaration," the campaign said. "The safety of all involved can easily be achieved without canceling a chance for voters to see both candidates go head to head. We'll pass on this sad excuse to bail out Joe Biden and do a rally instead."
The CPD said in a statement this morning that the second presidential debate scheduled to take place in Miami, Florida would not take place in person, but would take place with its planned town hall format and the two candidates appearing remotely.
Its decision came after it was revealed on Friday last week that President Trump and his wife Melania had tested positive for COVID-19 and would be entering quarantine. Trump left the Walter Reed Medical Center the following Monday, leading to calls for him not the attend the second presidential debate in person.
Newsweek has contacted the Biden campaign for comment on the president's claim to be dropping out of the debate. This article will be updated with any response.