The West Faces 'Cultural Suicide,' Republican Lawmaker Steve King Says in Latest Coded Message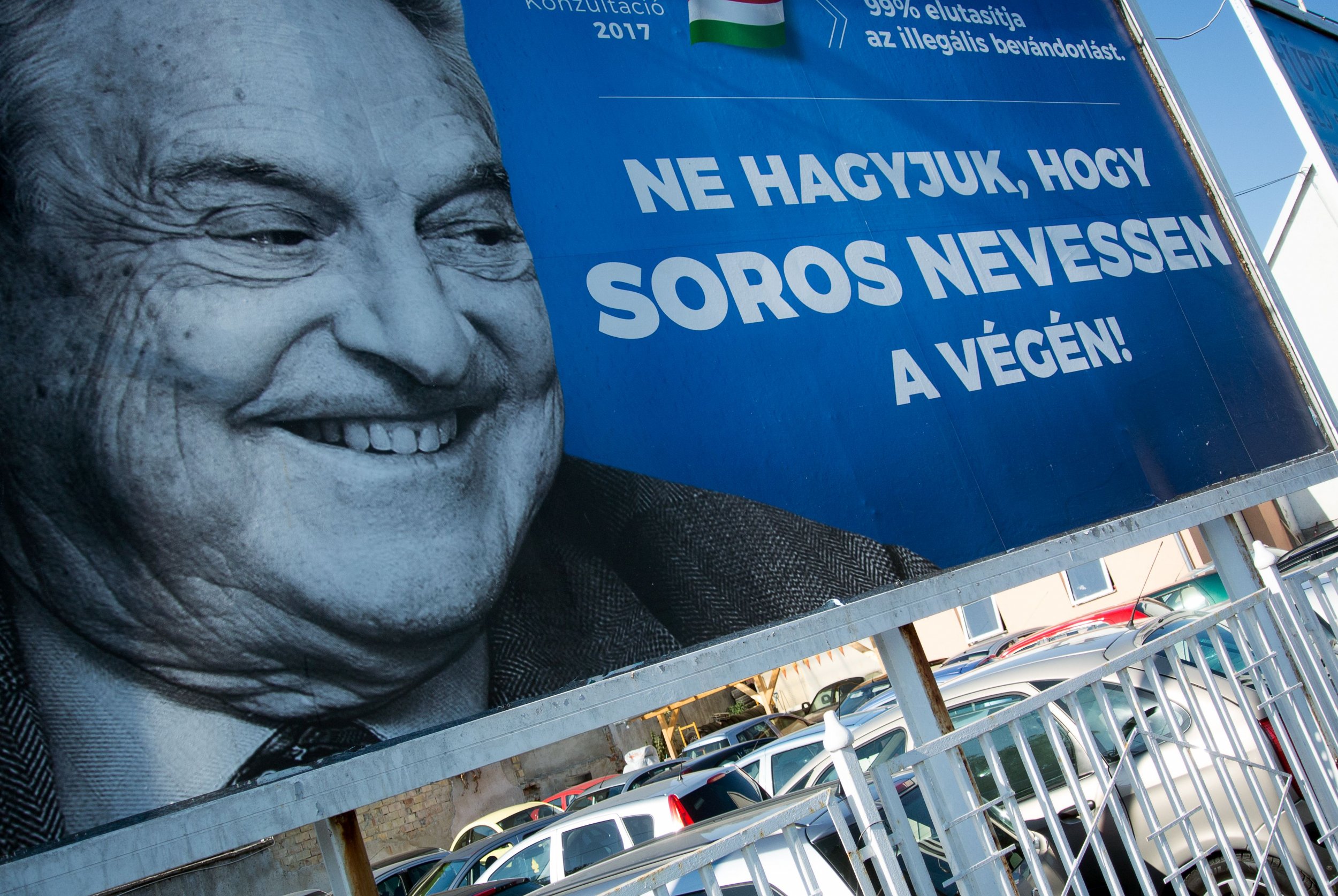 Viktor Orbán, the prime minister of Hungary, has been called a dictator and a despot. To many in Western Europe, his vision of an "illiberal new state based on national foundations" will turn Hungary away from Germany and France, toward Turkey and Russia. Orbán's efforts to keep out asylum seekers from Syria and elsewhere, to malign them wholesale as "poison," have led to charges of xenophobia. An ongoing campaign against American financier George Soros has stoked fears of a recrudescent anti-Semitism.
"Mr. Orbán has been denting his country's standing for some time now," said a Guardian editorial from 2015, calling him "Orbán the awful."
But to Steve King, a Republican congressman from Iowa, Orbán is something else entirely: a principled defender of Western civilization, not to mention a modern-day Winston Churchill. He tweeted Saturday: "History will record PM Orban the Winston Churchill of Western Civilization...if the West survives cultural suicide."
It is unclear what King meant, since Churchill was a proponent of democracy. It is moreover unclear what King meant by "cultural suicide," or why the West would need rescue by a Churchill figure if it were to survive such an attempt at self-slaughter. And since Churchill already belonged to Western civilization by dint of his British ancestry, it is lastly unclear how Orbán could supplant Churchill as a more Western version of himself. A request for explanation to King's office went unanswered.
Michael Ignatieff is the president of the Central European University in Budapest. The graduate school may be forced to close for no reason other than its financial ties to Soros. Presented with King's tweet, Ignatieff was nonplussed. "Winston Churchill certainly never trafficked in cultural pessimism," the human rights scholar says in an email to me. "People loved him, it should be remembered, because of his incurable, romantic, pull-out-all-the-stops optimism. Where has that gone?"
The confusing Churchill comparison aside, it seems clear that what King most admires is the Hungarian leader's unstinting nativism. Orbán has made no secret of his revulsion to migrants, Muslim ones in particular: the "Trojan horse of terrorism," as he calls them. He wants a Hungary for Hungarians and has denounced the "unholy alliance of Brussels bureaucrats, the liberal world media and insatiable international capitalists," sounding very much like a Fox News commentator in the age of Donald Trump.
That similarity isn't lost on King, who frequently takes to Twitter to express his inflammatory, antediluvian views on immigration and race. While the Southern Poverty Law Center would not go so far as to call King a "white supremacist," the SPLC's Heidi Beirich says he is "a racist and a bigot." King has a long history of making disparaging statements about immigrants while serving up nostalgia for a significantly whiter America. His latest "proposal" involved building President Trump's border wall with Mexico in part by using funds currently allotted to Planned Parenthood, the women's health organization.
This was not the first time King, a member of the Tea Party caucus in the House of Representatives, has expressed admiration for Orbán, the Hungarian strongman. Back in April, King tweeted support for Orbán's attempts to shut down the Central European University, which was founded by Soros (the desire to close CEU appears to be wholly predicated on Orbán's conviction that Soros was meddling in Hungarian politics).
At the time, the liberal site Think Progress noted that "King has forged links with a number of other far-right European parties. His friends abroad include leaders of the French National Front and Austrian Freedom Party, both of which were founded by fascists. He has also endorsed the nationalists Geert Wilders and Frauke Petry, of the Netherlands and Germany, respectively."
King is only following in the footsteps of the man in the Oval Office. Trump recently visited Poland, where he basked in the adulation of nationalist President Andrzej Duda. Much like his counterpart in Hungary, Duda has been suppressing civil liberties while giving license to extremist elements. He has resisted calls to take in Syrian refugees, just as Orbán has, making their two nations the least welcoming in the European Union to migrants fleeing the Middle East and North Africa.
Speaking in Warsaw, Trump trumpeted the theme of civilizational conflict beloved by authoritarians. "Every foot of ground, and every last inch of civilization, is worth defending with your life," Trump said. "Just as Poland could not be broken, I declare today for the world to hear that the West will never, ever be broken. Our values will prevail. Our people will thrive. And our civilization will triumph."
Trump embraces virtually any political leader who shares that view. During the presidential campaign, Trump campaigned in Mississippi with Nigel Farage, the British nativist largely responsible for Brexit. He has also expressed apparent support for Marine Le Pen, the French neo-fascist. And, of course, there is Trump's enduring affection for Russia's Vladimir Putin, who has turned the Kremlin into an epicenter of European neo-authoritarianism.
These figures, as well as others like them, plainly see an ally in Trump, who is easily impressed by shows of strength and shares a broad, if seemingly unexamined, belief in nationalism. "We have received permission from, if you like, the highest position in the world so we can now also put ourselves in first place," Orbán said in January, suggesting that Trump's victory has signaled the decline of the liberal, transnational order. "This is a big thing, a great freedom, a great gift."
Orbán was also surely pleased to learn that one of his former advisers, Sebastian Gorka, was named a top White House staffer. (It has been alleged that Gorka once belonged to a Hungarian group with Nazi sympathies.)
Orbán has arguably had more success with his nationalistic agenda than Trump has had with his. Hungary recently finished a second wall along its border with Serbia. It also funnels asylum seekers into detention camps, which The New York Times noted has "ugly and unavoidable echoes of rounding up Jews, Roma and others during World War II."
Much like Poland—and other Eastern European nations—Hungary has recently downplayed its complicity with the Nazi regime, and in the Holocaust in particular, casting itself as helpless victim, when it was more frequently a collaborator. In particular, Orbán has led the effort to rehabilitate Miklós Horthy, a Hitler ally who led Hungary during World War II and helped deport its 400,000 Jews to Nazi concentration camps.
Many believe that Orbán's attacks on Soros and CEU are motivated by an undercurrent of anti-Semitism, along with the more obvious desire to keep Soros from organizing a liberal opposition to Fidesz, the ruling party to which Orbán belongs. The Hungarian prime minister recently began an advertising campaign to discredit the Hungarian-born financier, who now lives in the United States. That campaign shows Soros with a sinister smile on his face. "Don't let George Soros have the last laugh," the accompanying text says. Debate over whether the ad is anti-Semitic has been settled by the many vandals who've taken to amending the posters with a message of their own: "stinking Jew."
Recently, Orbán has entered into an unlikely friendship with Israeli Prime Minister Benjamin Netanyahu. Netanyahu visited Hungary earlier this month, becoming the first Israeli head of state to step on Hungarian soil in more than two decades. While some wanted Netanyahu to condemn the anti-Soros campaign, such hopes stood little chance of being realized. Soros is a scourge of the Israeli prime minister, too, because he supports groups that in turn advocate for Palestinian rights. Far from opposing the anti-Soros campaign in Hungary, Netanyahu is waging one of his own.
Orbán has his border fence, while Netanyahu has West Bank barriers and a wall with Egypt. Mused the Israeli prime minister on Twitter: "President Trump is right. I built a wall along Israel's southern border. It stopped all illegal immigration. Great success. Great idea."
If that it is proof of anything, it is that the forces of illiberalism—whether in Hungary, Israel, the United States or elsewhere—are quick to recognize each other. They grasp that just as democracy needs helpmates, so does totalitarianism. So they bolster themselves with a shared language of nationalism and pride, cloaking their xenophobia in a concern for "Western civilization," which refugees from Syria or Somalia are apparently on the cusp of destroying.
Ignatieff, Central European University president, finds the rhetoric of civilizational decline scurrilous and disingenuous, fearmongering for the sake of power. "Both Trump and Orban traffic in a politics of cultural pessimism," Ignatieff says. "I do ask myself who actually believes that Western civilization is under threat. Isn't Western civilization defended best by people who actually believe in its future, in its capacity to adapt and change?"