Trump Call for Sotomayor and Ginsburg Recusals Is Step Toward Defying Supreme Court Decision, Says Political Analyst
A senior political analyst said President Donald Trump's call for two Supreme Court justices to recuse themselves from all cases related to him was a step toward the "perhaps inevitable moment" when he would defy a Supreme Court decision.
Ron Brownstein of CNN speculated in a Monday night tweet that the commander-in-chief would use perceived bias against him as a reason to ignore a Supreme Court decision, "especially" if he wins a second term at the November presidential election.
The analyst made his remark after President Trump pushed for Justices Sonia Sotomayor and Ruth Bader Ginsburg to recuse themselves from cases involving his administration just days after Sotomayor hit out at the government for repeatedly seeking "emergency relief" from the Supreme Court.
"'Sotomayor accuses GOP appointed Justices of being biased in favor of Trump,'" the president tweeted on Monday night, crediting Fox News show The Ingraham Angle.
"This is a terrible thing to say. Trying to 'shame' some into voting her way? She never criticized Justice Ginsberg when she called me a 'faker'. Both should recuse themselves... on all Trump, or Trump related, matters!
"While 'elections have consequences', I only ask for fairness, especially when it comes to decisions made by the United States Supreme Court!" the president added.
Responding to the president's criticism of Sotomayor and Ginsburg last night, Brownstein tweeted: "Another step toward the perhaps inevitable moment when Trump, especially if he wins a second term, defies a #SCOTUS decision b/c Justices are 'biased' against him."
Posting a link to Sotomayor's dissent in the Wolf v Cook County case on Friday, University of Texas School of Law professor Steve Vladeck tweeted: "Here's Justice Sotomayor's actual dissent, which accuses the majority of wrongly tipping the scales for emergency relief in favor of the federal government—not of pro-Trump bias. And as I've explained at length before, she's right."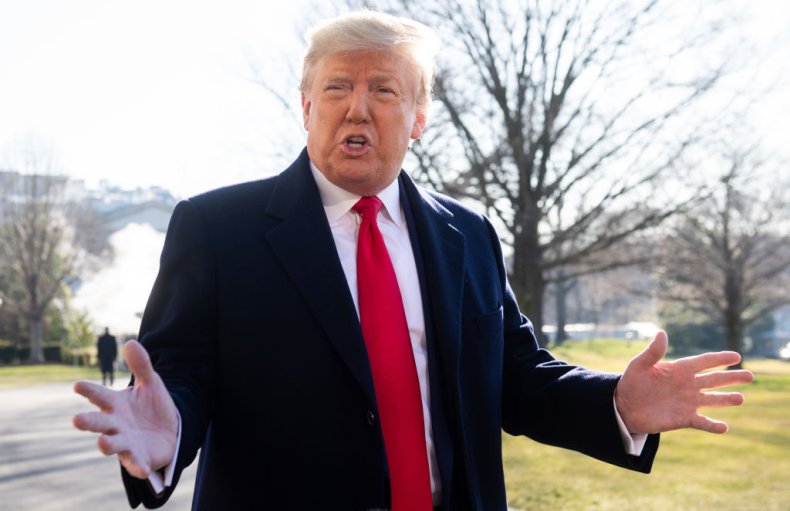 "Trump demands the two liberal female judges on the Supreme Court (Sotomayor and Ginsburg) recuse themselves on any Trump-related Supreme Court hearings," Daphne Romney QC tweeted. "This is what happens when you appoint 'left-wing' and 'right-wing' judges. An affront to democracy. And scary."
Reacting to the president's tweet, Messiah College historian John Fea also said: "This is what it looks like when the President of the United States is held captive by a cable television network."
"I doubt this will go over well at 1 First Street, although I also doubt Trump cares about that," UC Berkeley Law professor Orin Kerr further posted.
Newsweek has contacted the White House for comment and will update this article with any response.
In her written dissent against the Supreme Court's 5-4 ruling in favor of the administration's "public charge" rule aimed at making it more difficult for immigrants to obtain green cards when they access public benefits, Sotomayor said the Trump administration was asking the Supreme Court to "grant a stay where two lower courts have not."
The Supreme Court justice wrote: "Claiming one emergency after another, the Government has recently sought stays in an unprecedented number of cases, demanding immediate attention and consuming limited Court resources in each.
"And with each successive application, of course, its cries of urgency ring increasingly hollow. Indeed, its behavior relating to the public-charge rule in particular shows how much its own definition of irreparable harm has shifted."
Under the "public charge" rule brought into effect on Monday, immigrants who rely on benefits like food stamps and Medicaid could see their visa and green card applications rejected.
The policy dubbed a "wealth test" by its critics will allow officials to factor in the possibility of a visa or green card applicant becoming a "public charge" when making decisions on their status.
The Migration Policy Institute says in a commentary piece on its website that a migrant's health, family size, income and "public benefits use" would all become factors in deciding whether a migrant was permitted to stay in the U.S.