At South Carolina Town Hall, Trump Says He Still Respects the Pope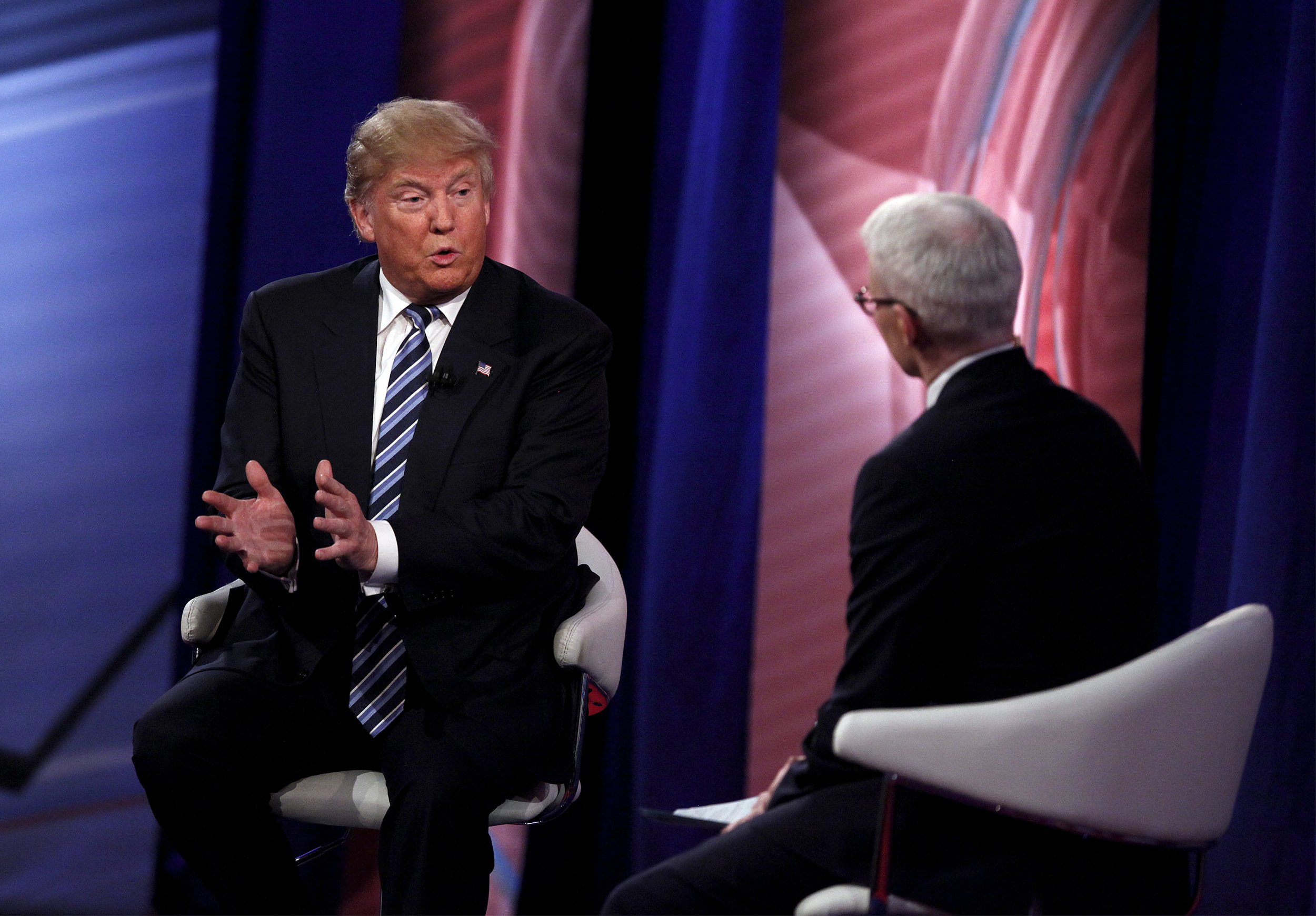 Republican voters got a taste of both ends of their party's ideological spectrum in CNN's town hall in Columbia, South Carolina, on Thursday evening. Ohio Governor John Kasich, who's appealing for the mainstream vote, kicked off the night with a dose of unifying rhetoric, talking up his record expanding Medicaid and lifting up the poor and mentally ill. And billionaire Donald Trump closed it with barbs at Pope Francis and Republican politicians past and present.
Sandwiched in between, former Florida Governor Jeb Bush appealed to Palmetto State voters to keep his flagging campaign alive. "I do have momentum if you look at the polls," he insisted to CNN host Anderson Cooper.
Trump made no apologies Thursday about taking on the world's most prominent religious leader, Pope Francis, a fracas that dominated the opening minutes of his appearance on Thursday night. "Ahhh, the pope is a wonderful guy," Trump said as he settled in for a series of questions from Cooper.
Pope Francis created a stir on the campaign trail Thursday following a visit to the U.S. and Mexico when he said that it was not Christian of Trump to support a wall to block immigrants from Latin America coming to the United States. When asked about it at the town hall, Trump responded, "I didn't think it's a good thing to say, frankly."
"We're going to build a wall and Mexico is going to pay for the wall and that's the way it's going to be," he insisted. And he pointed out that the Pope has "got an awfully big wall at the Vatican."
But Trump began to soften his tone when Cooper pressed him further. "You've been in fights with a lot of people, but with the Pope? Does that give you pause?"
"I don't think this is a fight," he shot back, then suggested the Pope's statement had been exaggerated and that he'd been influenced by the Mexican government. "I have a lot of respect for the Pope … I think he's doing a very good job, he's got a lot of energy, but I think he was very much misinterpreted. And I also think he was given misinformation."
Trump didn't give any quarter, however, when pressed by an audience member on his claims in the last debate that former President George W. Bush lied to push the country into war in Iraq. "Look I'm not going to get your vote, but that's okay," the real estate mogul replied, before launching into a lengthy indictment of the conflict last decade. "That was one of the worst decisions ever made by any government at any time," he declared, suggesting that it "started the whole destabilization of the Middle East."
But Trump repeatedly ducked Cooper's efforts to pin him down on his allegation that Bush knowingly lied about weapons of mass destruction in Iraq to justify the war. "I don't know what he did," Trump replied. "I don't know, I can't tell you."
The former president has been back in the news in recent days thanks to Trump, as well as his younger brother, who George has been campaigning for in South Carolina. Jeb Bush kept a distance from his family name early on in the campaign, but with his campaign struggling to gain traction, he's begun to embrace it wholeheartedly. His mother, former First Lady Barbara Bush was in the audience on Thursday. Bush also brought up his father, former President George H.W. Bush, noting that he recently finished reading a new biography about him. "I thought I knew everything about my dad, but I wasn't even close," he said.
Despite his family's star-power, Bush consistently lags well behind Trump and others in South Carolina. Trump's commanding lead in the polls has surprised some observers, who expected the thrice-married New Yorker would struggle to appeal to the state's sizable segment of socially conservative and evangelical voters.
While Trump hardly mentioned religion Thursday (aside from his skirmish with the Pope), Kasich and Bush talked openly of their faith. Both professed affection for the Pope, although Bush, who converted to Catholicism as an adult, said "I just don't think it's appropriate to question people's faith." Kasich said "we have a right to build a wall," he quickly added, "we have too many walls between us. We need to build more bridges."
The two veteran politicians were also far from Trump in terms of bombast. Where Trump boasted "I'm a smart person" and "society loves me," Kasich expressed humility. "I'm not that great a guy," he insisted, when talking about how his faith helps explain his success. "It's just all been a miracle to me." Bush talked about being an introvert and how it affected his interactions on the campaign trail. "It's not about me," Bush said, saying he preferred to listen and learn from others, "rather than being a big blowhard all the time."
That was the closest either got to throwing a punch at their GOP rivals. Trump, meanwhile, kept up his threats to sue Texas Senator Ted Cruz, another 2016 candidate, over an attack ad the Cruz campaign is running. "He has a problem with the truth," Trump sniffed.
There was one point of convergence, however, between Trump and his more mainstream Republican opponents Thursday night. As he's done time after time during the campaign, Kasich defended his decision to expand Medicaid with funding from the 2010 Affordable Care Act (aka Obamacare). "This has worked out great for us, we're saving money and we're giving people an opportunity to be able to get their lives back," the governor insisted. "Why wouldn't we be doing that?"
For all his tough talk, Trump sounded a very similar note when offering his own Obamacare alternative. "We've got to take care of people who can't take care of themselves," he said, saying his plan would help pay for those people to have health coverage. "That's called heart."