Selling Trump Gear While Wearing a Hijab: Meet the Muslim Woman Who Runs D.C. Souvenir Shop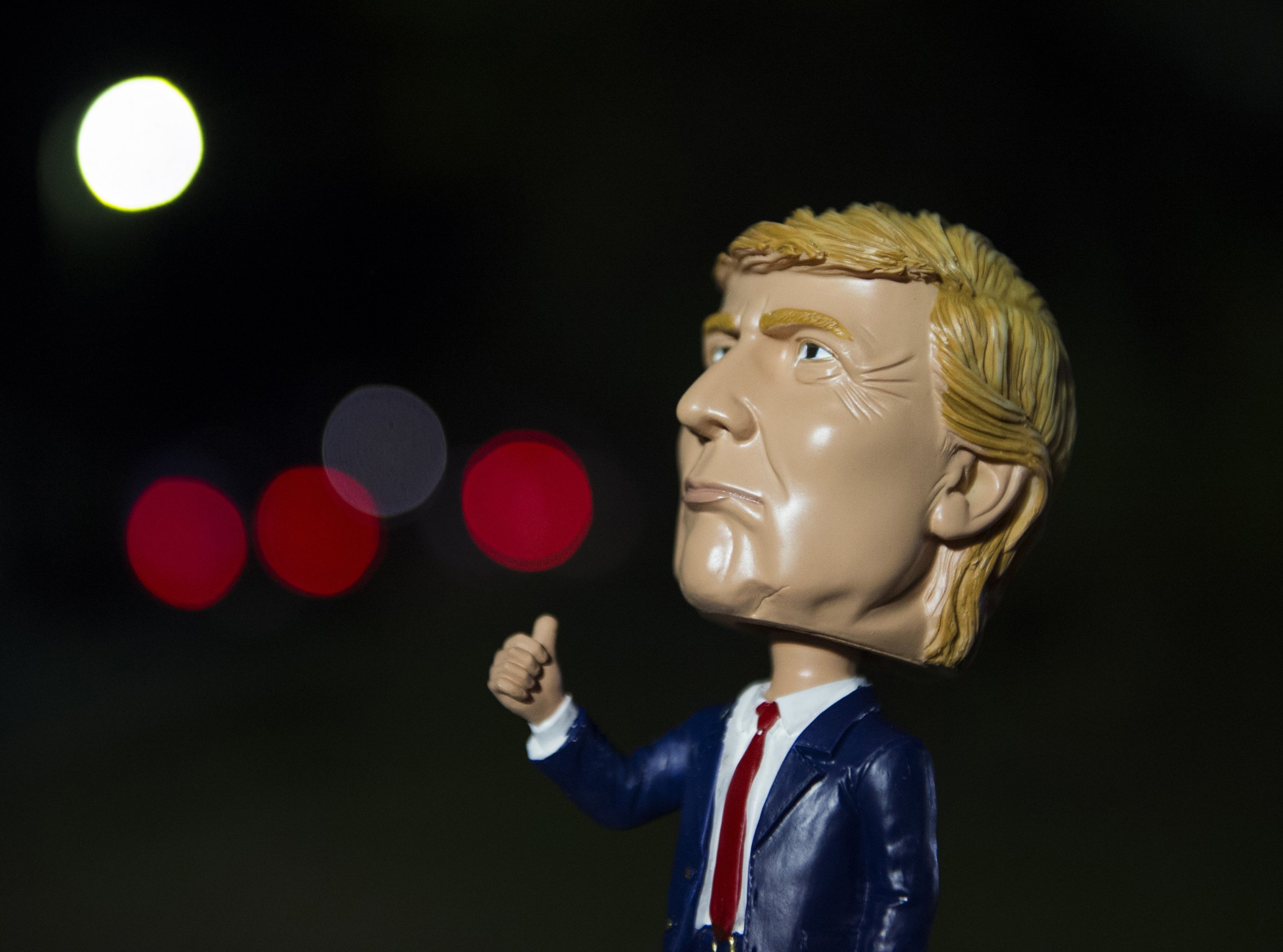 Tucked into a corner of the main hall at Union Station in Washington, D.C., a woman in a maroon hijab stands behind a wood and glass display case, surrounded by items bearing the name or image of President Donald Trump. Tini Cherkaoui, 50, has worked at the outpost of Alamo Flag, which claims to have "the world's largest selection of flags and banners," for 17 years. In that time, she's sold plenty of presidential gear, but she says of late people have been coming over to the stand to express their views on the president.
Cherkaoui, the manager there, is a Muslim immigrant from Indonesia. She works five days a week, from 9 to 5, commuting from Maryland. She is a U.S. citizens but says she didn't vote last November. The shop is situated between some restrooms and a Chop't. It consists of a countertop with a display case below it that wraps around two thick columns. Racks of souvenirs are beside the counter, and mannequin busts with T-shirts are along the wall in the back. The shop carries magnets, sunglasses, patches, mugs, sweatshirts and more items.
Related: Trump's Time cover is fake, but the Newsweek isn't
The shop started carrying Trump souvenirs after the businessman announced his presidential candidacy in June 2015, according to Cherkaoui. After he won, the Trump supply was increased. "During the election, it's like, probably they don't want to make too much items for him because they thought he was going to lose," she says.
Many of the items on sale show Trump's smiling face or his slogan, "Make America Great Again." The Trump campaign owns the trademark to that phrase, so unless the souvenirs are knockoffs, the money in theory goes to the campaign. The most popular item there is the Trump bobblehead ($20), which Cherkaoui thinks is such a hit because both Trump supporters and detractors buy them. Indeed, as she speaks with Newsweek, two teenage boys on a road trip from Quebec, Canada, purchase one. It's "for a joke," one of the boys is quick to say.
Cherkaoui isn't the only Muslim immigrant involved with the company. Fawaz Ismail, the son of Palestinian refugees, started the business in 1972, selling Turkish tapestries from a van on the side of the road in Texas. Growing up in Dallas, Ismail went by "Tony," he once told The Washington Post. But after the September 11 attacks, he decided to return to his birth name in order to reconnect with his heritage at a time when Muslims in the United States were feeling discriminated against. He told the Post he gave away thousands of American flags the day of the attacks, and he also reportedly supplies flag pins to the U.S. government. Alamo Flag now has seven retail stores.
The business of selling Trump souvenirs is good, according to Cherkaoui, even when public opinion of the president seems low. Last November, only 4 percent of voters in D.C. cast ballots for Trump. But tourists are a different story. Just more than a mile from Union Station, trucks carrying souvenirs pop up along the National Mall. One recent day, a Newsweek reporter spotted nine people—all children—wearing Trump hats near the Mall over the course of two and a half hours.
With such a divisive figure in the Oval Office, even busy commuters and travelers stop to share their political opinions with Cherkaoui. Opponents of Trump tend to ask her how she can sell such merchandise, she says, and she explains to them that for her, it's just a job. "But the people who love him, they will just come and shake my hand."
Those opinions intensified after January 27, when Trump signed the first version of the executive order temporarily halting travel from seven Muslim-majority countries. (Parts of an altered version went into effect Thursday.) "People [would] come in and just say, 'I don't know why you're selling that, and especially you," Cherkaoui says, referring to her wearing a hijab. She adds that at one point she was worried about the reaction she might get from Trump supporters, "but so far I have no negative issue about it."
Having worked at the shop for almost two decades, Cherkaoui says she's used to the cycle of presidents in and out of office. Speaking like a true Beltway insider, she says: "I've worked four or five inaugurations. I know what it's like. To me, nothing changed. It's the same."