Trump Special Counsel Gives Him Another Thing to Worry About
Special counsel Jack Smith has already produced some bad news for Donald Trump since he took over the Justice Department's two Trump probes, but there's another thing the former president and 2024 candidate has to worry about, thanks to Smith.
In recent weeks, Smith has ramped up his broad investigation into Trump's actions regarding the January 6 Capitol riot with a series of aggressive moves, like subpoenaing former Vice President Mike Pence. (Smith is also probing Trump's handling of classified documents.) But the speed at which the federal probes into Trump are moving, as well as developments in Georgia's 2020 election investigation, has also turned up the heat on Manhattan District Attorney Alvin Bragg to get moving on his own Trump case.
There are currently several federal and state investigations into whether Trump committed criminal misconduct. But while these probes are technically separate from one another, "they don't exist in a vacuum," Michael McAuliffe, a former federal prosecutor and Florida state attorney, told Newsweek.
"The ongoing investigations may explicitly influence one other, like overlapping witnesses...or they may impact each other in more subtle ways, including building public expectations to act to hold Trump accountable," he said.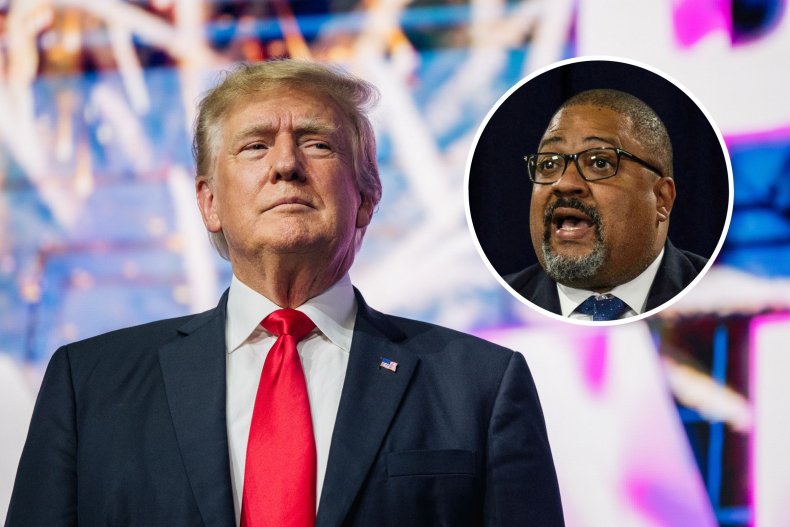 Of the ongoing probes into Trump, Bragg's investigation into hush money payments Trump allegedly made to former adult film star Stormy Daniels was moving at a much slower pace. Bragg's decision to hold off on possibly indicting Trump has been criticized by some of his own former investigators, like Mark Pomerantz.
Pomerantz, who served as the special assistant district attorney on the Trump case under Bragg's predecessor, Cy Vance, unexpectedly resigned after the new DA indicated he had doubts about moving forward with the case. Earlier this month, Pomerantz published a book in which he compares Trump to a mob boss and portrays Bragg as timid and weak.
McAuliffe described Bragg's efforts to investigate Trump as "a zigzag-like path."
"Bragg appeared to put an end to the Stormy Daniels hush money payments matter early in his tenure as a newly elected district attorney," he explained. "His office then successfully prosecuted the Trump business organization for criminal tax fraud."
But more than the political pressure added by the Smith and Georgia investigations, it's Bragg's success in the Trump Organization tax fraud case that is providing him the momentum to reactivate the seemingly dormant Daniels investigation, McAuliffe said.
"In doing so, he inescapably is creating an expectation that there will be a significant result from the renewed effort," he said. "It's Bragg himself who has reset the bar for his office's investigations of Trump."
However, even if Bragg comes up with more evidence to hand Trump an indictment, it will still be hard to do so. Former federal prosecutor Neama Rahmani told Newsweek that Bragg is not only up against the clock to overcome any statute of limitations problems. It may also be "too little too late" if Fulton County, Georgia, District Attorney Fani Willis is pursuing a conspiracy indictment against Trump. A special grand jury spent seven months investigating Trump's actions in Georgia after his loss in the 2020 election.
"The pressure is on Bragg, but will he do anything about it?" Rahmani said. "Bragg has to run for reelection in a couple of years, and I won't be surprised if he faces a challenge based on his failure to prosecute Trump personally."
Newsweek reached out to Bragg's office for comment.