Trump Speculates Johnson & Johnson Vaccine Pause Fueled by Politics, FDA's 'Friends at Pfizer'
Former President Donald Trump lambasted the Centers for Disease Control (CDC) and Food and Drug Administration's (FDA) recommended pause on usage of the Johnson & Johnson vaccine for being politically driven.
Six people who were recently vaccinated against COVID-19 with the Johnson & Johnson inoculation developed rare and serious blood clots. With about 7 million doses administered, it's an extremely rare potential side effect, but the pause, which may last just a few days, was recommended out of an "abundance of caution."
Trump, who has claimed that news of the Pfizer vaccine's efficacy was purposefully withheld until after the election, said in a statement the FDA may have recommended the pause because of its "love for Pfizer."
"They should not be able to do such damage for possibly political reasons, or maybe because their friends at Pfizer have suggested it," Trump said. "They'll do things like this to make themselves look important."
Newsweek reached out to the FDA and Pfizer for comment but did not receive a response in time for publication.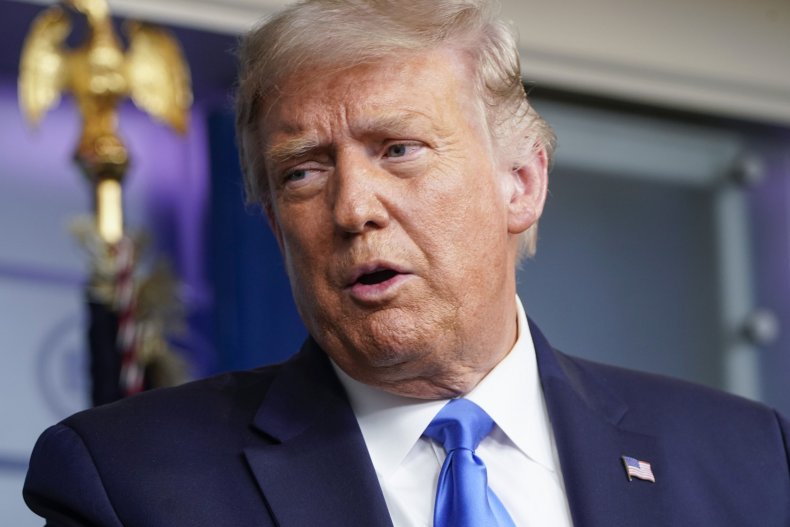 The CDC and FDA's recommendation falls short of forcing sites to stop administering the J&J vaccine, but states quickly started announcing they'd pause appointments for it. Of the six people who had cerebral venous sinus thrombosis, the rare blood clot, one died and another is in critical condition.
All six cases involved women between 18 and 48, and their symptoms occurred six to 13 days after vaccination. The recommended pause was put in place to give the CDC and FDA time to investigate the cases and "assess their potential significance."
While the adverse events are "extremely rare," the CDC and FDA recommended that those who received the inoculation should monitor themselves for severe headache, abdominal pain, leg pain or shortness of breath within three weeks of their vaccination.
Johnson & Johnson's vaccine can be helpful in increasing the speed at which the United States reaches herd immunity because people are fully inoculated after one dose, instead of the two needed for the Pfizer and Moderna vaccines. Jeff Zients, the White House COVID-19 response coordinator, denied the announcement would have a "significant impact" on the administration's vaccination plan, in part because the White House has secured 600 million doses of the Moderna and Pfizer vaccines.
Another concern the pause raises is the impact it could have on vaccine hesitancy. An estimated 30 percent of people were not interested in getting vaccinated ahead of the announcement, and if J&J appointments resume with the FDA and CDC's blessing, some people may be more worried about the side effects of the vaccine than they are about COVID-19.
A recent NPR poll found about 47 percent of Trump's supporters aren't interested in getting vaccinated, a portion of the population that could put the country's ability to reach herd immunity at risk. One of the biggest concerns Trump supporters have about the vaccine was the long-term effects, according to Frank Luntz, a GOP pollster who conducted a focus group and subsequent poll.
To help combat vaccine hesitancy, Brian Castrucci, CEO and president of the de Beaumont Foundation, told Newsweek, it's important to be transparent about what we know—and don't know—about the long-term effects of COVID-19 vaccinations. It's also important to contrast that information with what officials know about how many people have had long-term effects after getting COVID-19.
Trump said that Johnson & Johnson's vaccine reputation will be "permanently challenged" and that he thinks the people who already received it will be "up in arms."
"Do your testing, clean up the record, and get the Johnson & Johnson vaccine back online quickly," he said in his statement.