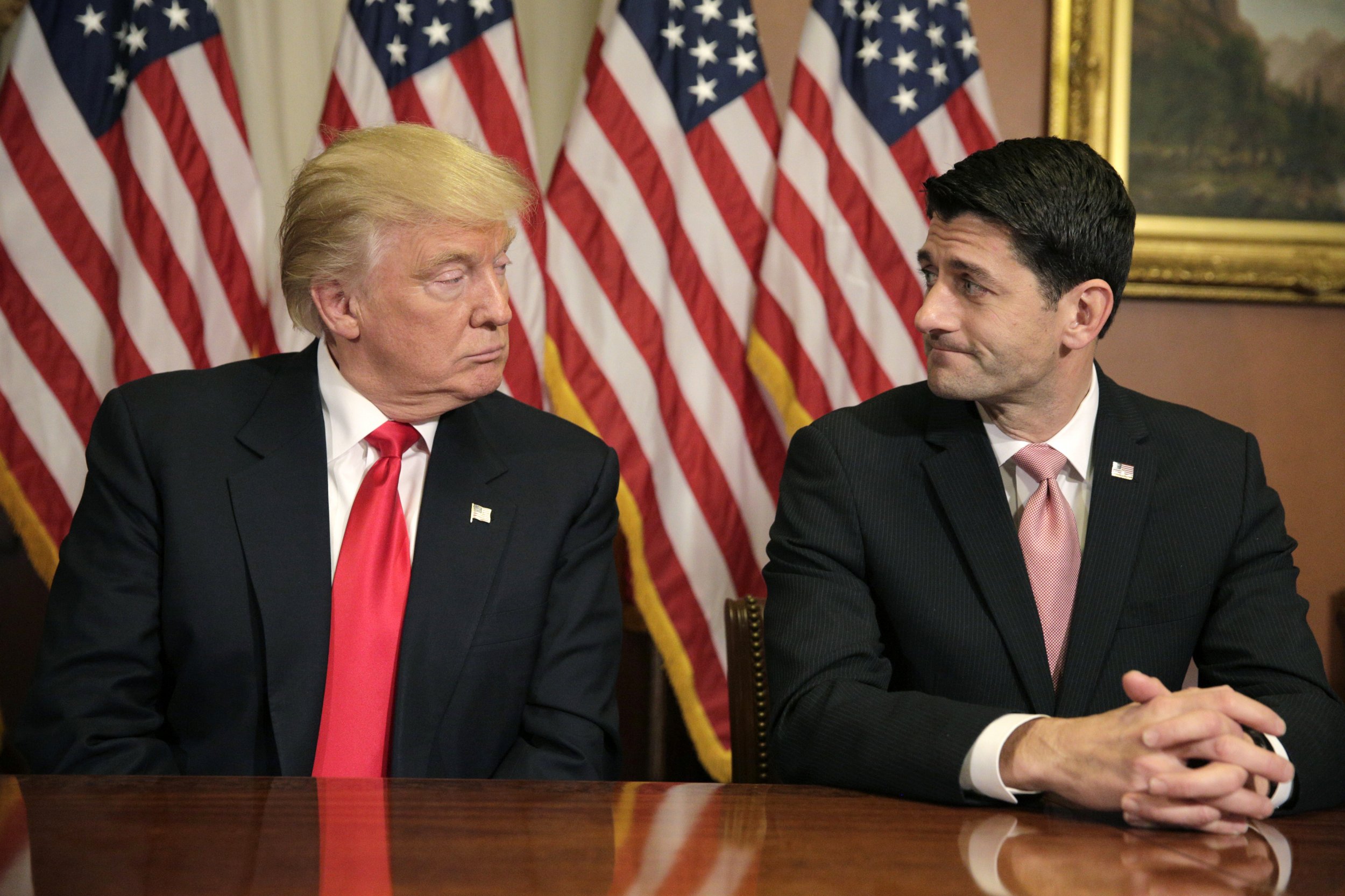 Updated | On the day he was set to address Congress for the first time as commander in chief, President Donald Trump scrambled expectations for his immigration policy when he told news anchors Tuesday that he is open to a bill that would grant legal status to undocumented immigrants living in the United States. "The time is right for an immigration bill as long as there is compromise on both sides," Trump said at the White House, CNN reported.
The president's comments confused some immigration advocates and experts, who noted the wide gulf between his new statements and the tougher immigration measures his administration outlined just a week ago.
"Incredulous would be an understatement," Chris Newman, legal director of National Day Laborer Organizing Network, tells Newsweek of his initial reaction. Newman says he was reluctant to comment because he thinks Trump's statement is baseless propaganda until it's backed up by a more substantial statement or position. "In his first couple of months in office, he's the single most anti-immigrant president of modern times.… It wouldn't be difficult to soften his position, given how hard it currently is."
But an activist on the other side of the issue, Sam Herrera of the anti-illegal-immigration group Stop the Magnet, says he doesn't see any contradiction between Trump's statements Tuesday and the memos the Department of Homeland Security released earlier in February. "People who have shown that they are productive and abiding by our laws, I think there's a way for that," Herrera says, noting that the U.S. doesn't have the resources or ability to deport every undocumented immigrant. "To give full citizenship, amnesty? No. To become some sort of legal status, albeit temporary, would probably be OK."
Related: A hole in Donald Trump's wall
Trump wants to pass an immigration bill that would allow undocumented immigrants who aren't serious criminals to live, work and pay taxes in the U.S. without being deported, a senior administration official told CNN—an idea that seems similar to the policies put in place by the Obama administration. But Trump would not support a path to citizenship for those people in the country illegally, the network reported.
"There is a definite need to overhaul our current immigration laws which have been cobbled together over the years," Robert Rutt, a security consultant who ran Immigration and Customs Enforcement's Homeland Security Investigations in Houston before he retired in 2012, tells Newsweek in an email. "Whatever is done needs to be well thought out taking into consideration our national security, our economy and the vast number of illegal aliens currently entrenched into our communities. It is not realistic to have your goal to remove 11.5 million people overnight...or even within four years."
The reaction from some Trump supporters on Twitter was swift and harsh. "If @realDonaldTrump pushes for the amnesty of ANY illegal aliens or continual mass immigration he can kiss his legacy and 2020 goodbye," tweeted the account @SeattleForTrump. Another wrote, "Don't betray us, @potus," above a retweet of a 2013 Trump tweet that read, "Amnesty is suicide for Republicans.Not one of those 12 million who broke our laws will vote Republican.Obama is laughing at @GOP."
On February 21, the Department of Homeland Security (DHS) released two memos that spelled out plans to toughen how the agency handles border security and enforcement of federal immigration laws, and detailed how the federal government will implement the controversial executive orders Trump signed in late January. The new, stricter practices include deporting any undocumented immigrant convicted of a crime; holding people caught at the border until their deportation hearings; hiring 5,000 more Border Patrol agents; and building a border wall.
In 2012, Trump criticized Republican presidential candidate Mitt Romney for being "mean" to illegal immigrants—a position he seemed to reverse, as he resorted to harsher anti-immigrant rhetoric during the 2016 campaign. His comments on Tuesday, however, seem more in line with what he said about Romney's plans. "Republicans didn't have anything going for them with respect to Latinos," Trump said in an interview with the conservative website NewsMax. "The Democrats didn't have a policy for dealing with illegal immigrants, but what they did have going for them is they weren't mean-spirited about it."
In his speech on Tuesday night, the president touched on immigration reform and his comments from earlier in the day, saying, "I believe that real and positive immigration reform is possible, as long as we focus on the following goals: to improve jobs and wages for Americans, to strengthen our nation's security, and to restore respect for our laws." He added, "If we are guided by the well-being of American citizens then I believe Republicans and Democrats can work together to achieve an outcome that has eluded our country for decades."
He also repeated his support for the formation of an office within DHS called "VOICE –- Victims Of Immigration Crime Engagement," which would create a liaison between ICE and the victims of crimes committed by undocumented immigrants. This measure was part of the DHS memos released February 21.
This story has been updated to include excerpts from Trump's address to Congress on Tuesday.