Trump Spent Jan. 6 Anniversary Watching Cable News and Fuming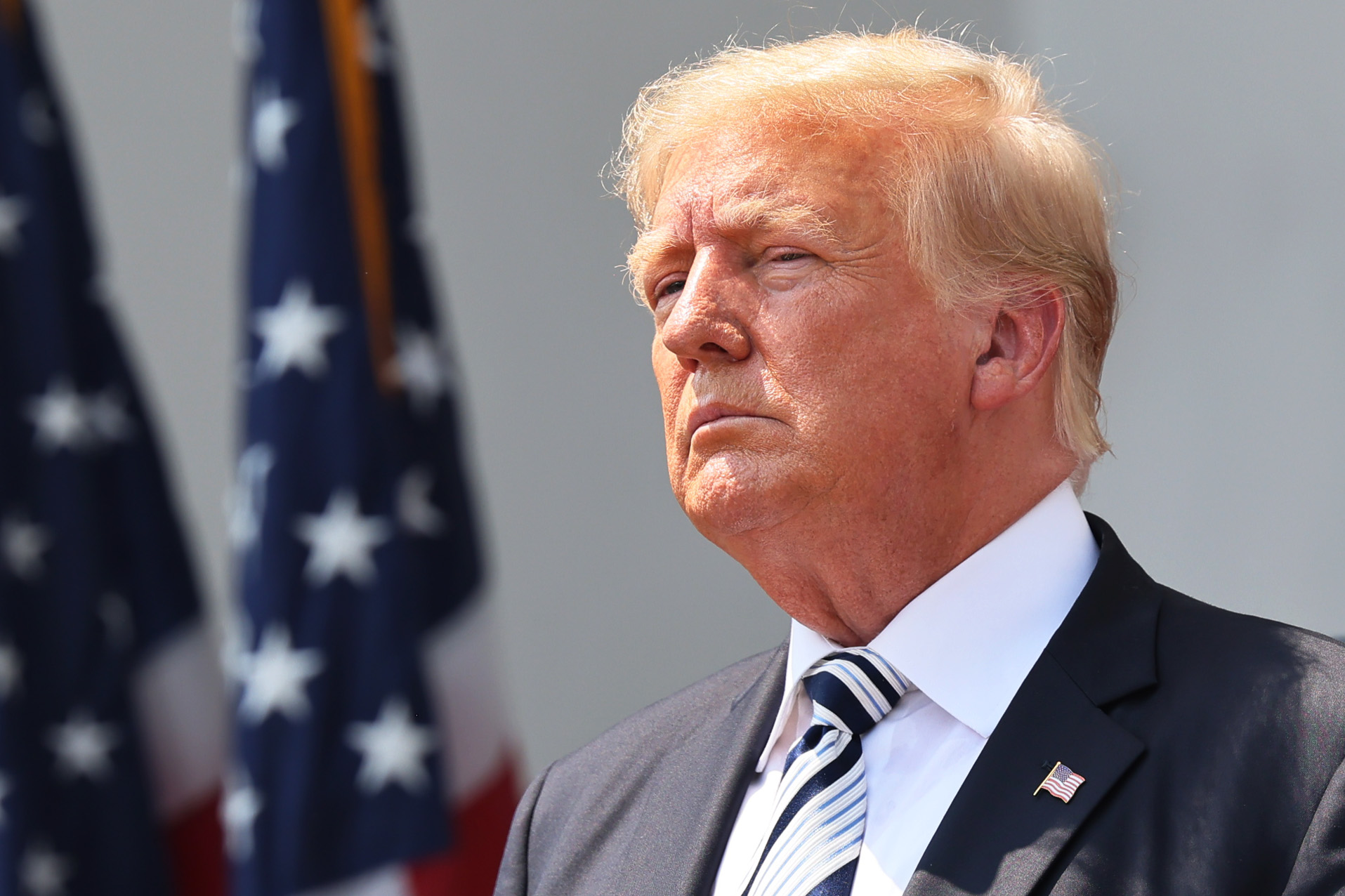 As President Joe Biden spoke on January 6, the first anniversary of the Capitol riots, Donald Trump was fuming. From his Mar-a-Lago estate, he watched as Biden lambasted him, blaming him directly for the unrest, branding him as nothing less than a threat to American democracy.
Trump had known what was coming, people close to the president told Newsweek. He expected Biden and the media to savage him on the anniversary. Not because he deserved it–close friends and political allies of the former president all say he still angrily rejects any culpability for the January 6 riot—but because, as he told one friend, "it's all they've got."
"[Trump said] they can't talk about anything else because the guy [Biden] is such a disaster," a Palm Beach friend of the former president told Newsweek.
Trump had originally planned to hold a press conference on the anniversary, a chance to reiterate his disdain for the congressional committee investigating the events of January 6, 2021, and again to voice his claim that the last presidential election was somehow "rigged," though neither he nor anyone else has produced any evidence supporting the claim of widespread voting fraud.
But several family members, political allies and friends had all quietly pushed back against that plan, three sources told Newsweek. Daughter Ivanka and her husband, Jared Kushner, as well as son Eric Trump, had misgivings, sources said. On a day in which the media was going all in on the anniversary–treating it with all the historical import, as Vice President Kamala Harris said, of Pearl Harbor and September 11, Trump's allies told him that no matter what he said, the press would make him look foolish, like a "denier."
Over the weekend, Trump played golf at Mar-a-Lago with Senator Lindsey Graham, of South Carolina, who has become a friend and sounding board over the last five years. Graham echoed the same concerns about Trump's plan. According to an account in the Wall Street Journal, Graham told the former president that there would be little upside to the news conference.
Reluctantly, Trump agreed with those advising him against the news conference. He decided he would address the events of January 6 at a rally in Arizona on January 15, and instead stayed home, stewing for the entire day, watching as the cable news shows aired what Trump was calling the "Biden-Pelosi show," according to a friend with knowledge of Trump's activities on Thursday. He didn't watch all of it, the friend said, breaking to take some phone calls, and for lunch. But he watched most of it—and was furious.
Friday, in lieu of the news conference, Trump issued a lengthy statement in response to what he had watched on Thursday.
Knowing that the violence at the Capitol a year ago is a political liability, political advisers say, the statement captures how, going forward, Trump will combat the charge that he "incited an insurrection," as his critics assert. He is trying to deflect blame and change the subject, they told Newsweek. In the statement he calls the riot "a Pelosi-led security failure at the Capitol"—as Speaker of the House, Pelosi oversees the Capitol Police Force—and skewers the Democrats for overwrought comparisons to September 11. In Trump's view, Biden's "handlers gave him that speech to read yesterday because they knew the unprecedented failures of his presidency and the left-wing extremism of the Pelosi-Schumer Congress have destroyed the Democrat Party."
Family members, friends and political allies such as Graham and Fox News commentator Laura Ingraham have counseled Trump not to obsess about the January 6 criticism, even though, as one Trump friend acknowledged to Newsweek, "he pretty much obsesses about criticism 24/7." People close to the former president told him that most Americans are not nearly as concerned with January 6 as Washington's Democrats and their media allies. Inflation, the health of the overall economy and COVID are top of mind, they tell him, not the Capitol riot.
Trump's allies said his willingness to back off his plan to hold a press conference on Thursday was a signal that the former president might understand that. It was somewhat out of character for someone who views himself, more than anything, as a pugnacious political counter-puncher—always hitting back when he gets hit. "I was somewhat surprised he backed out," a close Trump family friend told Newsweek. "Pleasantly surprised."
Trump's friends said even before the one-year anniversary it was hard to overstate his contempt for Biden; the anniversary speech on Thursday only intensified that contempt, they told Newsweek. "The reason he is so fixated on the so-called stolen election is that he still can't believe he lost to that guy. He thinks he's feeble and incompetent and believes [Biden's] first year has demonstrated that," a source familiar with Trump's thinking said.
Most polls showed that among Republicans, Trump remains the frontrunner for the 2024 presidential nomination, should he seek it. A political adviser who speaks to the former president frequently told Newsweek another run is likely, though Trump hasn't quite decided yet. However, Thursday's anniversary—Biden's speech, and the media's coverage of it—has made a run even more likely. "Look at the statement issued today," the adviser said. "Look at how it ends. That will give you a hint as to what he's thinking."
"Joe Biden and the radical Democrats have failed on every front," the statement concluded. "But do not lose hope. America WILL be great again."