Donald Trump Has Spent Nearly A Third of His Presidency Visiting His Business Properties At Taxpayer Expense: Report
President Donald Trump has spent nearly a third of his presidency visiting his business properties at taxpayer expense, according to a new report by the government watchdog group Citizens for Ethics and Responsibility in Washington.
CREW has found over 2,300 conflicts of interest resulting from Trump's decision not to divest ownership of his global business empire upon entering office. The group used social media, news reports, Freedom of Information Act responses and other sources of information to tally these instances. The nonprofit added that there are likely more conflicts of interest than the ones they have been able to identify.
"This corrupt relationship between the Trump Organization and the White House leaves the American public in the dark about whether presidential decisions and policy are being made in the best interest of the country or in the best interest of the president's own bottom line," Noah Bookbinder, CREW's executive director, told Newsweek.
According to the watchdog, Trump has visited his properties 362 times at taxpayer expense since his inauguration in 2017. So far in 2019, the president has made 81 trips to his business properties.
"The number of days where President Trump has spent time at a Trump-branded property account for almost a third of the days he's been president," the report said.
CREW also found that 111 foreign officials have made over 130 trips to Trump properties. The visits raise eyebrows as to how much money foreign governments have spent at businesses and properties related to the Trump Organization.
"Not only has President Trump continued to use the presidency to try to enrich himself, he has also granted foreign governments and special interests the opportunity to purchase access to his administration by patronizing his businesses," Bookbinder said.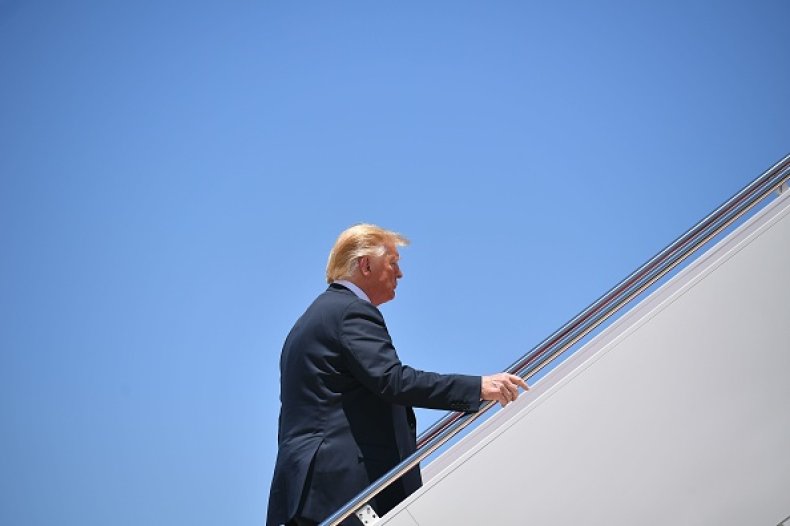 Over the past two and a half years, Trump Organization properties have raked in nearly $6 million from political groups. So far in 2019, political organizations have spent over $1 million by holding events at Trump properties. Before Trump ran for president, his business empire never made more than $100,000 from political groups in a year, according to CREW.
Trump has faced multiple accusations of violating the emoluments clause of the Constitution for mixing official duties with the Trump Organization.
In June, a Washington Post report found that his private businesses received $1.6 million from Republicans and various federal agencies. The Post surmised that the amount of money Trump has made due to visiting and campaigning at his business properties is likely much more than $1.6 million. But official government spending records are only available through the first half of 2017.
It has also been reported that the president is considering the Trump National Doral to host the G7 summit next year. Ethics experts criticized the move, saying it was just the latest example of Trump's disregard for mixing business with the presidency.
"No other president has retained ownership of a massive global business while serving, so this president's self-enrichment and conflicts of interest represent a unique and unprecedented affront to the democracy," Bookbinder said.