Trump Spent Saturday Watching TV Clips of Himself Criticizing Obama for Role in 2013 Government Shutdown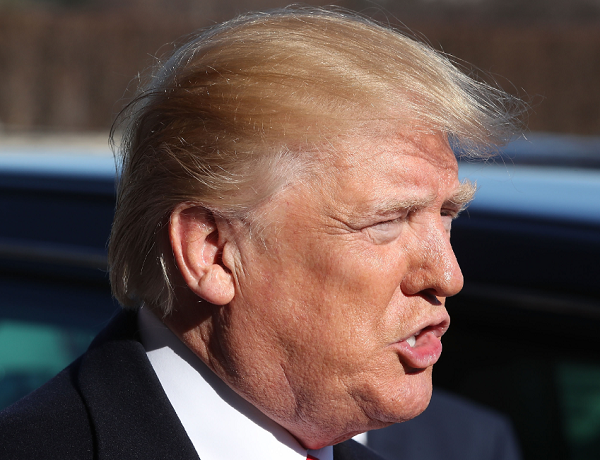 After President Donald Trump was forced to miss a swanky fundraiser at his Florida estate on Saturday night because of the government shutdown, he instead spent his day watching clips of himself criticizing former President Barack Obama for his role in 2013 shutdown.
A New York Times report described a "defiant and angry, self-pitying and frustrated" Trump telling aides he didn't deserve to be blamed for the federal halt. "Irritated to have missed his big event in Florida, Mr. Trump spent much of his day watching old TV clips of him berating President Barack Obama for a lack of leadership during the 2013 government shutdown," a White House aide told the newspaper.
The president was supposed to attend a gala to celebrate the one-year anniversary of his inauguration at his Mar-a-Lago estate, but the White House nixed those plans once the shutdown seemed more likely.
Since the government stopped fully functioning at 12:01 a.m. on Saturday morning, Trump has blamed the political impasse on the Democrats. But in an appearance on Fox and Friends in 2013, Trump said it's up to the president to reach a solution.
"Problems start from the top and have to get solved from the top, and the president's the leader, and he's got to get everybody in a room, and he's got to lead," he told the news program. "And he doesn't do that. In 25 years and 50 years and 100 years from now, when the government—they talk about the government shutdown, they're going to be talking about the president of the United States. Who was the president at that time? They're not going to be talking who the head of the House was, the head of the Senate."
He echoed this belief to former Fox News host Greta Van Susteren, telling her "the president has to lead."
But it was Trump who chose not to take a deal that he and Senate Minority Leader Chuck Schumer had discussed over lunch on Friday, according to the Times. The proposal included keeping the government open, funding a border wall and protecting 800,000 undocumented immigrants who arrived in the United States as children. His chief of staff told Schumer that the agreement didn't have enough restrictions on immigration.
On Sunday morning, Trump complained on Twitter about the Democrats' fight to keep some legal status for undocumented "Dreamers" and suggested that Republicans should deploy the "nuclear option" to pass the long-term budget. Senate Majority Leader Mitch McConnell has since said he opposes the suggestion.
On Monday, the president fired off two tweets slamming Democrats in Congress, both of which directly blamed the party for shutting down the government.