Trump's Spiritual Adviser Says Jesus 'Would Not Have Been Our Messiah' If He Broke Immigration Laws
Paula White, President Donald Trump's spiritual adviser, said Monday that Jesus would have been sinful if he had violated immigration laws.
"I think so many people have taken biblical scriptures out of context on this, to say stuff like, 'well, Jesus was a refugee,'' White said to the Christian Broadcasting Network. "And yes, he did live in Egypt for three-and-a-half years. But it was not illegal. If he had broke the law then he would have been sinful and he would not have been our Messiah," she said.
White added that her recent trip to a Virginia facility that detained undocumented workers was "amazing"
"Not just three square meals, psychiatric care, clinician, medical care, chapel, events, schooling, language, and love," she said of the facility.
White's remarks come on the heels of President Trump's executive order in June to end the separation of migrant families, which occurred as a result of his administration's "zero tolerance" immigration policy introduced in April. Trump told reporters he ended the policy because he "didn't like the sight or the feeling of families being separated."
Before ending the executive order, Trump administration officials repeatedly used religion to defend child separations at the border as a practice that was "orderly and lawful."
"I would cite you to the Apostle Paul and his clear and wise command in Romans 13, to obey the laws of the government because God has ordained them for the purpose of order," Attorney General Jeff Sessions said in a June speech. "Orderly and lawful processes are good in themselves and protect the weak and lawful."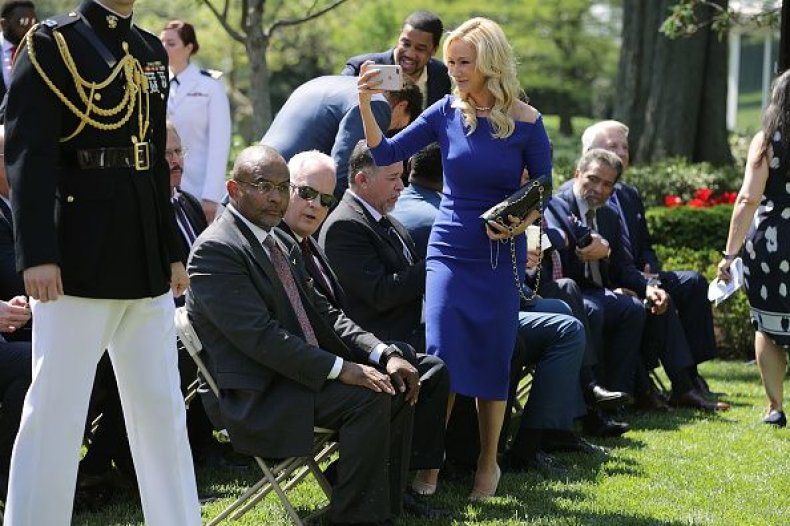 White, the leader of a Pentecostal church in Florida, is a long-time friend of Trump's who has repeatedly touted the president as a highly religious person. "Our president 100 percent is a Christian who understands receiving faith by the grace of the lord, Jesus," she told reporters in September 2017.
In January, White was criticized for suggesting on her website that people send her money or face consequences from God. "Right now I want you to click on that button, and I want you to honor God with his first fruits offering," she said in a video encouraging people to pay her a month's salary. "If God doesn't divinely step in and intervene, I don't know what you're going to face- he does."