Donald Trump's Spiritual Adviser Paula White Is Telling Women and Megachurch Pastors to Vote Republican In November
President Trump's personal pastor and spiritual adviser is on the front lines of efforts to ensure Republicans avoid disaster in November's midterms. In recent weeks, Paula White has coordinated meetings between women and pastors of megachurches together with senior White House officials, according to a report from The Washington Post Tuesday. White's moves are part of a wider effort among evangelicals in support of Trump and Republicans to raise money and both register and motivate voters.
Related: Donald Trump's Spiritual Adviser Paula White Suggests People Send Her Their January Salary or Face Consequences From God
A series of elections, including Tuesday's special election for a House seat in Arizona, have shown a sharp swing toward Democrats since Trump claimed victory over Hillary Clinton in 2016. In addition to the usual hit a president's party takes in the first midterms since being elected, a number of Republicans have expressed concern about what awaits later this year.
"Let's pray there's not apathy," White told the Post.
What has been reported as the largest ever midterm voter drive conducted by conservative Christians comes despite a wave of scandalous reports about the president's private life.
Most significantly, in recent months, multiple women have come forward to allege that Trump carried on affairs while married to his third wife, Melania. The affairs are now at the heart of an investigation into Trump's personal attorney Michael Cohen, who paid adult film star Stormy Daniels, real name Stephanie Clifford, $130,000 shortly before the election.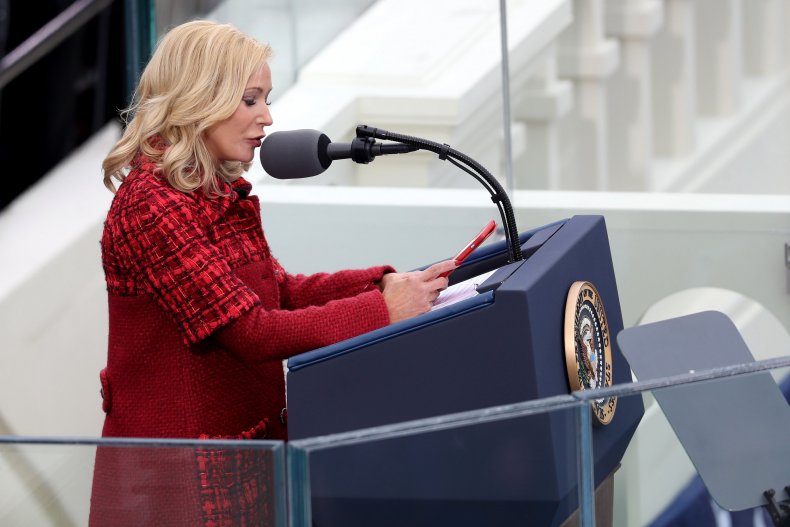 Yet a survey from the Public Religion Research Institute last week found that Trump's support among white evangelicals was at an all-time high of 75 percent.
And evangelicals have stuck by Trump over personal scandals before. Following the October 2016 release of an Access Hollywood tape in which Trump was heard making lewd remarks about what he would do to women without their consent, White said that she believed that the president had changed.
"Immediately I talked to him; when I say immediately, probably within the first few hours of that release or sooner," White told NPR in an interview shortly after she spoke at Trump's inauguration. "He was very contrite, very embarrassed. And again, knowing the person, when he said, I am a changed man, I believe, and—or a better man—and I can say that over 15 years I've watched a man grow and I've watched a man change."
At least for evangelicals, Trump has repaid the faith. As well as signing a ban on transgender people serving in the military, he has loudly supporting anti-abortion efforts and appointed numerous federal judges to back the cause.