Trump Spiritual Adviser Paula White Prays Against President's Opponents, Suggests They 'Operate in Sorcery and Witchcraft'
President Donald Trump's personal spiritual adviser, Paula White, launched a prayer effort alongside other evangelical Christian leaders on Tuesday, offering a prayer condemning the president's opponents, accusing them of being aligned with evil spirits and using sorcery.
The White House officially announced last week that White would spearhead the president's Faith and Opportunity Initiative. Trump and the wealthy televangelist have been friends for years ,and she has been a key religious supporter, rallying her Christian base to back the president.
Alongside fellow Christian leaders Cindy Jacobs, Dave Kabul and Dutch Sheets, White has launched the One Voice Prayer Movement, starting the initiative on Tuesday with a prayer for Trump. "Lord, we ask you to deliver our president from any snare, any setup of the enemy, according to Ephesians 6:12. Any persons [or] entities that are aligned against the president will be exposed and dealt with and overturned by the superior blood of Jesus," she said during her prayer in a conference call with other Christian leaders.
"Whether it's the spirit of Leviathan, a spirit of Jezebel, Abaddon, whether it's the spirit of Belial, we come against the strongmen, especially Jezebel, that which would operate in sorcery and witchcraft, that which would operate in hidden things, veiled things, that which would operate in deception," she continued. "We come against it according to your word."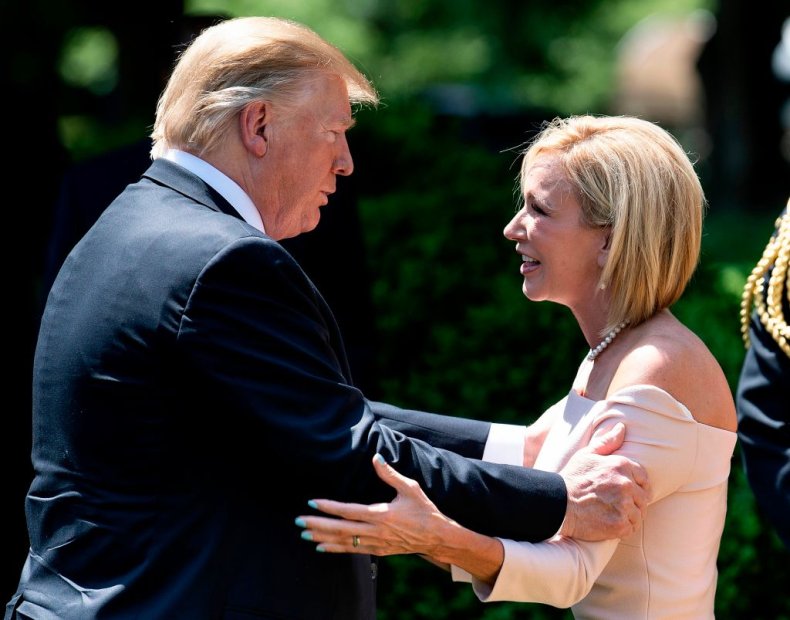 White's prayer continued by saying that anyone who stands against Trump "would be exposed and dealt with and overturned in Jesus' name." She said that believers know that Trump and his Christian supporters "do not wrestle against flesh and blood but against principalities, powers, rulers of darkness of this age, hosts of wickedness in heavenly places."
White went on: "Stretch out your arm and deliver President Trump and rid him of any bondage the enemy would try to bring against him."
While White has a prominent base of Christian supporters, she has been criticized by other evangelical leaders who view her "prosperity gospel" message as antithetical to the teachings of the Bible. The so-called prosperity gospel, which is also promoted by preachers like wealthy televangelist Joel Osteen, teaches followers that God will bless them financially if they follow him, often while encouraging believers to donate heavily to the preachers' ministries.
"She has done what no one thought she could do, scraping out a place for an unpopular theology beside an unpopular president," Kate Bowler, a professor of Christian history at Duke Divinity School, recently told The New York Times.
Meanwhile, white evangelical Christians remain a key base of support for the president. During the 2016 election, about 81 percent of that demographic voted for Trump. The number has remained high, regardless of scandals that have rocked the Trump administration. A poll released last month by the Public Religion Research Institute found that 99 percent of Republican evangelicals are opposed to the fast-moving impeachment inquiry against the president, as well as his removal from office.
In recent weeks, other Christian leaders besides White have also equated the president's opponents with witchcraft and evil spirits. "They're trying to place hexes and curses on President Trump," evangelical pastor Perry Stone said in a late-October prayer service, referring to Democrats in Congress.
"I have never, in any nation of the world...seen people raised up with demons in them [like] in Washington," Stone added. "They have demons in them. You can look at their eyes when they almost start foaming at the mouth."