Trump Spokeswoman Says 2020 Fraud Claims Won't Stop 'Until Correct Result'
A spokeswoman for former President Donald Trump has vowed that 2020 presidential election fraud claims will continue until Trump achieves "the correct result."
Trump lost the election to President Joe Biden by the relatively unambiguous margin of 7 million national popular votes and 74 votes in the Electoral College. Regardless, the former president has continued to maintain without evidence that the presidency was "stolen" from him more than a year after Biden took office.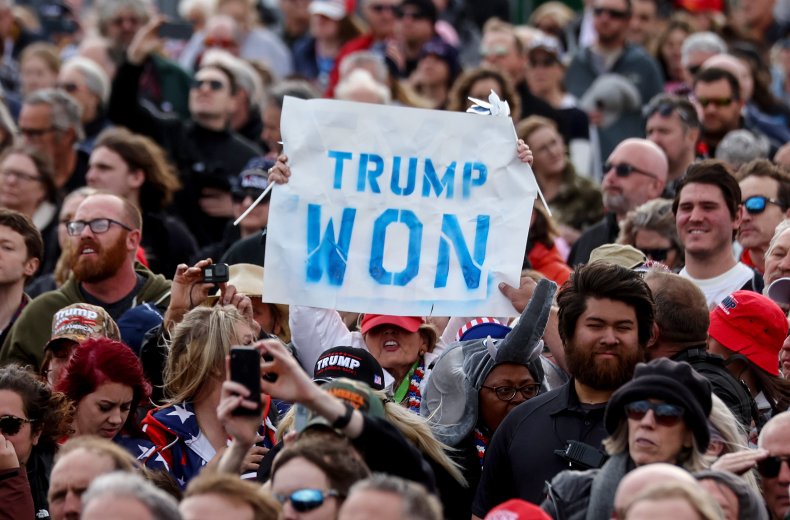 Trump's chief spokeswoman Liz Harrington insisted the claims would continue during a Tuesday appearance on ex-Trump adviser Steve Bannon's War Room: Pandemic podcast. Harrington was responding to a question about attempts to decertify the long-since-finalized election results.
"The main point right now is this is not going away," Harrington said. "And it's never going to go away until we get the correct result and fix our elections. I mean, it's just that simple."
"Here we are, a year and a half later and we still are getting more evidence of just how fraudulent this was," she continued. "And the momentum in all these different states is not going away, it's building."
Harrington went on to praise "the patriots" who were still attempting to overturn the results and said "it's not going to go away and the people are never going to stop fighting" until efforts to "fix" the election are successful.
It was not clear whether Harrington was suggesting that the 2020 results could be reversed in 2022. Pro-Trump conspiracy theorists have repeatedly made false predictions that "decertification" would lead to the former president being "reinstated" to the White House.
There is no legal process to reverse the election results after they have been certified and finalized by Congress, let alone to reinstall a former president. In order to regain his former office, Trump would need to be officially declared the winner of an upcoming presidential election.
Bannon highlighted the effort to decertify by citing a resolution introduced by a Republican lawmaker in Wisconsin that seeks to withdraw the state's 10 Electoral College votes. Although Republicans have launched similar efforts in other states, the passage of any such resolution would have no effect on the 2020 results.
Harrington was appearing on Bannon's show to discuss a statement Trump had released earlier in the day concerning a bulletin posted to the Department of Homeland Security's National Terrorism Advisory System (NTAS) on Monday.
The bulletin noted that there was a heightened risk of terrorism for several reasons, including "an online environment filled with false or misleading narratives and conspiracy theories" about "unsubstantiated widespread election fraud and COVID-19."
"The Biden Administration now says 'conspiracy theories' about elections are the greatest threat to the homeland," Trump said in his statement. "The Biden Administration will do anything to keep the eye away from the massive irregularities and voter fraud that took place in the 2020 Presidential Election, even so ridiculously as going after its own citizens as 'terrorists' using DHS."
The bulletin was not the first to mention election fraud conspiracy theories as a potential cause for terrorism. An August 2021 NTAS bulletin warned of the threat of "conspiracy theories on perceived election fraud and alleged reinstatement."
Newsweek has reached out to Liz Harrington for comment.