Trump Statistically Tied With Biden in Arkansas, Struggling With Independent Voters: Poll
A new poll shows President Donald Trump's lead over presumptive Democratic nominee Joe Biden in Arkansas and his approval rating diminishing as he struggles with reaching independent voters.
In the latest Talk Business & Politics-Hendrix College poll, released Sunday, Trump statistically tied with Biden in Arkansas. The president slightly led the former vice president with support among 47 percent of likely voters. Biden garnered 45 percent of support from likely voters. The two percent difference falls under the poll's margin of error of plus or minus 3.3 percentage points.
Trump's overall job approval rating in the southern state took a dive compared to the same poll conducted in November 2019, with 50 percent disapproving, 46 percent approving and 4 percent unsure. Trump drew a 50-45 percent approval rating around seven months ago.
Most Democrats and Republicans voted along party lines, however, a majority of self-described independents—54 percent—disapproved of Trump's job performance while only 39 percent approved. Independent voters in the state leaned towards Biden, with 46 percent of support for the former vice president compared to the current president's 40 percent.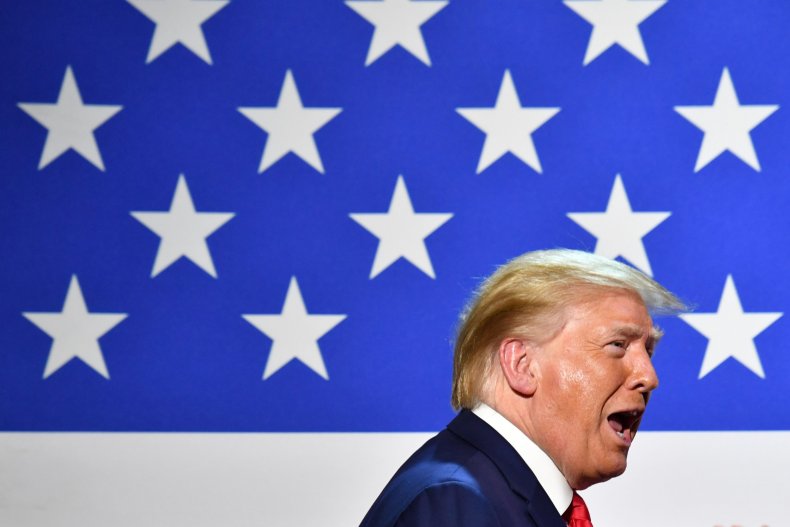 Republican Arkansas Senator Tom Cotton also garnered overall disapproval statewide, with 44 percent approving of his job performance, 47 percent disapproving and 9 percent unsure.
The poll was conducted between June 9-10 and surveyed 869 likely Arkansas voters.
Newsweek reached out to the Trump 2020 campaign for comment. This story will be updated with any response.
Trump's narrowing lead over Biden should be of concern for the president, who won the state with 60 percent of the vote in the 2016 presidential election. Biden has also been experiencing a surge in recent polls conducted in swing states, including Florida, Arizona, Michigan, Wisconsin and North Carolina, according to Real Clear Politics.
The new poll, however, indicates overwhelming support for Republican Governor Asa Hutchinson. About 62 percent of voters approved of Hutchinson's job performance, while just 19 percent disapproved.
Since November 2019, Trump has faced immense backlash over his allegedly slow and inadequate response to the coronavirus pandemic. In recent weeks, the president has also been heavily criticized over his handling of the Black Lives Matter protests that erupted across America following the police-involved death of George Floyd in Minneapolis on May 25.
Several Republican Senators—including Susan Collins of Maine, James Lankford of Oklahoma, Ben Sasse of Nebraska, and Mitt Romney of Utah—have distanced themselves from the president over his decision to use pepper stray on peaceful protesters between St. John's Church and Lafayette Park in Washington D.C. earlier this month.
"It was painful to watch peaceful protesters be subjected to tear gas in order for the president to go across the street to a church I believe he's attended only once," Collins said.
"Between a pandemic, high unemployment, racial strife and civic unrest, Trump and Cotton appear to be bearing the brunt of voter angst, whereas Gov. Hutchinson is benefiting from his visibility and leadership style," said Talk Business & Politics Editor-in-Chief Roby Brock.