A Trump Statue Was Removed From a Wax Museum After Visitors Kept Damaging It
A statue of former President Donald Trump was repeatedly punched and scratched, while tufts of artificial hair was even pulled off it while people took selfies. The damage eventually proved to be enough for the Louis Tussaud's Waxworks in San Antonio, Texas, to temporarily remove it for some much-needed repairs.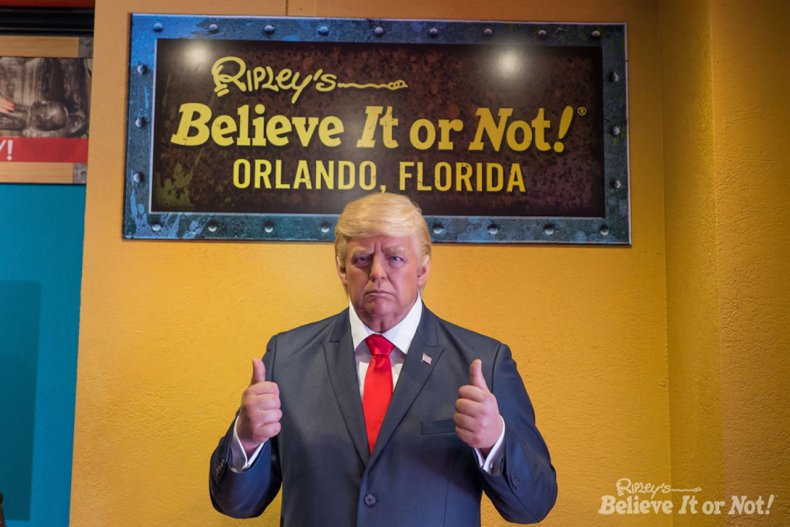 "Ripley's has a long history of creating wax figures of the US President to display at our Louis Tussaud's Waxworks and Ripley's Believe it or Not! Odditoriums. Our wax figures will need repairing from time to time, ranging from Hollywood celebrities to political figures," Suzanne Smagala-Potts, public relations manager of Ripley Entertainment Inc., told Newsweek.
"Ripley's only showcases the highest quality of exhibits and wax figures. When a wax figure has been damaged, we will remove the figure from public display and send it to our talented team of artists for repair."
Smagala-Potts confirmed that the Trump statue will be displayed again at the San Antonio location after it is mended. She also noted that a President Joe Biden statue is currently being crafted for display in the near future.
Even so, some social media users reveled in the thought that visitors were intentionally abusing a replica of the former president. Many also shared an Instagram image from the the Ripley's San Antonio Instagram page showing Trump placed next to Russian President Vladimir Putin and North Korean leader Kim Jung-un. (The wax Trump was reportedly in the museum's lobby most recently.)
On Twitter, people offered suggestions. One user wrote that more Trump mannequins should be made for people to strike for cathartic release, while another suggested having the real Trump stand in the statue's place in order to preserve the wax version.
Elsewhere, Guy Norman Bee—a director of shows such as ER, Third Watch and Criminal Minds—wrote of the statue: "You don't even wanna know where people keep kicking it!"
Others felt the attacks were provoked due to the resemblance not being accurate. One writer even asked, "Does anyone else think this statue looks more like Alec Baldwin playing Trump than Trump himself?"
Trump supporters also took to social media to show they were not amused. One person wrote the damage must have been done by the "CNN and MSNBC etc audience."
Attacks on presidential wax statues aren't uncommon at Louis Tussaud's Waxworks, according to Clay Stewart, the regional manager for Ripley Entertainment. "The ears were torn off Obama six times," he told the San Antonio Express-News. "And then Bush's nose was punched in."