Trump Steel Tariff Could Axe 200 Jobs at Missouri Nail Plant This Summer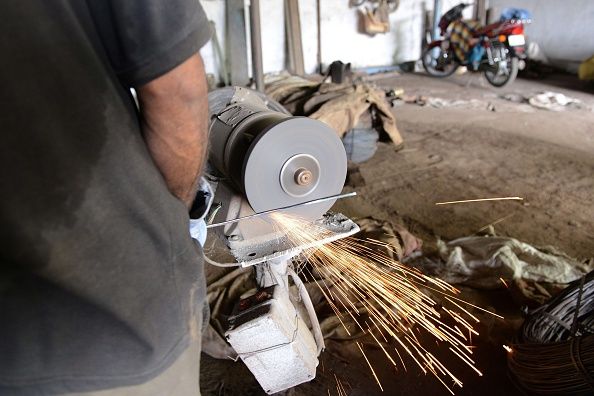 President Donald Trump's controversial steel tariffs are already taking a major toll on one of the last remaining nail producers in the United States. Mid Continent Nail Corporation, a nail manufacturer located in southeast Missouri, lost 50 percent of its business in the two weeks since Trump signed a new tariff on steel imports, according to a MissouriNet report published on Friday.
The nail company said the updated impositions on steel goods resulted in the producer having to lay off 60 temporary workers. At the beginning of June, Mid Continent had roughly 500 people on staff, but the company may be forced to axe 200 more jobs by the end of July. There is a possibility the nail producer, which is one of the largest employers in Missouri's Butler County, may be completely out of business by Labor Day due to the tariff.
Under the new tariff, a 25 percent tax may be applied on imported steel while imported aluminum is taxed 10 percent.
Mid Continent's parent company, Deacero, is based in Mexico. It is there where the steel is produced, resulting in Deacero having to suffer the 25 percent tax for importing materials shipped to Mid continent's Poplar Bluff facility, despite the fact that steel products are being sent to its own company.
Unless the U.S. Commerce Department grants the company an exemption, Deacero may be forced to shut down its Missouri location and move the facility to Mexico. But the department's exemption backlog is already behind some 20,000 request, the report said.
Deacero spokesperson Elizabeth Heaton told MissouriNet the company requested a meeting with Commerce Secretary Wilbur Ross with hopes to secure the Missouri plant's future. "Something would have to happen very fast, within days in order for us to know that things were going to improve. We're hoping that this could get pushed through very quickly," she said.
"There are only about 15 of these companies left and Mid Continent produces about 50% of the nails out of those 15. If you could imagine, if it were to go out of business and that is of course worse case scenario, we want to do everything that we can to make sure that does not happen, that would be a huge blow to that segment of the industry," she continued. "It's a big deal, not just for Missouri and for the economy there, but for the whole industry."
A recent report claiming the impositions could reduce net employment of about 430,000 jobs across America, essentially claiming the jobs of low level employees like production workers and machine operators, which account for an estimated 70 percent of the American steel industry.
The tariff was introduced on May 31.