Obama Officials Blast Trump Press Sec's Claim She Found 'You Will Fail' Notes in White House: 'An Outrageous Lie'
People who worked under former President Barack Obama pushed back on press secretary Stephanie Grisham's claim aides left derogatory notes in the White House for when President Donald Trump took office. Grisham, though, said it wasn't intended to be critical of Obama, just a quip about the transition.
On Tuesday, CNN political correspondent Abby Phillip posted on Twitter that Grisham said when the Trump administration arrived on Pennsylvania Avenue, offices were filled with Obama's books and notes for the new president's employees. Messages on the notes allegedly included "you will fail" and "you aren't going to make it."
Phillip's tweet quickly gathered attention online, including from former members of Obama's administration. Jon Wolfsthal, who worked as senior director for arms control and nonproliferation at the National Security Council, characterized the comment as an "outright lie" and claimed Grisham should be fired. Susan Rice, former national security adviser, also posted on Twitter about the comment, calling it "another bald-faced lie."
Rudy Mehrbani, a former assistant to Obama, wrote on Twitter that Obama instructed his officials to facilitate "as smooth a transition as possible," which is what they "tried to do." He supported the claim that Grisham's account was a "lie," adding that he did a walkthrough of offices on an entire floor of the Eisenhower Executive Office Building.
Grisham told Newsweek the comment wasn't intended to be a dig at the Obama administration but was just her telling a story about when the administration moved into the White House.
"I don't know why everyone is so sensitive!" Grisham said. "It was always my understanding that many administrations do that....kind of like all the W's being removed from the keyboards when President [George W.] Bush came into office."
In 2002, when the White House transitioned from former President Bill Clinton to then-President Bush, the General Accounting Office found an estimated $13,000 worth of damage. More than $4,000 of that damage included replacing damaged or missing W keys from computer keyboards. Employees also reportedly found derogatory messages, including "Jail to the thief," in the White House.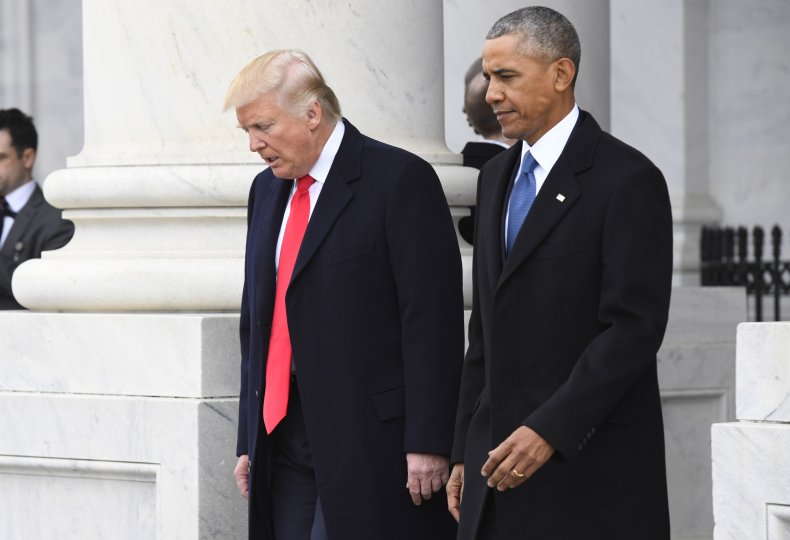 Grisham told Newsweek her comment specifically referenced her experience in the lower press office and "certainly wasn't implying every office had that issue." In the East Wing, she found a "lovely note" and thanked the woman who left it for her.
Some on social media, including Ben Rhodes, former deputy national security adviser, and Chris Lu, former deputy secretary of labor, questioned the validity of Grisham's story. If it was true, they wondered, why did it take three years to come to light?
Grisham told Newsweek the story wasn't shared earlier because it was "expected in a way" and the administration had a "lot of work to get to."