Trump Still Says Coronavirus 'Will Go Away' As Nation's Cases Rise
President Donald Trump doubled down Wednesday on his claim that the novel coronavirus "will go away," even as COVID-19 cases continue to surge across the country.
"It will go away like things go away," Trump told reporters. "Absolutely no question in my mind, it will go away—hopefully sooner rather than later."
Trump has faced criticism for repeatedly describing the end of the pandemic as being that, at some point, the virus would "go away." There is currently no cure or vaccine for the novel coronavirus that forced a mass shutdown of the U.S. economy earlier this year.
Trump has made the claim that coronavirus would "go away" about two dozen times since the virus began spreading across country in the spring. He first began circulating his theory in February.
"It's going to disappear. One day–it's like a miracle–it will disappear," he told reporters during a meeting with Black supporters at the White House February 27.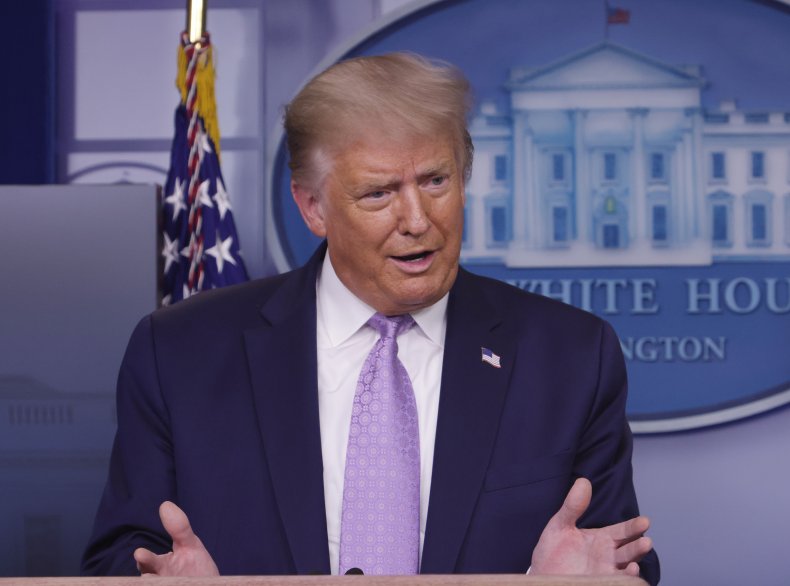 Six months and nearly 160,000 United States COVID-19 deaths later, Trump continues to push the idea, despite recent spikes in cases, particularly in states in the south and southwestern parts of the country. The United States has had more cases and deaths than any other country, according to Johns Hopkins University's coronavirus tracking data.
At least 36 states are currently designated as COVID-19 hotspots, based on analysis from the nonprofit Kaiser Family Foundation, with California, Florida and Texas leading with the sharpest recent increases in cases.
Earlier Wednesday, during a telephone interview that aired live on Fox News, Trump also shared his opinion that the virus would "go away," without evidence.
Trump also has repeatedly said he would not support another economic lock-down to stop the spread, despite recommendations from some health officials about how they think the federal government should address the ongoing emergency crisis.
Trump told reporters Wednesday that another lockdown "would inflict substantial suffering in this phase of the battle."
"We have the tools, resources and knowledge to implement a targeted approach as we race to deliver a vaccine," he said. "We're working really hard and I think they are doing a fantastic job."
Trump has fast-tracked the development of a vaccine. Facing a November 3 re-election, he has said he thinks one will be developed by 2020's end.
"I think we're going to have have the vaccine before the end of the year, maybe long before the end of the year," he said Wednesday.