Trump Still Wants Drug Dealers Executed—But Won't Push to Change Death Penalty Laws
President Donald Trump will ask the Justice Department to seek the death penalty for drugs traffickers but won't push to change current laws, under which drug dealers can be punished with death only when convicted of murder.
The measure is one of several to be introduced to tackle the opioid crisis. The Trump administration will ask Congress to decrease the amount of synthetic opioids a suspect must possess to trigger a mandatory minimum sentence.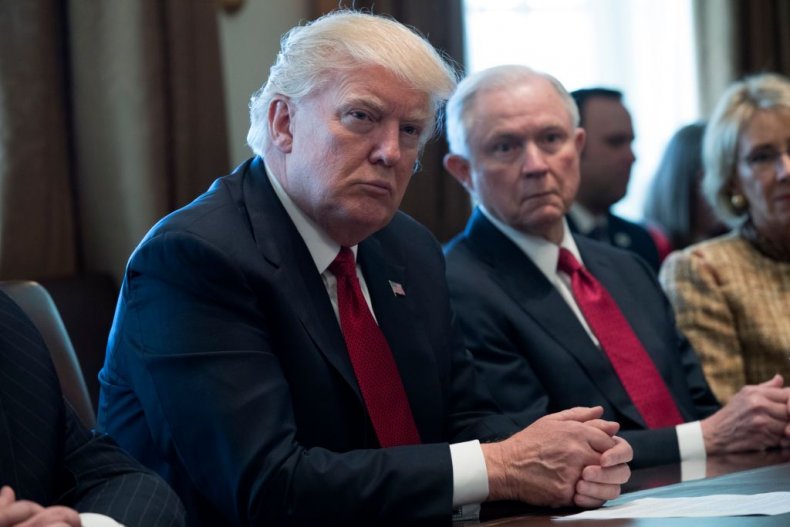 White House domestic policy adviser Andrew Bremberg said Sunday that the Justice Department "will seek the death penalty against drug traffickers where it's appropriate under current law."
Trump will announce the plans Monday at an event in New Hampshire, which has the third highest rate of drug overdose deaths in the U.S.
In recent weeks, Trump has declared his support for a death penalty for drug dealers, saying at a March rally in Pennsylvania that inspiration for the measure came from hard-line Asian governments, including President Xi Jinping's in China.
White House officials reportedly consulted representatives from Singapore's government about drug offense penalties. Officials from the Justice Department and the Domestic Policy Council researched proposals to make trafficking large amounts of synthetic opioids a capital crime.
Under the new plan, the administration will also enhance monitoring programs for state prescriptions, with the aim of reducing opioid prescriptions by one-third over the next three years. It also wants to tighten the number of opioid prescriptions that can be reimbursed through Medicaid.
The crackdown comes amid spiraling death rates from fentanyl, a synthetic opioid believed to be responsible for 63,000 deaths in 2016, according to the National Center for Health Statistics. The drug can be fatal in small amounts, increasing the likelihood of deadly overdoses.
One expert was highly skeptical that tougher punishments would help tackle the crisis.
"The idea that we can ratchet up punishment and penalties of various sorts to address the supply is based on exactly zero evidence of the probability that this will work," Leo Beletsky, a professor of law and health sciences at Northeastern University, told The Washington Post.