Trump Stokes 'Defund Police' Fears in New Tough-on-Crime Campaign Message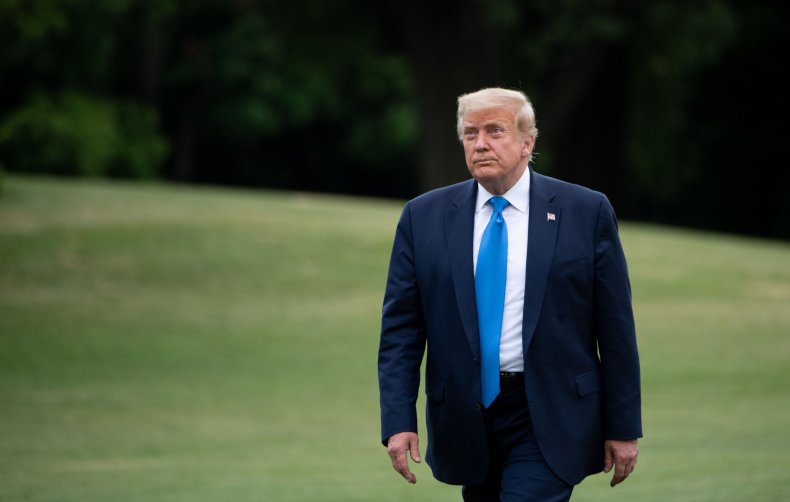 President Donald Trump and his allies spent the week highlighting his support for law enforcement—attempting to draw a contrast with Democratic rival Joe Biden in a race that's been drastically altered by the coronavirus pandemic.
"My administration is pro-safety, pro-police and anti-crime," Trump told attendees of an official White House meeting on law enforcement Monday, before lambasting his opponent as "Sleepy Joe Biden" and warning the group that "you wouldn't have a country for very long, and the economy would crash" with a Democratic leader.
A Quinnipiac Poll out this week suggested Trump's support among a demographic that was key to his win four years ago—white suburban women—has started to soften. In the 2016 race, Trump similarly stoked fears of crime, particularly in big cities, as part of his plan to appeal to that base.
Trump's now using a similar playbook to portray Biden and his allies as weak on crime, while stressing himself as the "law and order" candidate in recent weeks.
The effort culminated this week with a blistering speech in the White House Rose Garden, multiple official roundtable discussions focused on law enforcement, television interviews and tweets.
"Joe Biden can't hide from the fact the radical left-wing party he leads has such visceral hatred of the police, the men and women who bravely put their lives on the line every day to protect our communities," Trump senior adviser for law enforcement Bob Paduchik said in a statement to reporters Friday. "At a time when police officers are under increasingly violent attack, Joe Biden has allowed a sickening anti-police culture to pervade his campaign."
Biden's campaign didn't respond to Newsweek's request for comment before publication.
Trump's campaign-like addresses during official White House events has signaled a shift away from tradition, where presidents typically keep their campaign rhetoric away from their official duties. During an interview with Fox News that airs on Sunday but was previewed with clips Friday, Trump said the coronavirus is forcing him to change his campaign tactics, with fewer large-scale rallies where he would normally harp on his opponent.
Trump has seized upon a liberal-led "defund the police" movement that has gained popularity following the death of George Floyd, a Minnesota man who died in May after a police officer kept his knee on Floyd's neck for nearly nine minutes, as Floyd pleaded that he couldn't breathe.
His death, caught on video by bystanders, set off a wave of protests and a reexamination of law enforcement in some Democrat-led major cities.
Biden told "CBS Evening News" anchor Norah O'Donnell in a televised interview last month that he doesn't support the "defund the police" movement.
"I support conditioning federal aid to police, based on whether or not they meet certain basic standards of decency and honorableness," he said. "And, in fact, are able to demonstrate they can protect the community and everybody in the community."
But during his Rose Garden address, Trump claimed that Biden wanted to "abolish the police as we know it."
"I think the police do an incredible job in this country," he said. "And you're going to have a rogue, terrible cop, on occasion, like you do in any industry, in any business, in any profession. But I think they do an incredible job."
The focus on law enforcement comes as the Trump administration this week made headlines for sending federal law enforcement agents into Portland, which he said was at the city's request while discussing the federal response during a "Keeping American Communities Safe" briefing on Wednesday.
It also comes as Trump has shown a willingness to side-step the justice system to keep his allies out of prison. He commuted the sentence of long-time confidante Roger Stone a week ago. His former national security adviser Michael Flynn received a reprieve from the Justice Department in May, after having pleaded guilty to lying to the F.B.I. Trump has also faced scrutiny for actions to punish investigators who have looked into his cronies.