Donald Trump's Plan to Stonewall Impeachment Will See Him Go 'Down in Flames' Like Richard Nixon, Supreme Court Lawyer Says
President Donald Trump will go "down in flames" just like Richard Nixon if he continues his attempts to stonewall the ongoing impeachment inquiry, a former acting solicitor general of the U.S. has said.
Speaking during "Opening Arguments" on MSNBC's The Beat with Ari Melber, Neal Katyal said the Trump administration's strategy on the probe has been a "complete utter resistance to getting the truth out."
Newsweek subscription offers >
Katyal, a Supreme Court lawyer who is also a law professor at Georgetown University, said Trump is trying to "run out the clock" by refusing to comply with House subpoenas, but it won't end well for him if it continues.
"There's one president who tried that before. His name was Richard Nixon and he went down in flames," Katyal said. "And I suspect the same thing will happen here if the president does this."
However, Katyal suggested that Trump aides are defying the strategy by telling the "truth to the American people," referencing reports that Mike Pompeo's former senior adviser, Michael McKinley, is set to testify.
"The White House is up to, you called it a stonewall, it's more than that, it's like an avalanche wall," Katyal told Melber.
Newsweek subscription offers >
"It's just the complete utter resistance to getting the truth out and it started with trying to suppress the whistleblower report months ago and has continued so that they have said, for example, you know that Ambassador [Gordon] Sondland can't testify, Fiona Hill can't testify, former Ambassador [Marie] Yovanovitch can't testify.
"All these people and now they are defying those refusals to testify and they are going in and following the subpoenas. Mr McKinley is just the latest in that list of people."
McKinley, who resigned last week, is scheduled to testify before the congressional committees leading the impeachment inquiry on Wednesday, according to The Associated Press.
Katyal added: "These are public servants and they are doing exactly what they're supposed to do which is give the truth to the American people and our elected representatives in Congress."
Katyal also commented on the investigation into Rudy Guiliani's business dealings in Ukraine. He said his reaction to The Wall Street Journal's report that Giuliani's bank records have been scrutinized is one of "sadness."
"Rudy Giuliani was a legendary figure at the Justice Department and did so much good for the country in all sorts of ways and to see this is, I don't know another word for it but sad, really, just tragic," he said.
"I don't think it should distract from the main question facing the American people right now which is, 'Did Donald Trump go and seek help from a foreign power to benefit his campaign?'" he said.
"If I were in the House and impeaching and looking at impeachment, I wouldn't need Giuliani, I've got the president's own words in the July 25 phone call and so many other things including the whistleblower report."
Katyal added to Newsweek he believes Trump will be impeached and "very well should be" for placing his own interests ahead of those of the county.
"I think with every passing day, it becomes clear that Trump has committed a grave wrong against the United States," Katyal told Newsweek.
"I do believe he will be impeached, and that he very well should be. That's sad for me, as I think the presidency is a sacred thing. But this president has acted with wanton disregard for the people's interests, and has placed his own political fortunes over those of the people."
The impeachment inquiry was sparked after a whistleblower raised concerns about a phone call between Trump and Ukrainian President Volodymyr Zelenskiy, during which Trump asked Zelenskiy to investigate potential political rival Joe Biden and his family.
Trump has repeatedly defended his phone call with Zelenskiy, calling it "perfect", and denouncing the probe as a "witch hunt."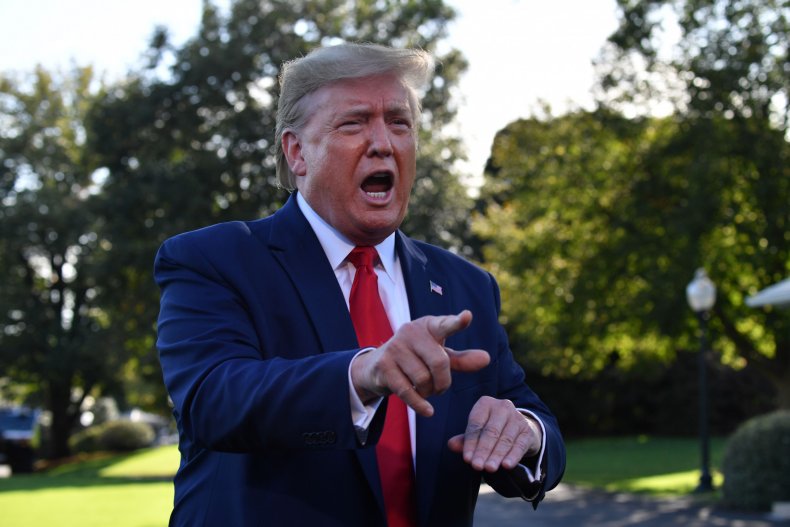 Donald Trump's Plan to Stonewall Impeachment Will See Him Go 'Down in Flames' Like Richard Nixon, Supreme Court Lawyer Says | U.S.