Donald Trump's Big Day in Washington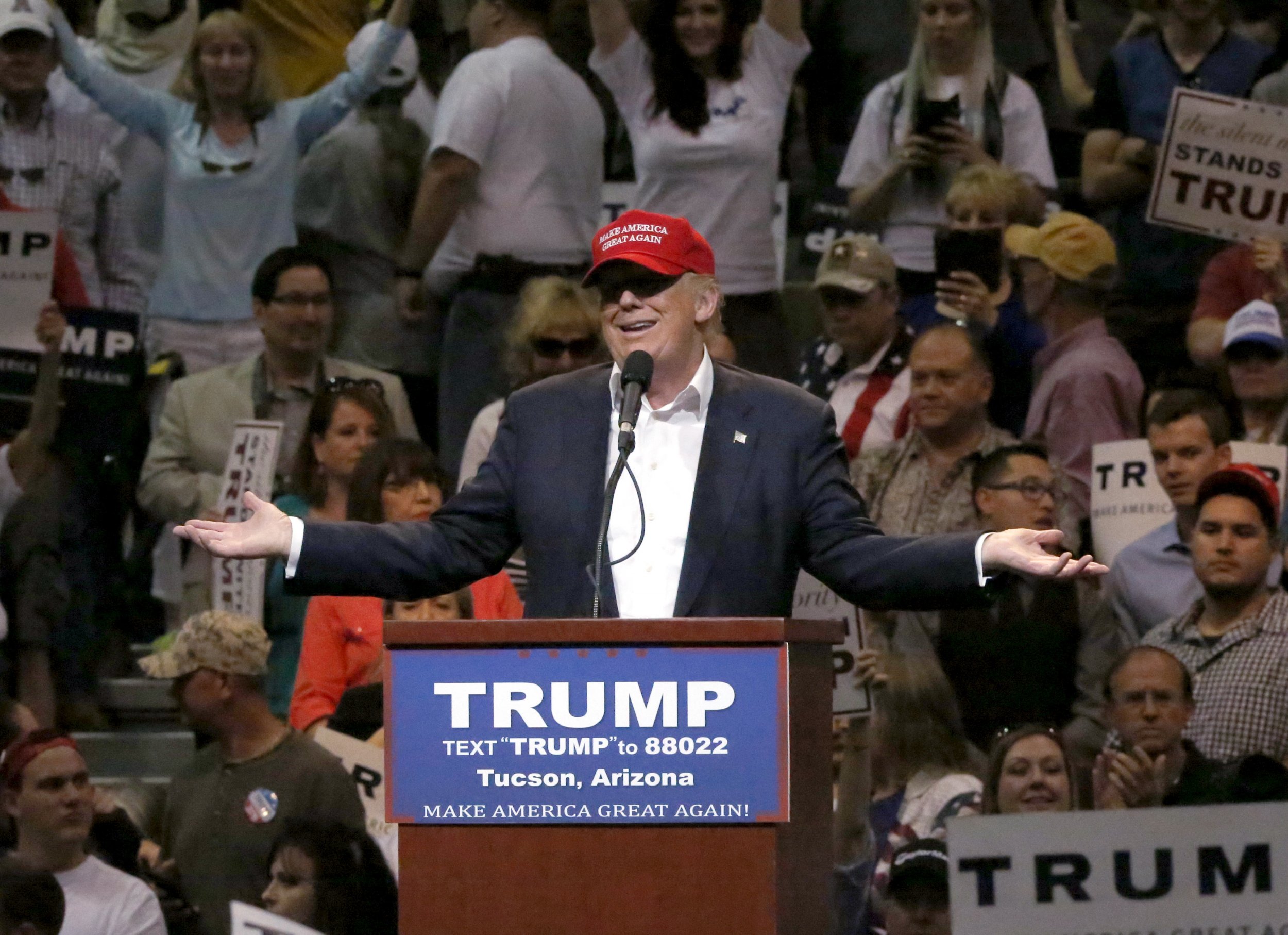 Why is Donald Trump doing so well?
Look at his rare visit on Monday to Washington, D.C., a tour that included meeting with Republican insiders in the morning, promoting his mammoth new luxury hotel in the afternoon and speaking to the American Israel Public Affairs Committee (AIPAC) in the evening as they gathered at the giant Verizon Center.
Normally, at this point in a campaign, a front-runner might be coming to Washington to consolidate their support.
But Trump is still an outsider in the Republican Party, and you could tell that when he met with Republicans at the venerable Jones Day law firm. It wasn't a huge gathering, just a handful of sitting House members and a couple of senators: Jeff Sessions of Alabama, who has endorsed Trump, and Tom Cotton of Arkansas, who hasn't.
Everyone Who Spoke Afterward Had Some Good Words for the Presidential Candidate
For Trump, just being in the mix is a kind of victory, a first step toward earning more endorsements as he moves closer to the nomination.
In midafternoon, he held a press conference at the Old Post Office, a landmark building on Pennsylvania Avenue where Trump is building a luxury hotel just a few hundred yards from the White House. Trump won the rights to develop the hotel from the federal General Services Administration in a competitive process. It may prove one of the great ironies of the Obama presidency that he helped make Trump even richer.
Trump held the press conference in the Old Post Office's mighty atrium, surrounded by building personnel. He talked about how it's going to be "one of the great hotels in the world." The press was, in a sense, used as pawns in an advertisement. A woman in the audience even asked Trump for a job, and he called her up to the podium and promised to help her. It looked stagey beyond belief, but it was no more surreal than the rest of the day.
AIPAC was a fraught forum for Trump. It's a serious audience, one where his usual shtick probably wouldn't work. It's a place where precision with words matters: Is Jerusalem the capital of Israel or the undivided capital of Israel? And it's one where tone matters. No one wants to hear wisecracks about the Holocaust or Israeli security.
No Wonder It's the Rare Moment He Used a Teleprompter
So could Trump rise to the occasion? He did. He delivered a sober speech, one that was without his trademark jokes and barbs. No "Lyin' Ted" or "Little Marco." It was a hardcore Likud Party speech, without any of the nuance that Trump himself had suggested that he would bring to the Oval Office as an evenhanded mediator. This was a 200-proof support of Israel.
He dissected the Iran Deal, declared himself a longtime supporter of Israel and generally comported himself like a politician rather than a carnival barker.
"When I become president, the days of treating Israel like a second-class citizen will end on day one," Trump said, adding that Hillary Clinton and the president "have treated Israel very, very badly."
If all of this weren't enough, Trump squeezed in a visit to
The Washington Post
editorial board, where he outlined a non-interventionist foreign policy and offered up
a few names
of foreign policy advisers. There's nothing more establishment than that.