Donald Trump Will 'Be Stronger Than Garlic' in Response to Iran, Energy Secretary Rick Perry Warns
Energy Secretary Rick Perry warned that President Donald Trump was "gonna be stronger than garlic" in his response to Iran on Tuesday, but pointed out that the commander in chief doesn't want a military conflict with the Persian Gulf nation.
"The key here from the United States, and I think our allies standpoint, is that Iran cannot be allowed to get back with this kind of activity," Perry, who previously served as the governor of Texas, said during an interview with Fox News' America's Newsroom. His comments came in reference to an attack earlier this month on Saudi Arabia's oil fields, which the Trump administration has blamed on Iran. The Iranian government has denied responsibility, while the Yemeni militant group, the Houthis, which is allied with Tehran, has claimed they were behind the strike.
"You need a coalition effort [to confront Iran]," Perry continued, pointing to allies France and the United Kingdom. We're "gonna be sending a clear message today. I know the president's gonna be stronger than garlic when it comes to the message."
Perry said that Trump would speak "bluntly" in comments directed at Iranian leaders to tell them they "cannot attack their neighbors." He continued, "It's just unacceptable." The energy secretary said Iran "could pay a very dear price economically" but added that Trump has said "he's not interested in going to war with these people."
Trump addressed the United Nations General Assembly in New York on Tuesday morning. During his speech, he took aim at Iran. "All nations have a duty to act, no responsible government should subsidize Iran's bloodlust," he said. At the same time, he insisted that he is not interested in "endless wars," while also stating that he would "never fail to defend America's interests."
Saudi Arabian and U.S. leaders have blamed the recent oil field attack on Iran, pointing to the high level of sophistication of the weapons used. They have said that Yemen's Houthis do not have the capabilities to carry out such a strike, despite the group claiming to have done so. Iran has consistently denied the accusation.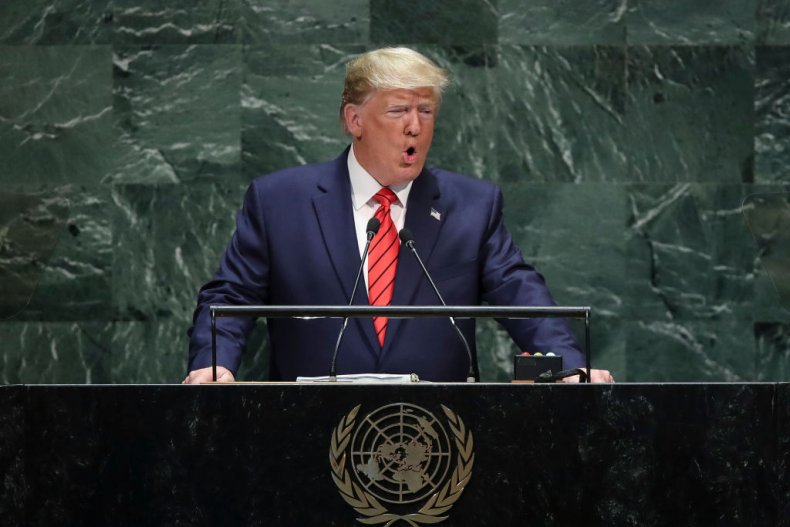 A Saudi-led coalition, backed by the U.S. despite significant bipartisan opposition, has been fighting against the Houthis in Yemen since 2015. With Iran's support the Houthis ousted the Yemeni government from the capital, Sanaa, in 2015 and have taken control of a large portion of their country. The conflict has led to a massive humanitarian crisis, famine and a cholera outbreak. Human rights groups and American lawmakers—Republicans and Democrats alike—have repeatedly criticized the Saudi-led coalition for killing large numbers of civilians in airstrikes while escalating the humanitarian crisis in the country.
Tensions between the U.S. and Iran have been high for decades, but the situation temporarily improved following the signing of the 2015 Joint Comprehensive Plan of Action (JCPOA), known commonly as the Iran nuclear deal. The international treaty was signed by Trump's predecessor former President Barack Obama, the European Union, the United Kingdom, Germany, France, China and Russia. It offered Iran relief from international sanctions in exchange for Tehran curbing its nuclear program.
Trump withdrew from the agreement last May, despite consistent reports from the United Nations nuclear watchdog showing that Iran was abiding by its commitments under the deal. That changed this summer, as Iranian leaders announced that they would begin stepping back from their promises due to Trump's decision to reimplement sanctions and the treaty's other signatories failing to live up to their commitments of financial support and investment.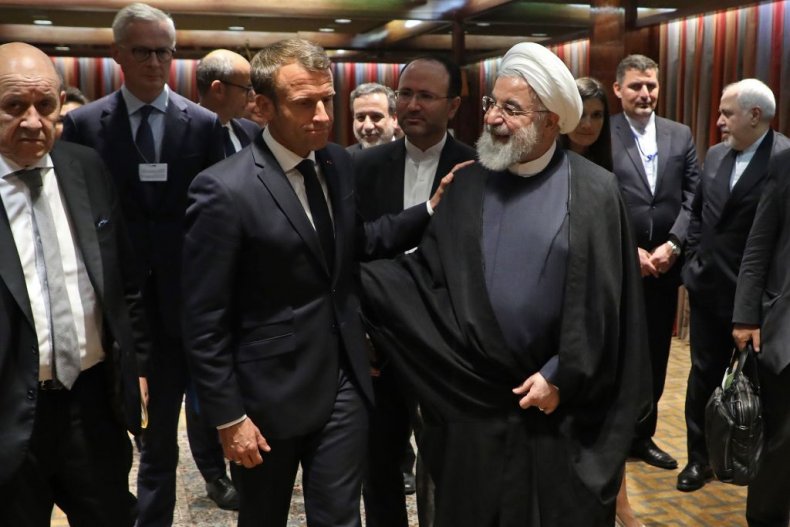 French President Emmanuel Macron and other European leaders have opposed Trump's hardline position against Iran. Macron has been attempting to find a path forward to de-escalate tensions and salvage the 2015 deal. However, Iranian President Hassan Rouhani expressed skepticism about the effectiveness of Macron's efforts Tuesday.
"[The] French President's efforts will only be effective if sanctions imposed by Trump against Iran ... are lifted," Rouhani said on the sidelines of the UN General Assembly, which he is also attending, Iran's Islamic Republican News Agency reported. "And it is only at that time that the negotiations...will be possible," he asserted.