Trump Strongly Hints at 2024 Run for President: 'We're Going to Do Very Well'
Former President Donald Trump strongly hinted at a run for office in 2024 as he joked about being endorsed by CNN and MSNBC in a Sunday interview on Fox News—but he indicated that an official bid won't be launched anytime soon.
"I do know my answer but I can't reveal it yet because that has to do with campaign financing and everything else. But I absolutely know my answer," he told Sunday Morning Futures host Maria Bartiromo. "We're going to do very well and people are going to be very happy."
Trump has repeatedly alluded to a future presidential run in several campaign-style rallies and public appearances since leaving the White House. "I may even decide to beat them for a third time," he said at the Florida Conservative Political Action Conference in February.
In May, Trump told conservative commentator Candace Owens that he's "absolutely enthused" and "look forward to doing an announcement at the right time."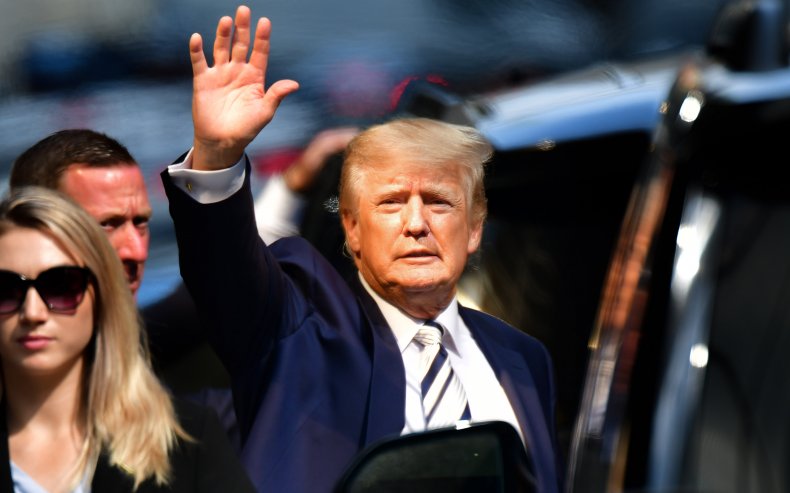 He likely won't make an official announcement or declare a bid this year as it would trigger election laws that will regulate how he can spend and raise money. Additionally, Trump has been required to file annual financial disclosures containing details about his personal and business finances since 2015, when he launched his first campaign. He became free of the obligation when he left office in January.
The ex-president would be required to continue annual filings through 2024 if he officially launches a bid—a process he says he intends to avoid. But in remarks to the public, Trump has continued to tease the possibility, even joking about possible endorsements on Sunday.
"I look at cable ratings, I look at the ratings of CNN, they're down 73 percent. MSNBC is down 54 percent. What's going on? I think they're going to come out and endorse me. They'll endorse Donald Trump pretty soon, I think," he said.
In recent months, the GOP has been engaged in an intra-party battle between the Trump wing and an establishment wing eager to end his influence on the party. Some congressional Republicans—including Illinois Representative Adam Kinzinger and Utah Senator Mitt Romney—oppose the former president seeking elected office in the future, while most others remain publicly supportive.
Most GOP voters appear to be supportive of Trump seeking the White House again. A Quinnipiac University poll, conducted between May 18 to 24, found that 66 percent of Republicans would like to see Trump run again. Only 30 percent said they were against the idea.
Newsweek reached out to Trump's representatives for further comment. This story will be updated with any response.