Trump Sued for 'Illegally' Appointing Mick Mulvaney as Acting Director of the CFPB
President Donald Trump's administration is being sued over his appointment of Mick Mulvaney as acting director of the Consumer Financial Protection Bureau (CFPB) on Friday without a confirmation hearing by the Senate, courts documents show.
The suit was presented by the acting director of the CFPB, Laura English, who was promoted to the position by Richard Corday hours before he resigned as the director of the agency on Friday.
But later that day, Trump appointed his own acting director to the CFPB: Mick Mulvaney, head of the White House Office Management and Budget.
That's a violation the Dodd-Frank Act of 2010, English argued.
"The Dodd-Frank Act is clear on this point: It mandates that the Deputy Director"—in this case, Laura English—"'shall…serve as the acting Director in the absence or unavailability of the Director," the suit claimed.
As such, English petitioned the U.S. District Court in Washington, D.C., to declare her the rightful acting director of the CFPB as well as issue an "emergency temporary restraining order" against Trump and Mulvaney to prevent anyone "from appointing" an acting director of the CFPB "via any mechanism other than that provided for by [the Dodd-Frank Act.]"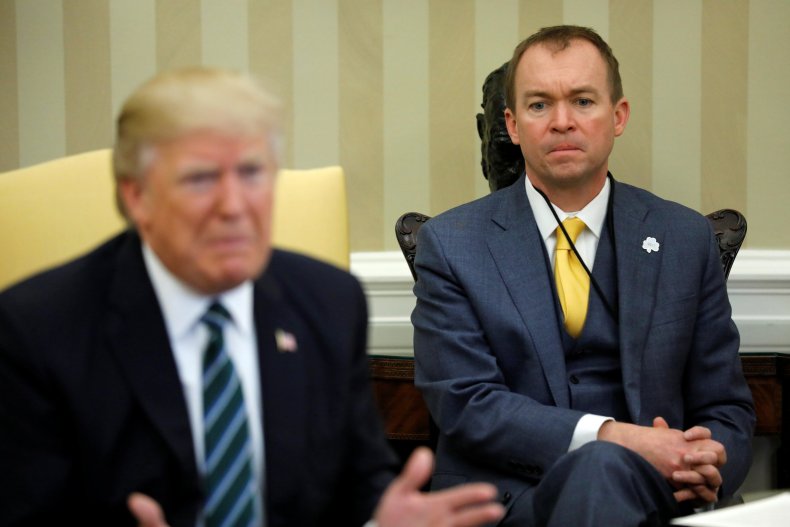 Trump's appointment of Mulvaney on Friday via press conference was swiftly criticized by progressives who champion the CFPB for protecting consumers from potential overreach by Wall Street, and who remembered Mulvaney's vote to get rid of the agency when he was in Congress.
"[Mulvaney] is an unacceptable candidate to lead the Consumer Bureau," Representative Maxine Waters, the top Democrat in the House Financial Services Committee, said in a statement. "[Mulvaney] has not only expressed noxious views about the important work that the Consumer Bureau does to protect hardworking Americans, he has also worked to destroy it."
The Trump administration argued that it was within its right to nominate a new acting director of the CFPB. The CFPB's general counsel, Mary McLeod, validated this claim, writing in a memo obtained by Politico that the president "possesses the authority" to designate the agency's next acting director.
That nullifies English's lawsuit, the Trump administration argued.
"Now that the CFPB's own General Counsel—who was hired under Richard Cordray—has notified the Bureau's leadership that she agrees with the Administration's and DOJ's reading of the law, there should be no question that Director Mulvaney is the Acting Director," White House press secretary Sarah Huckabee Sanders said in a statement. "It is unfortunate that Mr. Cordray decided to put his political ambition above the interests of consumers with this stunt."
Some Republicans came out in defense of Trump. In a statement, Representative Tom Cotton of Arkansas, a frequent defender of the president, called the CFPB a "rogue, unconstitutional agency" and said Trump should "fire [English] immediately, and anyone who disobeys Director Mulvaney's orders should also be fired summarily."