Donald Trump Sues Elijah Cummings to Block Subpoena for His Financial Records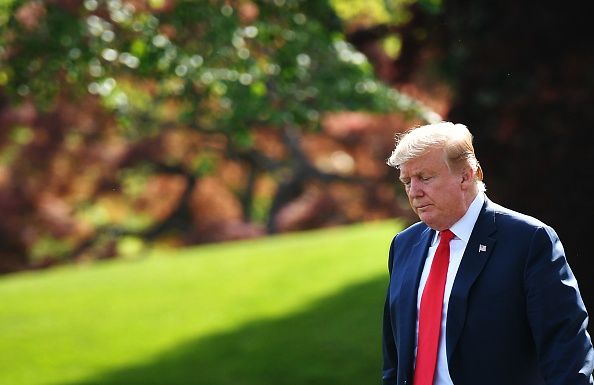 President Donald Trump has sued House Oversight and Reform Committee Chairman Elijah Cummings to block a subpoena for his financial records—including his highly sought-after tax returns.
The lawsuit, filed Monday, alleged that the Democratic Party had "declared all-out political war" against the president and was using subpoenas as "their weapon of choice."
"Democrats are using their new control of congressional committees to investigate every aspect of President Trump's personal finances, businesses, and even his family," read the lawsuit. "Instead of working with the President to pass bipartisan legislation that would actually benefit Americans, House Democrats are singularly obsessed with finding something they can use to damage the President politically."
Last week, Cummings, a Maryland Democrat, subpoenaed the president's accounting firm, Mazars USA, for eight years of Trump's financial records, from 2011 to 2018, including independent auditor reports, annual statements and other documents.
The company responded to the request in a statement, saying it would "respect the legal process and fully comply with its legal obligations."
Now, Trump and his lawyers argue that the subpoena "lacks a legitimate legislative purpose" and that Cummings overstepped the constitutional limits on Congress' investigative powers.
"With this subpoena, the Oversight Committee is instead assuming the powers of the Department of Justice, investigating (dubious and partisan) allegations of illegal conduct by private individuals outside of government," read the court filing. "Its goal is to expose Plaintiffs' private financial information for the sake of exposure, with the hope that it will turn up something that Democrats can use as a political tool against the President now and in the 2020 election."
The Democrats' request for Trump's financial records followed the damning testimony of Trump's former personal attorney Michael Cohen in February. Cohen has been sentenced to three years in prison after pleading guilty to crimes including bank fraud, tax fraud and campaign finance violations.
Cohen testified to lawmakers, under penalty of perjury, that the president often misrepresented his wealth to avoid paying taxes and mislead insurance companies.
Cohen also provided congressional committees with copies of financial statements and checks written by Trump that allegedly reimbursed Cohen for hush-money payments made to Stormy Daniels and Karen McDougal during the 2016 election.
Harvard Law professor and constitutional expert Laurence Tribe tweeted on Monday that Trump's lawsuit against Cummings was "frivolous" and should be cast aside quickly by a judge.
"This is a frivolous lawsuit. It should be tossed out quickly. The lawyers who agreed to file it for Trump and his business should take a refresher course in the powers of Congress and the ethical duties of attorneys as officers of the court," he wrote.