Trump Suggests FBI and Justice Department Led By His Own Appointees May Be 'Involved' With Rigging Election Against Him
President Donald Trump suggested that the FBI and Department of Justice, which are led by men he appointed, could be "involved" with allegedly rigging the election against him—despite presenting no evidence to support his unfounded claims of widespread voter fraud.
President-elect Joe Biden was declared the winner of the election just over three weeks ago after Fox News, the Associated Press and other major networks called Pennsylvania and Nevada in his favor, pushing him over the 270 electoral-vote threshold to be the winner of the Electoral College. However, Trump has refused to concede, as he and his legal team keep pushing false claims of widespread fraud. They have not provided evidence to support these allegations and nearly all of the campaign's legal challenges have failed in court.
Trump gave his first in-depth interview since the election to Fox Business host Maria Bartiromo on Sunday morning. During the interview he pushed a series of debunked and baseless allegations, claiming the election was "rigged."
"This is total fraud," Trump insisted in the interview with Bartiromo on Sunday Morning Futures. "And how the FBI and Department of Justice—I don't know—maybe they're involved, but how people are allowed to get away from this stuff—it's unbelievable."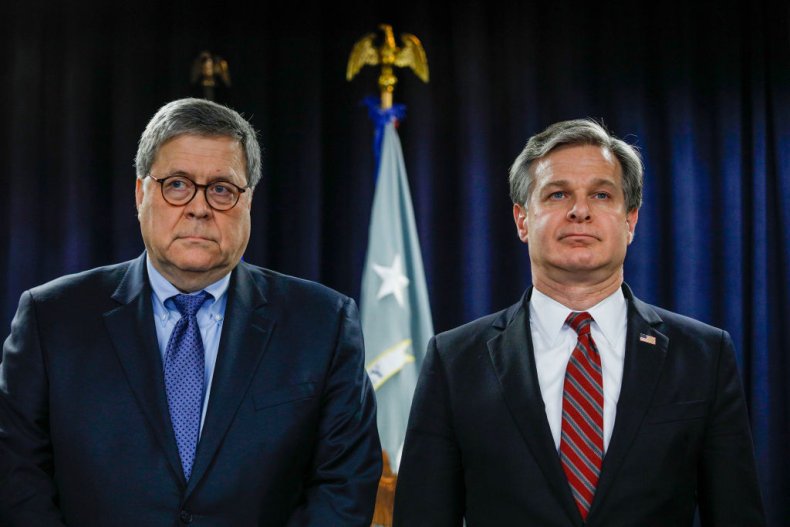 The FBI is led by director Christopher Wray, who Trump appointed in 2017. The Justice Department is led by Attorney General William Barr, who the president nominated in late 2018. Since he took over the Justice Department in early 2019, Barr has been strongly criticized by Democrats, and some Republicans, for acting more like the president's personal lawyer than the top attorney representing the American people.
"Missing in action. Missing in action," Trump said when Bartiromo asked if the FBI and Justice Department are investigation the claims of fraud. "Can't tell you where they are. I ask, 'Are you looking at it?' Everyone says, 'Yes,' they're looking at it."
The FBI declined to comment to Newsweek about the president's statements. Newsweek reached out to the press office of the Justice Department for comment.
Although the Trump campaign has filed dozens of lawsuits in multiple battleground states in a bid to overturn election results, judges have dismissed nearly all of the cases. Even conservative judges—including a Trump appointee—have rejected the unfounded claims, pointing out that the president's lawyers have not presented evidence to support them.
"We're trying to put the evidence in and the judges won't allow us to do it," Trump claimed.
The president also took aim at Georgia's Governor Brian Kemp, a Republican who the president endorsed in 2018. Some Georgia election officials have faced significant criticism and even death threats in the wake of the state's initial results and hand recount showing that Biden beat Trump in the southern state by a narrow margin of about 12,000 votes.
"The governor's done nothing. He's done absolutely nothing. I'm ashamed that I endorsed him," Trump said of Kemp.
Although Trump continues to push unfounded conspiracy theories about widespread fraud leading to his loss, a growing number of Republicans have urged the president to concede while more have pushed Trump to allow for a smooth transition. Even some of Trump's friends and allies have strongly criticized his campaign's legal strategy.
Fox News correspondent-at-large Geraldo Rivera, a personal friend of the president, said last Sunday that Trump's lawyers were making claims "from the far side of the moon." Former New Jersey Governor Chris Christie, a Republican who helped Trump prepare for a September debate against Biden, described the president's legal team as a "national embarrassment" in an interview with ABC News.
Correction 11/29/2020 9:26 p.m. ET: A previous version of this article incorrectly said that the Justice Department declined to comment. The Justice Department did not respond and the FBI declined to comment.