When President Donald Trump holds his "homecoming" rally in Sunrise, Florida, Tuesday evening, he is expected to be greeted by thousands of supporters—as well as his Democratic critics who plan to bring the "Trump baby" blimp outside with them in protest.
Trump is considering the Keep America Great rally a homecoming because he and the First Lady late last month registered to vote with their Mar-a-Lago resort in Palm Beach as their primary residence. Trump has long called Mar-a-Lago the "winter White House" and has been spending Thanksgiving there.
The rally at the BB&T Center, about 15 miles west of Fort Lauderdale, will start at 7 p.m. ET. Here is a live stream, courtesy of FOX 10:
Trump tweeted October 31 that he cherishes New York and "always will, but unfortunately, despite the fact that I pay millions of dollars in city, state and local taxes each year, I have been treated very badly by the political leaders of both the city and state. Few have been treated worse."
As of early afternoon on Tuesday, Trump had not tweeted about his rally, but retweeted a Trump campaign post from the previous day that invited people to "JOIN US for the president's homecoming rally." The Trump campaign included a video with clips of south Florida and Trump supporters at his past rallies, along with a link to RSVP for two free tickets on a first-come, first-serve basis.
The BB&T Center has a capacity of about 21,000.
The Florida Democratic Party also is planning a "Rally to Defeat Trump," and representatives have asked members to gather at an entrance to the BB&T Center. "He is not the first person to move to Florida to retire," Florida Democratic Party Chair Terrie Rizzo said in a statement.
Democratic strategist Craig Smith started a GoFundMe page to fly the Trump baby blimp, which depicts an angry president in a diaper and has made its rounds around the world. As of early afternoon Tuesday, more than $4,000 had been raised, exceeding the $3,700 goal. Democrats are counting on Trump's appearances in Florida to fuel a backlash against him.
"He is the main motivator on both sides," Smith told the Tampa Bay Times on Tuesday. "He will be the issue in 2020."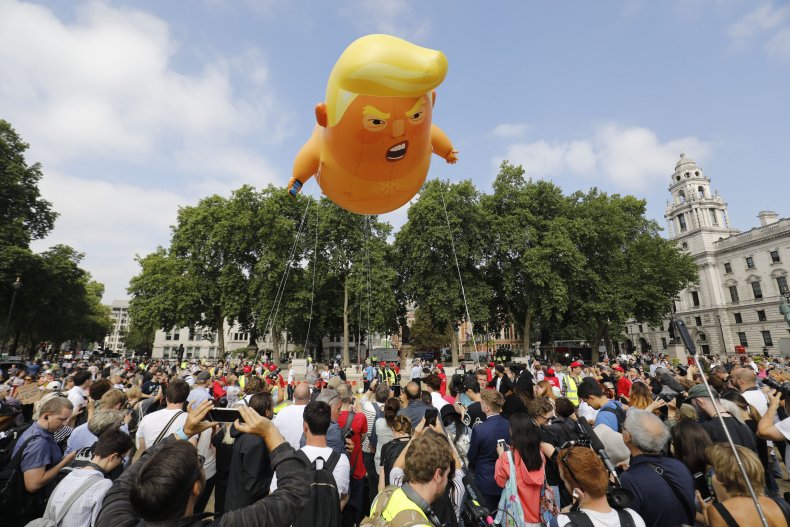 Florida is a critical state for Trump, as it is the biggest swing state with 29 of the 270 electoral votes required for a candidate to be elected president. In the 2016 election, Trump won Florida by with 49 percent of the popular vote, barely edging out Hillary Clinton, with her 47.9 percent share. But within Broward County, the bluest county in the Sunshine State, Trump won 31.4 percent while Clinton got 66.5 percent of the vote.