Trump Support Dips as Most Republicans Say 'Fresh Face' Needed in 2024
A majority of Republicans would prefer a "fresh face" to run for president in 2024 while support for former President Donald Trump is "tanking," according to a new poll.
A poll released on Wednesday by former Trump adviser John Bolton's Super PAC found that 56 percent of GOP primary voters think that a new Republican candidate is needed to defeat President Joe Biden in the next election. While about 50 percent of all of the poll's respondents said that they had an unfavorable view of Biden, 53 percent said they had an unfavorable view of Trump.
Support for Trump's false claims of a "stolen" 2020 election also appeared to be waning. A 79 percent majority of all voters, including 67 percent of GOP primary voters, agreed that "Joe Biden is legally the president." A 70 percent majority, including a 49 percent plurality of Republicans, said that votes in the 2020 election were "counted accurately."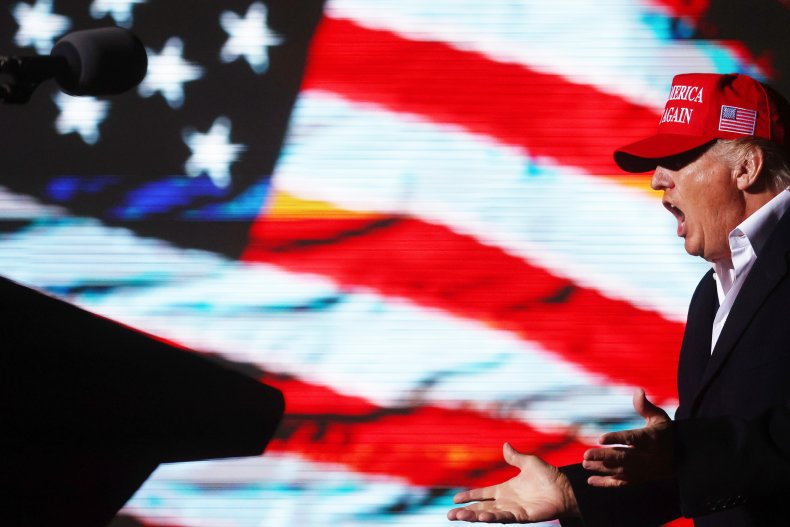 In a hypothetical 2024 rematch, Biden was slightly favored over Trump by a margin of 45 percent to 44 percent, with 11 percent undecided. An edition of the poll released in September showed Trump leading instead. Among the undecided 2024 voters, 64 percent had an unfavorable view of Trump and 57 percent had an unfavorable view of Biden.
Trump's power to influence other GOP elections was also in doubt, as fewer than 16 percent of Republicans said that they would "definitely vote for" a Trump-endorsed candidate—a significant drop from September when 29 percent said they would back Trump candidates. Bolton said that "tanking" support for the ex-president was evidence that the Republican Party was no longer "dominated by Trump."
"The trend lines across our polls are definitive—support for Donald Trump is tanking within the Republican party," Bolton said in a statement. "Trump's endorsements are becoming irrelevant at best. For over a year, Trump has been telling anyone who'd listen 'the election was stolen'—now when Trump says that voters shake their heads. They see Trump's personality as a major weakness."
Trump was still the frontrunner in a hypothetical nine-candidate 2024 GOP primary, with 36 percent support. Florida Governor Ron DeSantis, supported by 19 percent of respondents, was by far the most popular of his potential Republican challengers. In September, the poll showed DeSantis and Trump nearly tied, with the ex-president leading by 26 percent to 25 percent.
Although he has not announced his candidacy, many political observers have viewed DeSantis as a potential 2024 Republican frontrunner. He has also been seen as a possible primary challenger to Trump, at least partly due to perceived tensions between the pair increasing
Trump called politicians who refuse to publicly say whether they have received a COVID-19 vaccine booster dose "gutless" during a One America News Network interview last week. Many saw the remark as a dig at DeSantis, who had recently declined to disclose his booster status.
The poll, the fourth released in 10 months from the John Bolton Super PAC, was conducted among 1,000 likely voters. It has a margin of error of 3.1 percent.
Newsweek reached out to Trump's office for comment.