Trump Supporter Charged With Assault on Orlando Sentinel Journalist Covering President's 2020 Rally
A supporter of President Donald Trump was arrested Tuesday night for assaulting an Orlando Sentinel reporter outside the Amway Center in Orlando, Florida, where the president was holding a rally to mark the start of his bid for re-election in 2020.
Daniel Kestner, 51, of St. Augustine, can be seen in a red MAGA hat harassing and hurling curses at Sentinel reporter Michael Williams before smacking a cell phone out of Williams' hand which was being used to record the incident.
The video, posted online by the Orlando Sentinel, then fades to a shot of Kestner being handcuffed by a police officer.
Orange County Jail booking reports and court records show that Kestner was arrested and charged with battery, a first-degree misdemeanor, for which he could be sentenced to up to one year in jail if convicted.
According to a police report of the incident obtained by Newsweek, Kestner was intoxicated during the altercation.
Julie Anderson, the editor in chief of the Orlando Sentinel, told Newsweek that the newsroom "talked to reporters and photographers before this event, telling them to be careful and vigilant about their own personal safety."
"It's not like we were totally surprised," she said about the assault. "But it's always disappointing."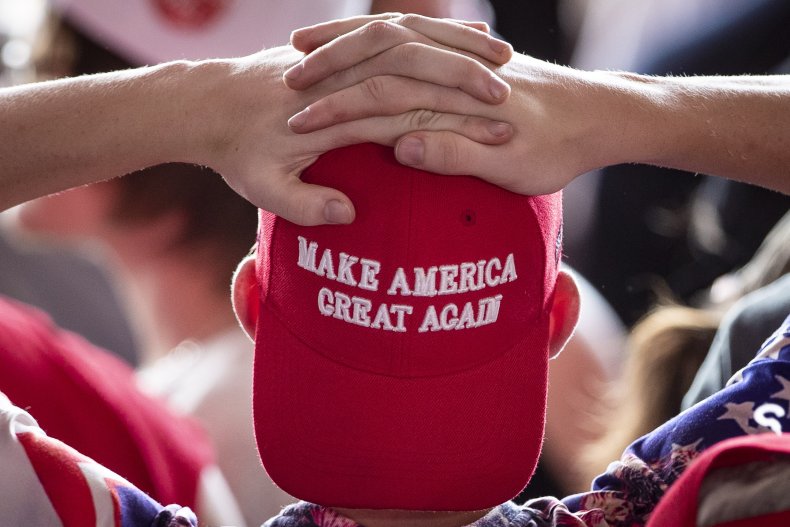 At the start of the video, Kestner appeared to be engaged in a dispute with another individual. He then turned his ire to Williams, who was filming the altercation.
"Are you taping," Kestner asked with his hand outstretched. "I don't want it. Stop."
He then began to approach Williams as the other man involved in the dispute shouted "no," signaling that he wanted the altercation to be recorded.
Kestner issued a threat to Williams for not complying with his demands: "I promise you I'll kick you."
Eventually, Kestner caught up to Williams, who was retreating backward, and smacked his hand, attempting to knock the cell phone to the ground.
The president's supporters packing the Amway Center were similarly primed for antagonizing the media. Only minutes into Trump's speech, the crowd broke out into a chant of "CNN sucks," a common refrain at his rallies.
"That is a lot of fake news back there," Trump said, pointing to the press gaggle at the back of the stadium.
It is generally legal to record incidents in public spaces without the consent of anyone involved, and Florida law specifically permits recording public encounters.
Hours before Tuesday's rally, the Sentinel's editorial board, which is separate from the newsroom, released an op-ed endorsing any viable challenger to President Trump in 2020.
The environment for reporters in the United States, while substantially more secure than in other countries and conflict areas, has been undermined in the years since President Trump's election. The international press freedom organization Reporters Without Borders dropped the U.S. by three places on its annual World Press Freedom Index.
"Never before have US journalists been subjected to so many death threats or turned so often to private security firms for protection," the report found.
NPR reported that 10 U.S. journalists were physically attacked in the first four months of 2019, and 46 have been attacked since 2017.
Last June, a gunman stormed the newsroom of the Capital Gazette in Annapolis, Maryland, and killed five people.
Reporters Without Borders and other First Amendment advocacy groups have singled out President Trump's rhetoric as a leading factor in the rising tide of violence against journalists.
"The violent anti-press rhetoric from the highest level of the US government has been coupled with an increase in the number of press freedom violations at the local level as journalists run the risk of arrest for covering protests or simply attempting to ask public officials questions," Reporters Without Borders writes.
The Sentinel has itself felt the current of anti-press sentiment from the public over the past few years.

"We started seeing our photographers and reporters experience this in 2016, and it has continued since," Anderson said. "Unfortunately, it's just become a part of something we are having to prepare for and expect."
Anderson vowed to continue to "cover these events like we always would," but, reflecting on Tuesday's developments, said she would reach out to the local police departments to "ask for their advice."
"I'm going to be giving the police chief a call and asking him what he might advise, as well as talking to our company," she said. "But it's not going to stop us from doing our job. We will not be deterred."
This article has been updated to include additional information from a police report documenting the incident.