Trump Supporter Who Blew on Women Outside Virginia Golf Course Charged with Assault
A Virginia man has been charged with assault after a video of him blowing on women in front of the Trump National Golf Club went viral.
In the video, Raymond Deskins, 61, was seen forcefully exhaling on two women who were protesting at the site in Sterling on Saturday, November 21.
At the time, he was wearing a Trump-themed inflatable and no face covering.
"Get away from me, get away," one of the women can be heard saying as another tells the man: "You are in my face and you don't have a mask, so you need to back off".
Deskins, who is seen sporting a "Make America Great Again" inflatable around his waist, then takes a deep breath of air and audibly exhales in the direction of the two women.
"That's assault," one of the women says. "I breathed on you ... now call the cops and ask them to come get me," Deskins responds.
Kathy Beynette, who identified herself as one of the women involved, recorded the incident and uploaded the encounter to Twitter later that evening, writing: "Please help. He crossed street to assault 2 senior citizens. Want to identify n case contact tracing becomes necessary. Think name Ray. Virginia res. Drives Cadillac. Occurred trump golf."
Beynette said she and others often go to the golf course to protest on the weekends when Trump is playing, and has noticed more Trump supporters there recently.
She said Deskins approached her and another woman without any prior conversation and the pair told him to stay back.
"The incident itself came so out of nowhere that it was shocking," Beynette told Fox5. "It's women asking a man with a toy around his waist and no mask to leave us alone".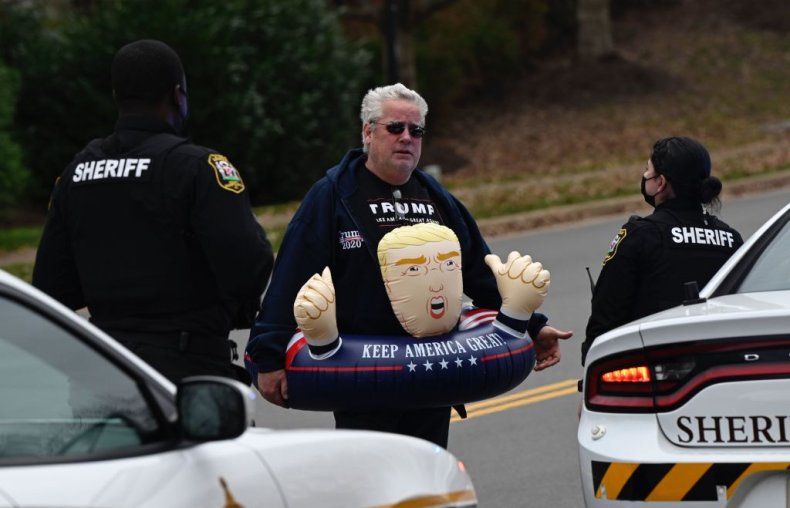 Beynette said she immediately reported the incident to Loudoun County sheriff's deputies, but was advised by the sheriff's office that she would need to seek a "citizen obtained warrant" because deputies did not see the incident.
The Loudoun County Sheriff's Office later released a statement confirming they had received reports of assault.
"On November 21, 2020, two separate parties reported they were assaulted during a verbal argument outside of Trump National Golf Club, located at 20391 Lowes Island Blvd," the Sheriff's Office said. "As the incident was not witnessed by law enforcement and the video did not capture the entire interaction, both parties were advised they could go to a Loudoun County Magistrate and seek a citizen obtained warrant."
Members of the Loudoun County Board of Supervisors also called for a full investigation of the incident in a letter to the Sheriff and the Commonwealth's attorney.
In a letter, four members wrote that not wearing a mask and not socially distancing during the pandemic was "clearly irresponsible", before adding: "Willfully coughing in someone's face is clearly dangerous."
On Sunday, the Loudoun County Sheriff's Office released an update, in which it said Deskins had been charged with simple assault.
"This afternoon our deputies served a warrant obtained by a citizen through a Loudoun County Magistrate. Raymond Deskins, age 61, of Sterling, VA, was charged with simple assault (misdemeanor) and released on a summons".
Michele Bowman, public information officer for the Loudoun County Sheriff's Office, confirmed to CNN that Raymond Deskins is the man seen in the video.
Newsweek has contacted Kathy Beynette, Raymond Deskins and the Loudoun County Sheriff's Office for comment.