Trump Supporter Charged With Battery After Ripping Mask From Woman's Face At Rally
A Donald Trump supporter has been charged with battery after video emerged of him tearing a mask from a counter-protester's face during a rally for the outgoing president in Florida.
Dan Orval Ditto Jr., of Pensacola, is charged with simple battery. The 58-year-old is vice-chairman of the local Republican party.
The victim, said to be a 21-year-old woman, claimed the man scratched her face when he pulled her mask off. She reportedly told police she wants to press charges.
The altercation is reported to have happened at 3 p.m. on Sunday in downtown Pensacola at a "Stop the Steal" rally organized in support of Donald Trump.
Video footage shows a small group of counter-protesters insisting that the election result be respected.
A bearded man wearing a Trump-branded polo shirt then grabs the victim before tearing the mask she was wearing from her face.
He was then pushed back by a fellow Trump supporter wearing a "Make America Great Again" cap.
In the seconds afterward, both Trump supporters and counter-protesters can be seen involved in a heated exchange before the victim tears up a sign, believed to have been carried by Ditto Jr.
According to a police report quoted by local media, the woman said "an older white male approached her and pushed her with his sign."
The report said the victim "asked the man to stop and pushed his sign away from her."
The man is then said to have "grabbed her backpack strap and pulled her, and took the mask off of her face."
Around 100 people gathered in the city to protest against the outcome of the presidential election, which Trump continues to claim he won despite President-elect Joe Biden having secured more than the 270 Electoral College votes needed to take the presidency.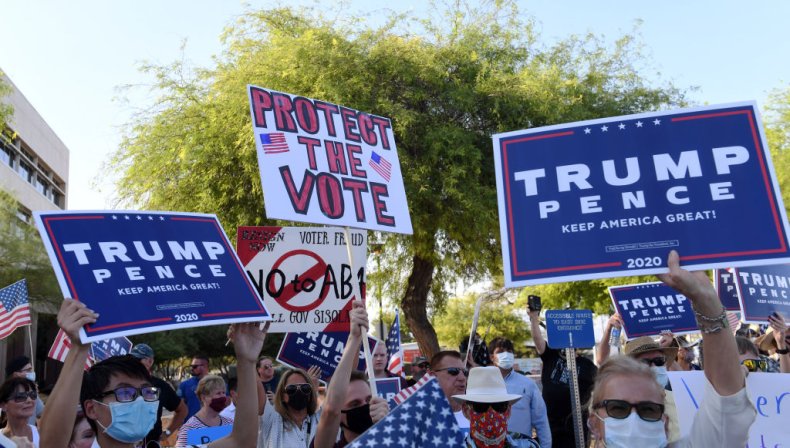 John Roberts, chairman of the Escambia County Republican Party, told local network WEAR that Ditto Jr. was vice-chair of the group but said it was "too early in the process to comment and the legal system should be allowed to work." He added: "The party is against any violence and disruptions."
At Sunday's rally, protesters claimed the election was "not over" and some held signs saying "Stop the steal."
Rally organizer Bill Fetke, who heads up the Trump Team 2020: Escambia County Chapter, told WEAR: "The media does not make the decision on who the next president is. It's we the people."
Angie Carter, who attended the demonstration, told the broadcaster: "What's happening in Pennsylvania, Michigan, Nevada, and Arizona is wrong. It doesn't matter if it's a Republican or Democrat, it's wrong."
Newsweek has contacted the Pensacola Police Department for comment.