Trump Supporter Corrects President's Pronunciation, Then Realizes She's on Camera
Blink and you might have missed it, but one supporter at President Donald Trump's Tennessee rally on Monday night appeared to briefly forget she was on live television when she corrected the U.S. leader's pronunciation before catching herself and taking cover behind her rally sign.
The offbeat moment unfolded as Trump touted ongoing construction of his long-promised border wall between the U.S. and Mexico.
"The wall is under construction, a lot of work has been done," Trump said, before attempting to say "a lot of renovation."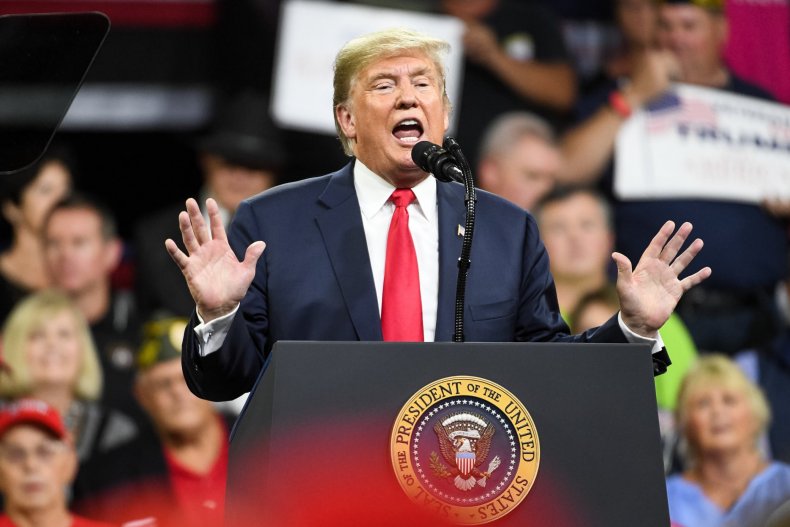 The president appeared to mispronounce that last word, however, saying something more like "renervertion."
In video of the moment, a supporter on the president's right could be seen correcting Trump, clearly pronouncing the word "renovation" before she realized, with a sheepish look, that she was on live television.
She then brought the "Finish the Wall" supporter sign she was holding down to cover her face.
Trump then went on to rail against California's immigration policies, and then took aim at Governor Andrew Cuomo, who is seeking re-election in New York.
The president was at Monday's Johnson City rally to campaign for GOP Representative Marsha Blackburn, who is currently in a neck-and-neck race with former Governor Phil Bredesen to replace retiring Senator Bob Corker.
Trump won Tennessee by 26 percentage points in the 2016 election.
During the rally, the president also reiterated his support for his Supreme Court pick Brett Kavanaugh, whose nomination has been in limbo after several women came forward to accuse him of sexual misconduct in the 1980s.
The president also attacked Democratic Senator Richard Blumenthal over his false claim that he had served on the ground in Vietnam.
"How about Blumenthal? We call him Da Nang Blumenthal," Trump said during his speech.
Blumenthal had criticized Trump for initially ignoring calls for an FBI investigation into the sexual misconduct allegations against his Supreme Court pick, calling it "tantamount to a cover-up."
A week-long FBI investigation is now underway as GOP senators push for a full Senate vote on Kavanaugh's nomination to take place this week.