Trump Supporter Evicts Disabled Tenant After Facebook Post Bashing President
A 77-year-old landlord, Wilma Hughes of Lafayette, Mississippi, evicted her disabled, 31-year-old tenant Whitney Wages in late July after Wages made a Facebook post calling Republican President Donald Trump a fraud, criminal, and traitor who could heal the country by being arrested.
On the post, Hughes commented, "Well I don,t know you at all_ a lot of stuff you pass on_ I can not comprehend_ but Trump is not POS_!!!" Twenty minutes later, Hughes notified Whitney via text that she had 30 to 45 days to vacate her apartment.
"I do not want to live with a negative person like your self," Hughes wrote. Wages received a formal eviction letter in the mail a few days later.
Wages, a white woman with "bipolar disorder, generalized anxiety disorder, complex post-traumatic stress disorder, agoraphobia... joint pain and sciatica," had moved into the apartment a little over a year before her eviction. Unbeknownst to her, she had entered a month-to-month lease after her first year, an arrangement that Hughes could terminate at any point.
Earlier this year, Wages left a restaurant prep cook job to start substitute teaching, but she lacked the internet access needed to teach after the epidemic started, so that job fell through. Later on, she left another gig at a local market and restaurant over fears of contracting COVID-19.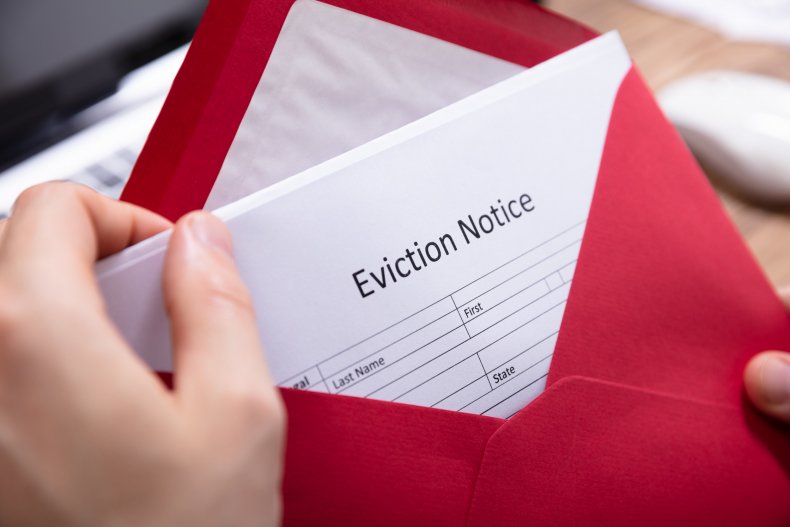 For most of her time in the apartment, Wages received $794 in monthly social security disability benefits, $700 in weekly unemployment relief and used a "Section 8" federal housing voucher which covers anywhere from 50 to 65 percent of the rent.
"You get all this free unemployment money_after you Had quit your jobs_ how much of that did you pay on student loans!? None because you will never pay_ say it isn,t so?" Hughes wrote Wages in a text message after telling her she had to leave. "My money pays your SSI, medicare, food stamps, unpaid tuition, etc_ can you not even try to understand??"
Later on, Hughes wrote on her own Facebook page, "I do know if I own land, rental house, pay taxes and up keep_ I do not have to have a welfare POS living there. I am not against empty house_ some things you just can,t digest!"
Despite her support of Trump, Hughes made $600 worth of political donations to the election campaign of Democratic President Barak Obama in 2008, Newsweek has confirmed.
Though Wages was on friendly terms with Hughes, raising a garden in the apartment fields, Wages is now living with her partner in a small apartment with two other people while she tries to find a new first-floor apartment that will accept her federal housing voucher.
Mississippi law allows landlords to discriminate against renters who use federal housing vouchers. Federal law doesn't protect renters from housing discrimination based on political beliefs or socioeconomic level.
Newsweek contacted Wages for comment. She started a GoFundMe campaign to help secure new housing.