Watch: Trump Supporter Hangs Re-election Banner at Disney World
A man visiting Walt Disney World on Sunday hung a banner at Magic Kingdom touting the re-election of President Donald Trump.
The large banner was placed at the entryway to the train station on Main Street, U.S.A., on Sunday at the Magic Kingdom in Disney World in Orlando, Florida, and read "Re-Elect Donald J. Trump. Keep America Great. 2020," News 13 reported. A video showing the banner being hung has been circulating throughout social media and can be viewed here.
The man claiming to be behind the banner was Dion Cini, a longtime Trump supporter from New York. Cini told Newsweek on Monday that he wanted a "viral effect" in showing his support for the 45th president of the United States by hanging the banner.
"There were security guards watching me," he wrote to Newsweek. "If they wanted me, they could have grabbed me. Now, if they do come after me or ban me, it will be for political reasons, not policy."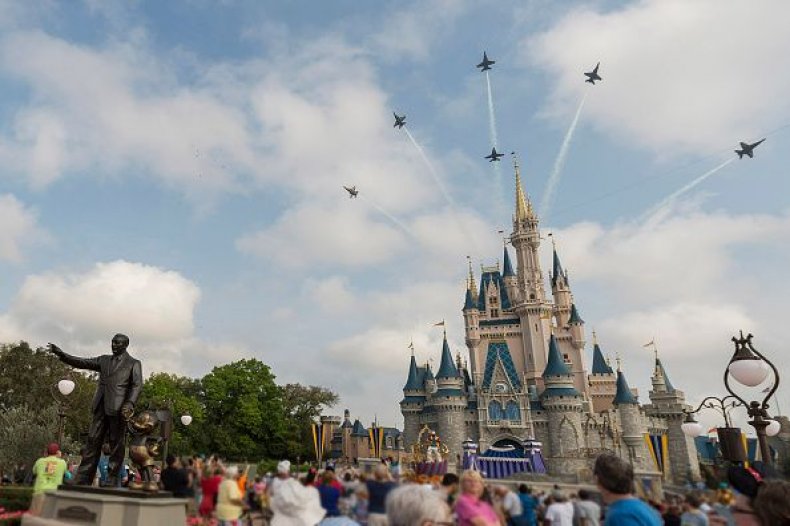 Cini told Newsweek he got mixed reactions, many of them positive, and said a lot of people were shocked that he would bring the banner to Disney World. While he stood behind his actions, his idea came at a cost. When Cini attempted to get into Epcot park on Monday, he was told he was banned from the Disney theme park.
A Disney spokeswoman told the Orlando Sentinel that theincident did occur but did not respond to further questions. Newsweek reached out to Disney World for comment on the incident but did not hear back in time for publication.
Cini had drawn responses to his support of the president in the past. The former Marine was criticized for hoisting a "Trump 2020" flag on his kayak in August 2017, CNN reported.
Cini also took credit for hanging a re-election banner at Yankee Stadium in July and at the Broadway play Frozen earlier this month. Cast member Timothy Hughes said he noticed the "Trump 2020" sign as the crew were taking their bows, and ripped the banner out of the person's hands. He said the sign should not have been at a Disney musical.
"What does it say about our country and politics when a man at the show tonight felt the need to protest Disney's Frozen on Broadway with a pro-Trump flag?" Hughes said.