Trump Supporter Hit With Milkshake, Fight Breaks Out With London Protesters
A group of London anti-Trump protesters threw yet another milkshake at a supporter of the United States president Tuesday, sparking a brief fight in Parliament Square.
The physical altercation in the City of Westminster in central London surfaced on social media Tuesday showing a lone Trump supporter shouting back as he wades through a large crowd of protesters. Flanked by at least one police officer trying to protect the man, the crowd of protesters chanted "Nazi scum" in the man's face before a milkshake cup can be seen exploding against his head. Several protesters intervened and de-escalated the situation when they noticed the man become enraged.
Several U.K. politicians including the Labour Party's Emily Thornberry condemned the milkshake mayhem, calling it a "stain on a great event" that has been overwhelmingly peaceful thus far.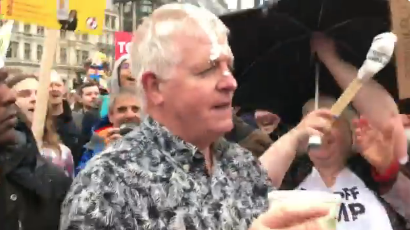 A group of London anti-Trump protesters threw yet another milkshake at a supporter of the United States president Tuesday, sparking a fight in Parliament Square.
Screenshot: Twitter
The video was first posted by British journalist Matthew Thompson and has been viewed millions of times by Tuesday afternoon in the U.S. The incident is only the latest to depict a Trump ally being hit with a milkshake in the U.K. The British protest trend first gained international attention after Brexit leader Nigel Farage was struck with the dairy treat last month.
But even a week before that, right-wing YouTube personality Carl Benjamin, who is a candidate for the United Kingdom Independence Party (UKIP), was hit with a milkshake. And Tommy Robinson, a convicted fraudster and far-right activist, was also doused in a dairy beverage.
Farage later denied reports that he hid on a bus to avoid what several local news outlets described as a roving pack of balaclava-clad men holding milkshakes in Kent at the end of last month.
Tens of thousands of protesters and even a 20-foot "Trump baby" blimp have centered around London's Parliament Square Tuesday as Trump continues his three-day visit to the U.K.
Dozens of posters and picket signs could be seen surrounding the man in Thompson's video: "This episode of Black Mirror isn't funny anymore," reads one picket sign being waved around the man who was hit by the milkshake. "Tories out now!" read another.
But at least a few U.K. politicians who saw the video on social media did not support the milkshake row despite being Trump critics and very supportive of the massive protests overall. One man in the video can be heard saying, "you're behaving as badly as he is."
"This is wrong and is a stain on a great event. Well done to those who went to this Trump supporter's defence. This is not what we should ever be about," tweeted Labour Member of Parliament Emily Thornberry, perhaps spurred by Thompson's own call out to the official Labour Twitter handle to respond.
Others on social media immediately ridiculed what they labeled as hypocrisy among the anti-Trump protesters in the video.
"Appalling behaviour from the supposed 'tolerant ones,'" reads one top reply. "Tolerant unless you disagree with them," another responded. But several London-based viewers of the video debated labeling any Trump supporter or right-wing figure a "Nazi."
"Lactose for the intolerant," other commenters quipped.