Trump Supporter Interrupts New Zealand Massacre Vigil with Huge 'Build The Wall' Parade Float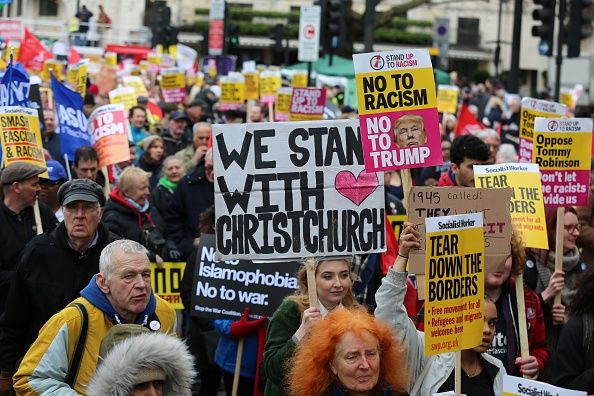 Mourners at a Cleveland, Ohio, vigil victims of the New Zealand mosque attacks were interrupted Saturday when a Donald Trump supporter interrupted the event with a gigantic "Build the Wall" parade float.
According to local news outlets, the float was rolling through the memorial service while basting music, including "God Bless America." The driver of the float was identified by local reports as Robert Cortis, a Michigan resident.
Cortis told Cleveland 19 News that he was visiting the Rock and Roll Hall of Fame when he saw the vigil happening near city hall.
The memorial was organized by the Islamic Center of Cleveland and Global Cleveland to help support and honor those who were killed and injured in the attacks on Friday in Christchurch, New Zealand. The event also aimed to battle hate speech and divisive rhetoric.
Friday's shootings at two mosques in New Zealand left at least 49 people dead and another 50 injured. New Zealand Prime Minister Jacinda Ardern described the terrorist attacks as "an extraordinary and unprecedented act of violence."
The attack appears to have been carried out by a white nationalist who before the shooting posted a 74-page manifesto online railing against the Muslim community. The gunman also live streamed a video of the attack on Facebook. Officials charged 28-year-old Brenton Harrison Tarrant from Australia with murder on Friday and Tarrant appeared in court on Saturday morning.
President Trump first responded to the attacks in a tweet on Friday morning, writing that his "warmest sympathy and best wishes goes out to the people of New Zealand after the horrible massacre in the Mosques. 49 innocent people have so senselessly died, with so many more seriously injured. The U.S. stands by New Zealand for anything we can do. God bless all!"
But Trump was later criticized when he told reporters that he did not believe white nationalism was a growing global threat.
"I don't really. I think it's a small group of people that have very, very serious problems. It's certainly a terrible thing," Trump said on Friday after being asked about Tarrant's racist manifesto.
CNN's Don Lemon slammed Trump's comments as "very ignorant" and accused the president of going easy on white nationalists for political expediency. Lemon added that Trump cannot win his 2020 re-election bid "with just his base next time and they are a big — they're a very vocal and active part of his base. I won't say a big part. But a very vocal and active part of his base and he knows that."