Police have arrested a man after he threatened to attack his neighbor while wielding a chainsaw before pointing a gun at a crowd of Black Lives Matter protesters gathered outside his home.
Officers were first called on Monday after reports that a 56-year-old man from Milwaukee had threatened to physically harm his neighbor while wielding a chainsaw.
The suspect was arrested for disorderly conduct while armed.
A day later, officers were dispatched to a Black Lives Matter demonstration outside the suspect's home.
While officers were monitoring the protest they were notified that the suspect was inside his home standing by a window and that the suspect "motioned the long gun as if he chambered a round and then pointed the gun at the crowd."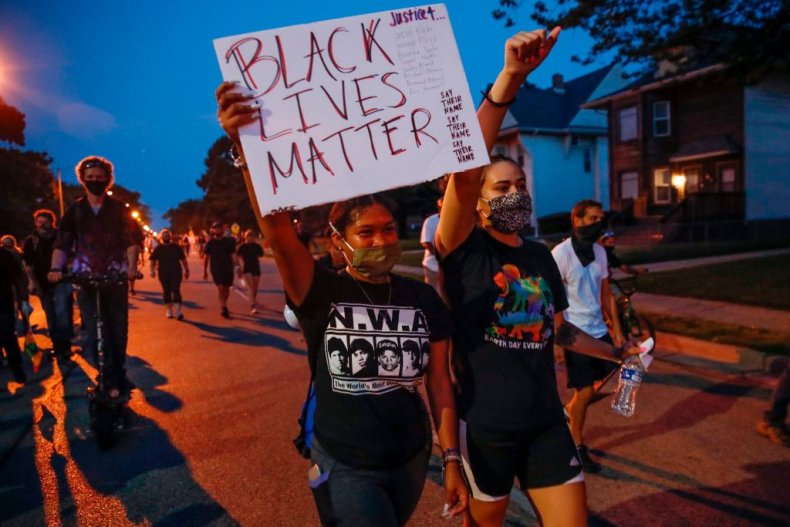 Officers spoke to the suspect, who police said appeared to be intoxicated.
He was subsequently arrested for endangering safety by use of a dangerous weapon while under the influence of an intoxicant, disorderly conduct while armed and jumping bail.
Videos of the incident were widely shared on social media.
In one, members of the crowd can be heard alleging that the suspect had been using racial slurs and harassing neighbors in recent days.
In another, a large crowd can be seen playing music and dancing outside the suspect's home, which was adorned with an American flag and an "all aboard the Trump train" sign.
Cheering can be heard as the suspect is seen being led away by police.
Another clip shows a man inside the home—who the crowd refer to as "Pete" or "Pistol Pete"—appearing to pump a shotgun. A man out of shot is heard saying: "He's pointing his shotgun out of the window."
An earlier video clip from September 7, which appears to be of the same house and is believed to have triggered the protest, shows an argument between a man and people in a neighboring property.
The footage was accompanied with the caption: "Neighborhood kids already were scared to go by this man's house due to his Trump sign and his confederate flag in the window...Now these kids really don't wanna ride their bikes in the area.
"People just moved in next door and have to live next to this ignorance. Police showed up and he ran in the house and peeked out the windows after calling the new neighbors the N word."
Police said criminal charges would be referred to the Milwaukee County District Attorney's Office in the coming days.
The Milwaukee Police Department said in a statement it "continues to support the rights of those who choose to peacefully protest."