Trump Introduces Supporter at Rally Who Says 'God Was Looking After' America When President Was Elected
While on stage with President Donald Trump, one of his supporters expressed the belief that God had a hand in the president's 2016 election victory.
On Wednesday, Trump delivered a speech at the Lima Army Tank Plant in Lima, Ohio, and toward the end of his remarks, he called Jay Baldwin to the stage. The president explained that Baldwin is an Army veteran, who served on an M1 tank and now helps to build them.
In opening his comments, Baldwin thanked the president for being there and praised the production quality of the plant. He then turned the audience's attention to his faith.
"It is my personal belief that God was looking after our country when you were elected," Baldwin said to Trump.
Baldwin's comment solicited cheers, whistles and applause from the crowd, with some people raising their arms in the air to signal their approval.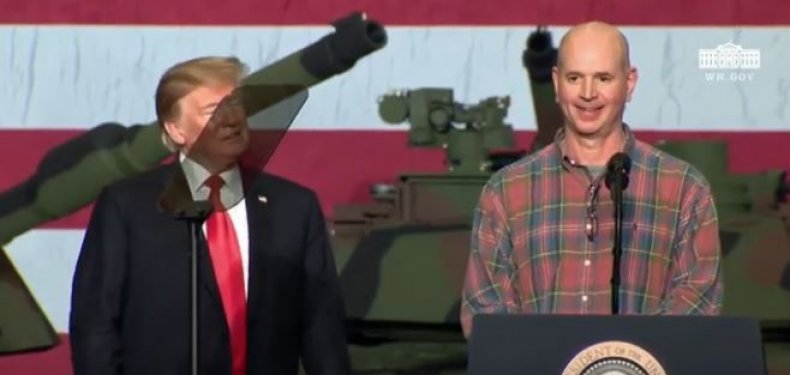 During his brief time on stage, Baldwin also thanked the president for his military and economic policies that Baldwin credited for rejuvenating the plant and giving it the ability to increase production and hire more employees.
"You never know what you get when you come up, it's live," Trump said about Baldwin's remarks. "But you couldn't do better than that, right?"
Aside from the audience, whose reaction showed Baldwin wasn't alone in his belief that God played a role in the 2016 election, others have also vocalized similar sentiments. In January, press secretary Sarah Huckabee Sanders told the Christian Broadcasting Network that Trump being president was him fulfilling a role God made for him.
"I think God calls all of us to fill different roles at different times and I think that he wanted Donald Trump to become president, and that's why he's there," Sanders said. "I think he has done a tremendous job in supporting a lot of the things that people of faith really care about."
After Sanders' comment, Fox News conducted a poll to see if Americans nationwide agreed. The February poll found that 55 percent of white evangelical Christians believed that God played a role in Trump becoming president. Forty-six percent of Trump voters that were polled, regardless of their religious affiliation, responded that they thought God wanted Trump to be president.
Gayla Lee, who attended an event for Trump supporters at Mar-a-Lago, the president's "winter White House," expressed the belief that America is heading toward its "final days" if there isn't an awakening. In her opinion, Trump winning the election was God giving America "one more chance."
However, not everyone has gotten behind the idea, and comedian and talk-show host Bill Maher criticized evangelicals for placing Trump on a godly pedestal. In light of the comments about God wanting Trump to be president and specifically, Mike Lindell, the inventor of MyPillow, saying Trump was "chosen by God," Maher said it was no surprise the president views himself as God's gift to America.