Trump Supporter Tells Republicans to Push Agenda Like AOC: She 'Fights for What She Believes'
While Republicans share little in common with Representative Alexandra Ocasio-Cortez in terms of policy, a Donald Trump supporter is encouraging them to channel her perseverance in getting her stances heard.
Trump is set to leave office on Wednesday after one term in office, and when he does, Democrats will take control of the White House and both chambers of Congress. Democrats don't have enough of a majority in Congress to completely write off Republican support, but after a contentious election cycle and a year of partisan battles over coronavirus relief, it remains to be seen how often the two sides can find compromise.
On Monday night, GOP pollster Frank Luntz asked 14 Trump supporters what they wanted Republicans to do in response to President-elect Joe Biden during his first year in office. "Fight," one supporter, identified only as Frank from Florida, answered.
"AOC gets herself out there...and she fights for what she believes," Frank said. "We don't agree with her, we can't stand her, but I'll tell you what, I do respect her because she gets out there and fights for what she believes."
Instead of being "babies and wimps," Frank added, Republicans need to be in the media "every day" fighting and pushing the GOP agenda.
Newsweek reached out to Ocasio-Cortez and Mitch McConnell, the outgoing Senate majority leader, for comment but did not receive a response in time for publication.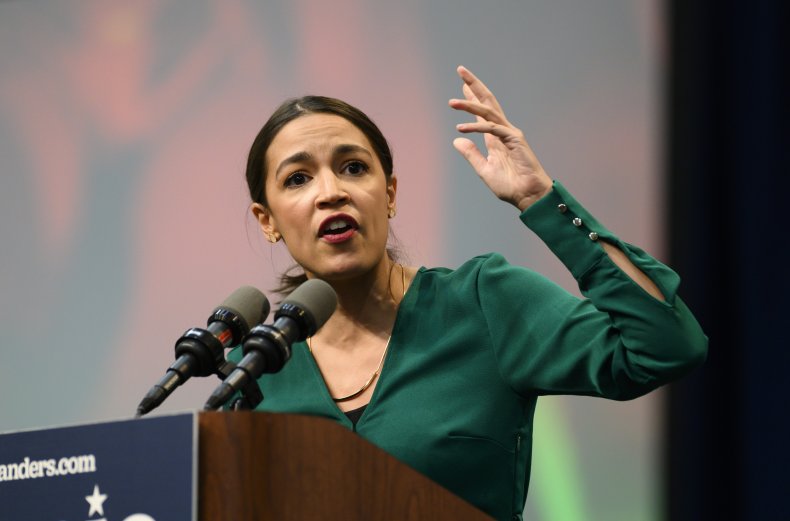 After she defeated 10-term incumbent Joe Crowley in 218, Ocasio-Cortez became one of the most well-known members of Congress, despite her freshman status. She has become a force within the Democratic Party, launching criticism at some of the older members. In November, she decisively won reelection with nearly 72 percent of the vote.
A master of reaching voters through social media, she has more Twitter followers than House Speaker Nancy Pelosi and the next Senate majority leader, Chuck Schumer, combined. Her following also dwarfs that of GOP leaders Kevin McCarthy, Steve Scalise and McConnell.
"The fact of the matter is, if you're not spending $200,000 on Facebook with fundraising, persuasion, volunteer recruitment, get-out-the-vote the week before the election, you are not firing on all cylinders," Ocasio-Cortez told The New York Times after the November election.
While some of her more well-seasoned Democratic counterparts having more power on the House floor, Ocasio-Cortez consistently shares her take on an issue. Her impassioned opinions often make headlines, helping spread awareness of where she stands.
She has aligned herself with self-proclaimed democratic socialist Senator Bernie Sanders, and the GOP has little if anything in common with her regarding policy. However, Frank, the Trump supporter from Florida, isn't the first person to see past politics to the movement she's created.
"AOC has what I call 'gameness' or competitive heart—the combination of grit, determination, fighting spirit that you can't coach," Steve Bannon, Trump's former chief strategist, told Politico in 2019. "You either have it or you don't, and she has it, big league."