President Donald Trump on Thursday evening awarded a National Medal of Arts to actor Jon Voight, who has won the Academy Award, but also happens to be one of the president's biggest defenders in Hollywood.
A White House press release on Sunday naming Voight, 80, as one of four recipients of the highest American government honor to artists stated he was chosen "for his exceptional capacity as an actor to portray deeply complex characters. Captivating audiences, he has given us insights into the richness of the human mind and heart."
The press release made no mention Voight's history of comments propping up Trump.
Here are some remarks Voight has made elevating the president:
September 2019 tweeted video against Trump's impeachment inquiry: "This is a war against the highest nobleman who has defended our country, and made us safe and great again. Let me stand with our president. Let us all stand with our President Trump in a time of such evil words trying for impeachment."
May 2019, in part two of videos he tweeted "To my fellow Americans": "Let us stand with our president, let us stand for this truth that President Trump is the greatest president since Abraham Lincoln. God bless America."
January 2017 Trump inauguration rally: "God answered all our prayers. We have all been witness to a barrage of propaganda that left us all breathless with anticipation, not knowing if God could reverse all the negative lies against Mr. Trump, whose only desire was to make America great again. President Lincoln, who sits here with us, I'm sure is smiling knowing America will be saved by an honest and good man who will work for all the people, no matter their creed or color."
March 2016 to Breitbart News: "Donald is funny, playful, and colorful, but most of all, he is honest. He has no bull to sell, and everyone will discover the bull most politicians spew out is for their own causes and benefits."
Voight won the Academy Award for best actor in 1978 for playing a paraplegic Vietnam War veteran in Coming Home, and was nominated for the Oscar three other times. He has been nominated for 11 Golden Globe Awards and won four, for best actor, supporting actor and new star actor in Coming Home, Midnight Cowboy, Runaway Train and Ray Donovan.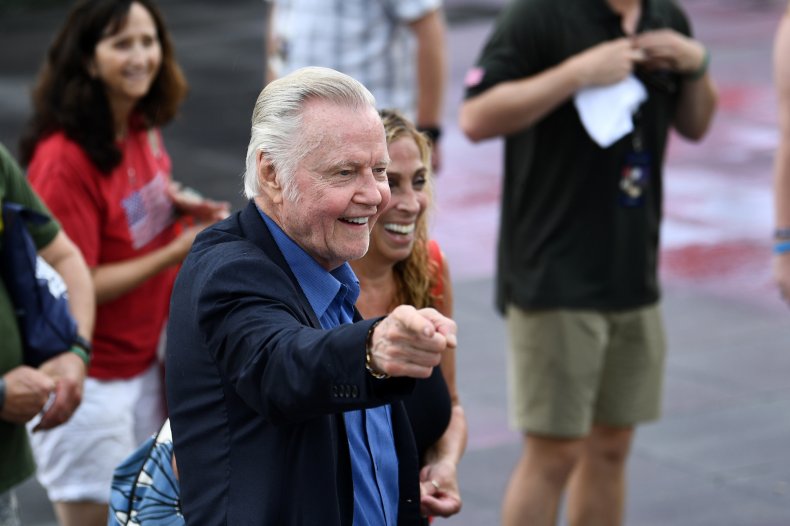 On Thursday, Trump addressed Voight as an "actor and friend," and "one of America's greatest living legends in American cinema." The president commended Voight for his roles in films, including Midnight Cowboy, The Odessa File, Deliverance, Coming Home, Pearl Harbor, Mission Impossible,and The Champ, which Voight said made it very difficult for him not to cry.
Trump called Voight "a special person" and was not shy about expressing that he likes him.
"I love having you here, especially since it's somebody that I happen to really like," Trump said to audience laughter.
After Trump hung the medal on his neck, Voight shook the president's hand and whispered something in his ear. Before receiving the medal, Voight did a short dance to the Midnight Cowboy theme song, drawing a smile from Trump.
Voight's political views are a stark contrast to those of his daughter, Academy Award-winning actress Angelina Jolie, who in 2017 responded to Trump's travel ban by saying, "It is simply not true that our borders are overrun or that refugees are admitted to the United States without close scrutiny."