Trump Supporter Admits Voter Fraud, Says She Voted Twice For President in Viral Video
A President Donald Trump supporter admitted to voter fraud in a viral video, as she says she tried to vote for Trump twice in the 2016 election.
The video was posted by The Good Liars, a comedy duo made up of Jason Selvig and Davram Stiefler, who regularly pose as Republicans to prank high profile figures and Trump supporters.
In May 2020, they questioned a Trump supporter about voter fraud, who then admitted to committing it herself in the 2016 election, in a video that has been viewed more than 630,000 times on Twitter, 80,000 on Instagram, and 190,000 times on TikTok at the time of writing.
The Good Liars reshared the video late on Wednesday evening and said: "Hey @realDonaldTrump please RT! We found voter fraud!" Trump has been making unsubstantiated claims about voter fraud in the 2020 election, which he lost to President-elect Joe Biden.
When the video was first posted to Instagram in May, The Good Liars identified the woman in the video as Terri Lynn Rote, who was arrested when trying to vote for the second time in 2016.
In a reply to an Instagram comment that sarcastically said: "Yeah... It's not fake at all. Those people are not acting," The Good Liars responded: "You got us! She is NOT a real woman named Terri [Lynn] Rote who was convicted of voter fraud in Iowa for voting for Donald Trump twice in 2016. I can't believe you figured it out!"
In 2017, Rote, who lives in Des Moines, Iowa, was sentenced to two years of probation and a $750 fine after being charged with attempting to vote for Trump twice.
Rote told police that she submitted two absentee ballots because she believed Trump's false claims that the 2016 election was rigged and that her first ballot would be changed to vote for Hillary Clinton. She was arrested on October 21 when trying to vote with the second ballot.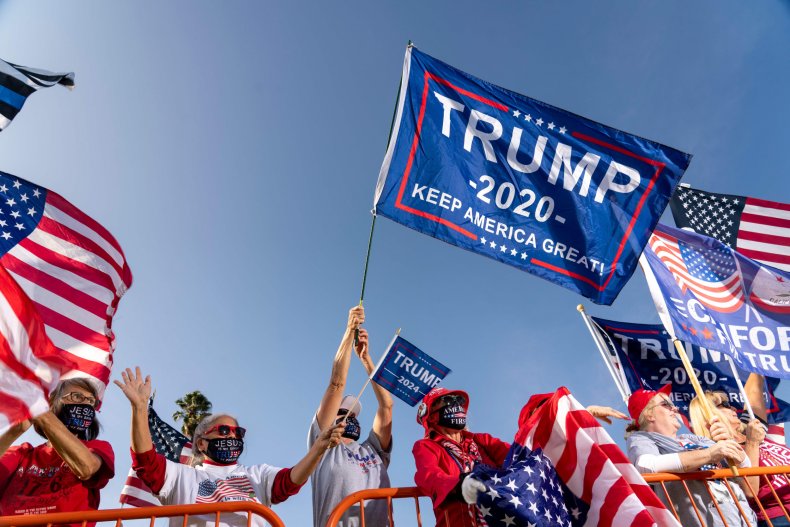 Now, Rote admission in The Good Liars' video is being shared widely across social media.
In the video, Selvig says to Rote: "Voter fraud is a real problem in the country," to which the Trump supporter says: "Yeah I know. I know all about it."
Selvig then asks her: "Have you ever seen any voter fraud?" to which Rote admits, "Yeah, me. I did it."
He asks the Trump supporter: "You committed voter fraud? What'd you do?" and she tells him that she, "Voted twice for Trump. Four years ago."
When asked if she got into trouble, Rote says: "Yeah, I'm still on probation for it. Now if I would have voted for Hillary Clinton I would have got a gold medal."
Selvig then says: "But you voted for Trump twice," and Rote replies: "Yes I did. Yes. I learned the hard way not to do it."
Stiefler asks her: "Did you wear a mustache or anything?" and she explains: "No. Two different places. I went to a different place, different time I voted. One time, maybe a couple weeks later I tried to vote at another place."
Selvig then says: "I don't know. I'm having, like, a big crisis because I honestly thought it was libs that were doing it."
The Washington Post reported that there were only four cases of documented voter fraud in the 2016 presidential election, including Rote's case. Phillip Cook, a man from Texas who falsely claimed to be an employee of Trump's campaign who was testing the security of the electoral system, was arrested on Election Day for voting twice.
Audrey Cook, a Republican election judge in Illinois, filled in and submitted her husband's ballot, who died before completing it.
Finally, Gladys Coego from Florida was hired to open absentee ballots and was caught filling in the ballot for the mayoral candidate, but there was no evidence she changed any votes for the presidential candidate.