Trump Supporters Are More Excited to Vote Than Biden Supporters, Poll Shows
Those planning to vote for President Donald Trump in the general election are more enthusiastic about casting ballots than those planning to vote for Joe Biden, but the results of a recent poll still showed a majority of people intend to support the presumptive Democratic nominee come November.
Conducted by Axios and SurveyMonkey, the poll based its findings on responses from 6,275 adults in the United States who shared answers to several questions regarding political leadership, police reform, protests, and the Black Lives Matter movement. Its findings indicated that 70 percent of participants who support Trump are excited to vote for his reelection, with more than half saying they are "extremely excited" to do so. Those numbers exceeded eagerness shown by Biden supporters, 46 percent of whom said they are excited to vote for him. Less than one-third said they were "extremely excited."
Not all participants were asked which presumptive presidential candidate they plan to support in the upcoming election. However, Biden held a 10 percent lead over Trump among those who were, with 53 percent of participants saying they intend to support the former vice president compared to 43 percent who intend to support the current president. As SurveyMonkey noted in its report, 4 percent did not respond to questions about their anticipated voting plans.
The poll was administered online between June 12 and June 16, and the margin of error for most results is plus or minus 2 percent. Its conclusions were similar to those included in a Washington Post-ABC News poll conducted during the last week of May, which also found that Trump supporters were more excited to vote than Biden supporters, though a higher percentage of overall voters backed the presumptive Democratic candidate.
Other national polls conducted recently show Biden with a significant lead over Trump less than six months ahead of the general election. According to results of a Fox News survey released on Thursday, 50 percent of registered voters who participated said they planned to vote for Biden, compared to 38 percent who planned to vote for Trump.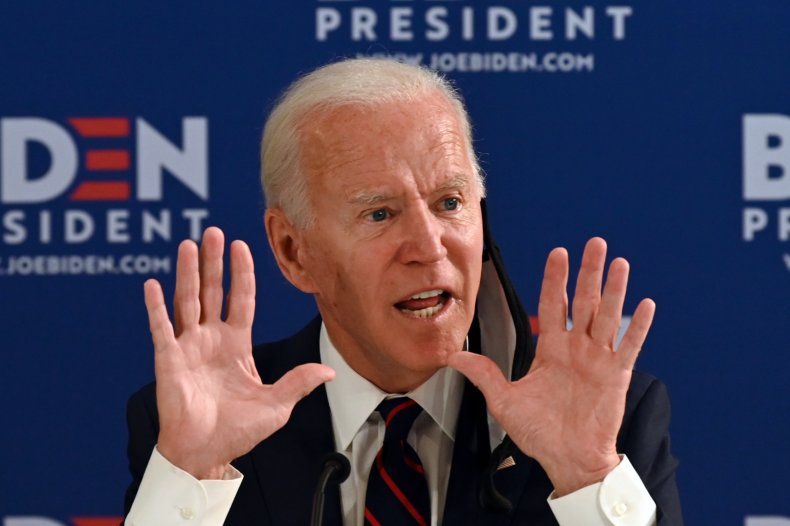 The 12-point Biden lead reflected in Fox News' findings came as additional polls conducted throughout the earlier part of June indicated most voters disapproved of Trump's handling of the new coronavirus pandemic as well as protests against police brutality and racism that have taken place since George Floyd's death in police custody on May 25.
Axios and SurveyMonkey's latest poll segmented participants' responses to recent demonstrations against police violence and the Black Lives Matter movement based on their favored presidential candidate. It found that most voters who backed Biden supported both, while most who supported Trump did not.
Newsweek reached out to the Biden and Trump campaigns for comments regarding the poll but did not hear back in time for publication.