Trump Supporters Banned by Walmart for Wearing Nazi Flag Masks While Shopping
A Trump-supporting couple who wore Nazi flag face coverings while shopping at a Walmart in Minnesota have been banned from the company's stores after a video of the incident went viral.
The video, posted on Facebook by Raphaela Mueller, shows the unidentified couple going through the checkout lane of a Walmart store in Marshall, Minnesota on Saturday—the first day of the state's mask mandate to curb the spread of the coronavirus.
Mueller told The Minnesota Reformer that she and her partner, Benjamin Ruesch, confronted the couple while she filmed the incident.
"You're sick. You have an illness. You can't be an American and wear that mask. You cannot," Ruesch is heard telling the woman, who gives him the middle finger in response. "We literally had a war about this," he added.
"If you vote for Biden, you're going to be in Nazi Germany. That's what it's going to be like," the woman then says.
She later insists that she is not a Nazi, but is wearing the mask to protest socialism in America.
"I'm not a Nazi," she says.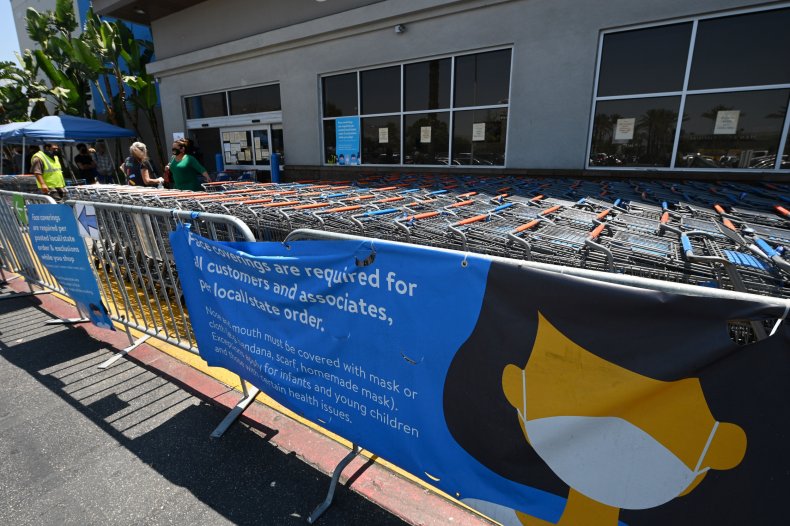 "Then why are you wearing the f**king mask?" Mueller asks.
"Because I'm trying to tell you, if you vote for Biden... this is what we're going to have, socialism," she says.
"Take off the mask right now," Mueller says.
The woman is seen storming off shortly after saying "f**k you" to the Mueller and Ruesch. Her companion, dressed in a Trump shirt, is seen staying behind to pay for their groceries.
In a post alongside the video, Mueller revealed that she was born and raised in Germany and that her great-grandmother had been a Nazi resister.
"I was born and raised in Germany, and I grew up hearing about my great-grandmother who fought in the underground against the first wave of Nazis in the 1930s and 40s," she wrote.
"Let me make this abundantly clear once and for all - THE SWASTIKA IS A HATE SYMBOL AND YOU DO NOT FLY THE FLAG, YOU DO NOT WEAR THE SYMBOL ANYWHERE ON YOUR BODY, YOU DO NOT USE OR DEFEND THIS SYMBOL, EVER. END OF STORY." Mueller has been contacted for comment.
Her clip quickly went viral on Facebook and spread to other social networking platforms, including Twitter.
Qasim Rashid, a Democrat running for Congress, retweeted the video and lay the blame for it with President Donald Trump and the Republican Party.
"Nazis wearing Trump shirt while shopping. This is in Minnesota," he wrote.
"Trump has explicitly praised Nazi ideology & used Nazi imagery on 3 separate occasions in recent months, & also retweeted a video promoting white power. And the GOP has remained silent."
The Marshall Police Department were called to the Walmart after the couple were issued trespass notices. The notices mean they are not allowed in any Walmart facility for at least a year.
Walmart store management had offered the man and woman disposable face masks as an alternative, which they refused. They also became belligerent when asked to leave the store by management.
In a statement provided to Newsweek, a Walmart spokesperson said the incident was "unacceptable."
"What happened at our store in Marshall, MN is unacceptable," she said. "We strive to provide a safe and comfortable shopping environment for all our customers and will not tolerate any form of discrimination or harassment in any aspect of our business.
"We are asking everyone to wear face coverings when they enter our stores for their safety and the safety of others and it's unfortunate that some individuals have taken this pandemic as an opportunity to create a distressing situation for customers and associates in our store."
Marshall Police Sergeant Jason Buysse told KARE 11 that the couple left the store without incident after being served the trespass notices.
Minnesota Gov. Tim Walz on Wednesday issued an executive order which requires face coverings to be worn in indoor public places and some outdoor venues from Saturday.
A Walmart policy requiring all customers wear masks or face coverings went into effect on July 20.
Newsweek contacted the Marshall Police Department for additional comment.
This article has been updated with additional information and a statement from Walmart.