Watch: Trump 2020 Banner, Supporters Booted From Baltimore Orioles Game As Fans Shout 'Take it Down'
Several attendees of Thursday night's Baltimore Orioles baseball game were booted from the ballpark by police after unfurling a large "Trump 2020" banner over the railing of an upper-level portion of the stadium, videos show.
Shortly after unveiling the banner, a chant of "take it down" broke out among fans. Police arrived a short time later, made the four men take down their banner and escorted them away. One of the men who was escorted away was also filming as the events played out.
The men did not comply with a request to take down the banner and were therefore escorted out of the park, according to an Orioles spokesperson. The stadium's policy on banners and signs states that they may only be displayed before and after the game, as well as in between innings. Political signs or banners are prohibited and signs or banners of any kind may not hang "anywhere in the ballpark."
Baltimore has been the recent target of several attacks issued by President Trump, including his claim in a tweet that the city is a "disgusting, rat and rodent infested mess" and a "very dangerous & filthy place" where "no human being would want to live." He's also called the city's black congressman, House Oversight Committee Chairman Elijah Cummings, a "racist."
The Baltimore Sun was first to report of the Trump supporters being removed from the game.
Fans in the stands cheered as the men were forced to take down the "Trump 2020" banner and leave, then turned to booing when the men threw their hands up in the air. Some then broke into song as the four men were escorted out of the stands.
"Na na na na, na na na na, hey hey-ey, goodbye," fans sang.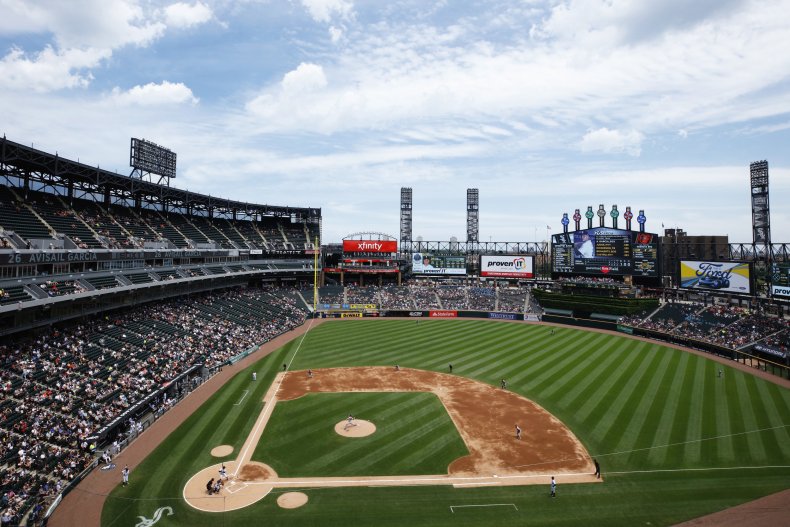 One of the Trump supporters can be heard in one of the videos, which can be viewed at the bottom of this story, responding: "Six more years! Still your president! Still your president! Winners! Winners! Winners!"
The home of Cummings, who is a frequent critic of the president and his administration's immigration policies, was broken into last weekend, according to Baltimore Police. In a statement, the Democrat said he was able to scare away an early morning intruder by yelling.
Trump responded to the break-in on Twitter, writing: ""Really bad news! The Baltimore house of Elijah Cummings was robbed. Too bad!"
The president's response was ridiculed by one of his former U.S. ambassadors to the United Nations, Nikki Haley. "This is unnecessary," she said in a tweet, along with the eye-rolling emoji.
Trump targeted Democratic lawmakers as whole Thursday night at a rally in Cincinnati, Ohio. He accused Democrats who represent inner cities across the country for creating a lesser-quality of life for residents.
"No one has paid a higher price for the far-left, destructive agenda than Americans living in our inner cities," he told supporters. "We can name one after another, but I won't do that, because I don't want to be controversial. We want no controversy."
Trump has continued to receive condemnation for his remarks about minority members of Congress as he doubles down on them. Last month, he also told four freshmen congresswomen of color—Alexandria Ocasio-Cortez of New York, Rashida Tlaib of Michigan, Ayanna Pressley of Massachusetts and Ilhan Omar of Minnesota—to "go back" to the "crime infested places" they "came from," despite all of them being U.S. citizens and only Omar being born outside of the country.
"I fear that recent public comments by our president and others, and the responses they have generated, have deepened divisions and diminished our national life," Wilton Gregory, the country's only black archbishop, said this week.
This story was updated to include information from an Orioles spokesperson.